Terraria coming to Windows Phone this Friday with Xbox integration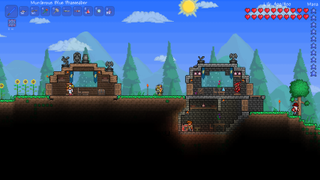 (Image credit: Re-Logic)
Terraria is finally coming to Windows Phone this Friday! This is a popular action-adventure sandbox game from indie developer Re-Logic. You'll already find Terraria on PC, Xbox 360 and PlayStation 3, iOS, Android and other platforms. It was announced well over a year for Windows Phone, but looks to finally be coming this Friday. And it'll bring Xbox Live integration!
In Terraria you fight, dig, explore and build for your survival. The block graphics might remind you of Minecraft, but the gameplay is very different. Watch the trailer above for an idea of how the game plays.
Terraria is also coming to Xbox One (and PlayStation 4) sometime in late 2014. But look for the Windows Phone version to drop this Friday with some Xbox Live integration.
Are you looking forward to playing Terraria?
Source: Terraria Facebook
Thanks for the tip Travis and Alan!
Windows Central Newsletter
Get the best of Windows Central in in your inbox, every day!
Finally! :D and I heard it's cross platform too! Can anyone confirm this?

Dude, srsly!!!
Its mentioned in the article.

No it's not, I was talking about cross platform multiplayer.

Do you mean that you can play across platforms? Save across platforms? Because the article clearly states that it is cross-platform. :)

No it states the game is a multiplatform game. It doesn't say if it has cross platform multiplayer!

I'm sure it applies to this version also, but you can play multi-player cross platform on ios and android, I assume it would be the same. Posted via the Windows Phone Central App for Android

Microsoft doesn't allow Xbox games to be cross-platform (Wordament excluded), so probably not.

Yeah, but with Microsoft's own GFWL. I meant non-Microsoft platforms.

They're probably thinking cross-platform multiplayer.

Who is? Because the mobile game normally is a different one then the PC version

Next time put "Play" after cross platform. Saves the confusion to those who don't get it :D but the answer is No, at least not yet on the Xbox, WP side. ;)

I've crossed many platforms in terraria. :) Multiple platforms supported. Its got Ebonwood, wood, glass and many more! :P

I want minecraft pe Posted via Windows Phone Central App

Amazing, let see if it's a better port than the current king... PS Vita

Ps vita has the best mobile terraria version, I think wp will get the shitty phone version:( , it sucks on Android, so this will prob Be the same one... But still TERRARIA!!! :D

I liked the android version, so I'm totally gonna buy this on WP. I only played the android version though.

Hopefully 512MB RAM devices will be supported.

Sure better with them pushing the 635 so hard.

Thanks for the heads up Sam. Great to see the XBOX title. :)

YAAAAAAAAAY!!! Xbox on WP isn't dead.

It's more like it's already dead but it gets resurrected every now and again...

I would rather it were a universal app hitting Win8.1 as well.

Exactly. This is the kind of App/Game that should be universal across the Windows Ecosystem. MS really needs to court popular game devs and push this to the point where all developed PC games (even the ones from Steam) are universal from the Store. It would really help with the ecosystem adoption.

This times 8,220,000. Need more Xbox games with universal support on my Surface and L822.

I wonder if what they are trying to do is fix it so if you download, say, the Xbox One version of this game, then it will automatically work on all MS devices as long as the hardware can run it without the developer having to lift a finger to make it compatible with different platforms.

Yeah, I'd like to be able to play it on my phone and Surface with touch and with an Xbox controller from time to time on my Surface. That would be great!!

It's a Minecraft in 2d scroller platform. I use to play it on PC.

Pretty far from it actually, terrarria is way more about combat and loot than minecraft.

Never played it on my 360, but as long as the price isn't ridiculous I'll give it a shot. Gotta keep supporting the WP Xbox titles so they know there is a demand for it.

Xbox LIVE integrations, achievements... is this real life?

No way. Nope. Don't believe it.

Will this have cross platform multiplayer?

It would be surprising, but pretty cool. But so far updates aren't synchronized between PC and Xbox, so we currently can't play cross platform between PC and Xbox. I guess it'll be the same on the phone, with some features from the PC and Xbox versions being updated a couple of weeks or months late, if they ever update it (since it seems so freaking hard to update a Xbox Live title on Windows Phone...).

See, that's all yah gotta do, Xbox integration... SOLD.

You had me at "Xbox integration". Also...Ubisoft could hurry up and fix the darn AC Pirates too...

Ikr that's taking ages, can't believe I blindly spent my money on that.

It sucks that its not back cause I had no issues at all on my 1520 and it was really fun too. Felt exactly like the naval combat in ac4.

Is this game was free or paid ?

Paid. But it's totally worth the money.

Like 5 bucks but for the last 2 months it's been on sale for 2.99 so maybe it's a permanent price drop? Posted via the Windows Phone Central App for Android

FUUUUUUUUCK YEAH They should make it a universial app (so for Windows 8 tablets / PCs too)

Will buy even if it's $100

You're just saying that because you know it won't cost that much.

Great, have on Steam already, but will get it for my phone

Hope it will be cheap, when I played it on Ps vita, I was a bit bored

How much does it costs on Android and iOS?

I think on android it's cheaper.
But I bet WP version will get the IOS price.

It's $4.99 on Android, and there's a free trial that's a separate download.

Will the game be the same version as iOS and Android or previous, anyone?

No, it will be vastly superior to those versions because it'll have Xbox integration.

It's very likely going to be the same.

Hell yeah! They should bring it over to Windows too not just Windows Phone. Cross playing it would be nice.

It's on Windows. You have to buy it threw steam. Posted via the Windows Phone Central App for Android

Whaaaaaaat?!?
Didn't think it was gonna happen, even though I've played the heck out of it on the Vita...I'm in.

Whaaaaat! :D will it support multiplayer cross platform?

Another reason why Friday is awesome!!!

I don't see how this could possibly be playable on a tiny 5" or 6" screen. It might work on my 13" Lenovo Yoga 2 pro.

No idea what the game is. However, if the price isn't outrageous, I'll buy it simply because they were cool enough to put in the extra work to give us Xbox integration.

What's the price of the other mobile versions?

Guess we'll see Minecraft soon hopefully Microsoft won't mess it over too much

Actually I hope they'd stop working so hard on the first Minecraft and work on a sequel to Minecraft with more things to do than just built a nice castle... Terraria seems more complete in terms of gameplay, it'd be nice to have something like that in 3d.

You always have cube world on PC.

Sounds like Project Spark is for you.

Now we just need more than 1 xbox game per 2 months. I'll be grabbing this for sure though!

Xbox=buying. Just to show support. Because achievements!

Omg, and i just bought it for pc -.-

Does the mobile version have the same features than the pc version?

The Windows Phone version has more features than the PC version: Xbox integration.

Dude, try to give actual helpful answers. You know that's not what he was asking. Also, the Steam version of course has Steam Achievements.

Yes, their identical. Posted via the Windows Phone Central App for Android

The PC version has more content as it is made by Re-logic. The console versions are made by 505 Games and mobile by Code Glue. Console and mobile versions are always playing catchup to the PC version. I believe the consoles just hit the equivalent of most if not all of the 1.2 PC version and mobile just added hardmode which was released for 1.1 PC version. But it is still Terraria nonetheless! ;)

I have never been more excited.

No, apparently it's 4,99$ on iOS.

Finally windows phone central said playstation 4 and acknowledged it

people, let me explain why MINECRAFT isn't coming to windows phone.......Because Microsoft brought twitch. Yep.

Umm.... Lol? Posted via the Windows Phone Central App for Android

So Amazon bought Microsoft? o.O

Microsoft brought twitch. Just twitch

I hope they will update it once in a while like on other platforms, but it's rare that we see Xbox Live games get updated after the initial release on Windows Phone...

Another game that deserves the support of the community... Just shows how half-assed Gameloft's releases has been...

Freakin awesome. About time. Contacted Re-Logic on this in March. They said it was still a work in progress. Glad to see it's finally coming out! Must have game!

http://www.windowsphone.com/s?appid=fd4488f5-4394-4431-860e-dce6a9f4949f

Spamming your game ? Has nothing to do with this and nice fake Xbox logo....

Don't just spam links, Imperial Dynamics. You need to actually say something and try to remain on-topic.

Looks amazing. Reminds me of super Mario. I hope it uses free with in app purchase model. Paid games is my single most grudge with XBox titles.

I hope its available for my the lumia 610...

When I first heard about Terraria on the live stream, immediately I went "sweet Teranigma!".. alas.. disappointment set in when the name got repeated lol. Edit: just watched the trailer, hmm the sprites some what resemble chrono trigger and some others games I can't remember off hand.

Omg finally!! After an year or two from the initial announcement ;)

I'll try get it for Xbox One

Sweet another Xbox live title that will get no updates and get delisted in a few months...

Why people likes games with cubes? Cubeeees, I prefer the games with NORMAL graphics

CALL OF DUTY!!! Wait... CoD sucks. Titanfall!! Posted via the Windows Phone Central App for Android

Nooo, I said that thinking in games like max Payne, farcry 3, fallout 3 ... The real shooters

Normal graphics..... What is normal way.

Normal graphics aren't cubes, it mustn't be a 2014 game for be a normal game, half life = normal graphics

Something dawned on me, it being Xbox enabled means that updates could be troublesome...

c'mon guy! At least wait for the euphoria to pass lol.

Never played it but, heard it was good....No question a grab....esp with Xbox..

Can some one ask fifa14 for 512mb ram

How much will it cost? :)

Awesome! Good quality game, lets just hope the controls are decent.

Cannot say how long I've been waiting for this.

Game is live in the store $4.99

It's live. I swore to myself that I would not buy an app without a trial anymore, though. I think I'll stay strong and wait for one :)
Windows Central Newsletter
Thank you for signing up to Windows Central. You will receive a verification email shortly.
There was a problem. Please refresh the page and try again.