These are the 10 best Early Access VR games on Steam
These are the best Early Access games for both the HTC Vive and Oculus Rift, via Steam.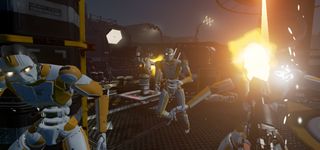 Both the HTC Vive and Oculus Rift hit consumers earlier this year, with a limited range of titles at launch. Now that virtual reality's appeal has been proven, developers are starting to get onboard, but this hasn't completely solved the platform's lack of content.
Steam's Early Access program has become more relevant than ever since the introduction of SteamVR, by getting titles in the hands of gamers ahead of their official launch. This not only helps bring new experiences to consumers faster but also provides developers with a significant volume consumer feedback. Being a more open service, a number of these titles are now available for multiple desktop VR headsets.
However, due to the program's nature, not every title that comes to Early Access is perfect. With more developers working on virtual reality experiences than ever before, finding hidden gems is becoming an even more daunting task. We've rounded up our favorite in-progress titles available through the Steam storefront.
Fight the system
Raw Data
Set in the far future, Raw Data places players in a world dominated by a looming corporation known as Eden Corporation. As an operative for a nefarious hacking group, you're tasked with entering Eden Tower to extract confidential data.
While extracting the data, Eden Corporation's security systems will kick in, unleashing waves of humanoid robots on your location. Taking advantage of cover, you must fight back against Eden's varied robot army using your weapons of choice.
In the current version of Raw Data, players are limited to three playable characters. These each grant unique weaponry and abilities and eventually slot into the game's promised campaign. While little is known about the campaign, the game's developer promises 12 parts of story-driven content.
As Raw Data moves forward, the developer also promises to mostly expand on each of the game's existing elements. This includes new characters, enemy types weapons and more.
Raw Data is currently available on Steam for $39.99, which gives access to all future updates to the title.
See on Steam | HTC Vive and Oculus Rift
Point and shoot
Onward
Onward is a multiplayer-focused first-person shooter for the HTC Vive, which aims to capture the audience which made the genre popular on consoles. While still in Early Access, the game has already built up an impressive pool of content, with more in the pipeline via frequent updates.
The game has also been praised for its interesting take on shooter mechanics, which make for a more consistently competitive scene. Using the touchpad for long-distance movement alongside the room-scale abilities of the HTC Vive and Rift, the game is a must-buy for avid-shooter fans comfortable with virtual reality.
Onward is available for both the HTC Vive and Oculus Rift, priced at $24.99 at this point in time. However, by purchasing the game in Early Access, you'll be getting hands-on for a fraction of the full price.
See on Steam | HTC Vive and Oculus Rift
Plant the bomb
Pavlov VR
Pavlov VR is a multiplayer arena shooter built for the HTC Vive, with similarities in its gameplay to Valve's hit FPS, Counter-Strike. With a more competitive twist to your average virtual reality title, Pavlov offers a range of features often seen in today's biggest shooter franchises.
For the $9.99 price tag, the game provides access to a range of modes and maps, hosted on dedicated servers. Although in its current state Pavlov lacks a wide variety of maps, integration into Steam's Workshop has allowed a community of creators to regularly release new maps for the game. Other supplementary features include a dedicated voice chat system, multiplayer matchmaking, and support for bots.
Going forward, Pavlov still has a few months remaining in Early Access. Among the upcoming changes include a new "Siege" game mode, improved bots, reworked matchmaking, as well as general fixes along the way. However, for an Early Access title you're still getting a well-rounded package – and currently one of the best shooters in virtual reality.
New heights
Climbey
Climbey is a virtual reality climbing game for HTC Vive, which takes full advantage of room-scale movement and motion controls. Quickly gaining a reputation for its fluid movement and physics, the game offers dozens of engaging and natural climbing challenges. Simply using your hands and body to navigate complex courses, each adrenaline-filled level feels truly rewarding.
Although the game only ships with fifteen premade levels, Climbey's level editor has the ability to spark hours of creativity and fun. These levels can also be shared across the world, with direct integration of Steam's community-driven content pool, Steam Workshop. Online multiplayer is also supported, allowing players to share their climbing sessions with up to three additional friends.
However, due to the game's movement mechanics, some players may be subject to motion sickness. A range of tools have been introduced to combat this and expand the game's reach – but is something to consider before forking out the full price point. To be safe, we recommend downloading the Climbey's free demo beforehand.
Climbey is available for $8.49 on the Steam Store, with a majority of the game's available content already implemented. For now, the developer promises to apply the additional polish and tweaks, before officially releasing the title to the masses.
Point, click, shoot
Hot Dogs, Horseshoes and Hand Grenades
Hot Dogs, Horseshoes, and Hand Grenades is an experimental weapon simulator for the HTC Vive, which takes full advantage of the platform's motion controllers. With an unlimited armory at your disposal, the game provides a wide range of weapons, gadgets and expansive firing ranges.
Each of H3VR's highly detailed weapons features moving components - staying true to their real-world counterparts. These can be decked out with various attachments and ammunition types on the fly, to tweak their performance at various ranges.
In recent months Hot Dogs, Horseshoes and Hand Grenades has started to introduce more unconventional game modes, including 'Grenade Skeeball' and the 'gymnasium'. These meld the game's robust game mechanics with more abstract concepts, to create more outstanding experiences.
Hot Dogs, Horseshoes, and Hand Grenades are currently available on Steam, with more weapons, game modes, and levels to arrive in the coming months. The game is available for $19.99 in its current state, with promised updates arriving weekly.
A night at the arcade
Space Pirate Trainer
Looking back at old arcade shooters, Space Pirate Trainer feels like a natural successor to what became a staple of the cabinet gaming. Inspired by the sci-fi digital worlds of the 80's, the game's neon-lined worlds immediately spark a flair of nostalgia.
Space Pirate Trainer is a stripped down shooter for the HTC Vive and Oculus Rift, which attempts to create an intuitive experience for players with any amount of virtual reality experience. Armed with weapons that precisely map to the HTC Vive's controllers, players are tasked with fighting waves of hostile droids.
The current version of Space Pirate Trainer features a limited range of content but has laid the foundations for further expansion. With the game's robust mechanics already in place, the number of unique weapons and enemies is expected to grow.
The game's developer, I-Illusions, has stated that Space Pirate Trainer's price may increase as more content is added. For now, the game is priced at $14.99 on Steam exclusively for the HTC Vive.
See on Steam | HTC Vive and Oculus Rift
Dungeon dwellers
Vanishing Realms
Vanishing Realms is one of the best RPG experiences for the HTC Vive, taking full advantage of the technology available with the headset. While the game's current offering only consists of two chapters, they provide unrivaled combat and immersion in the role-playing genre.
With easy-to-understand mechanics, Vanishing Realms is accessible to nearly any new HTC Vive user. Fans of the RPG genre will feel right at home, with dedicated health bars, collectible equipment, and magic. These come together to give players a sense of progression as they fight through dungeon-dwelling enemies.
Vanishing Realms brings together strategic combat and puzzle solving into a single experience. While not as complex as a majority of established franchises, building the title for virtual reality brings a new level of depth to the role-playing genre.
Available on Steam for $19.99, Vanishing Realms is a must buy for RPG fans. Only two chapters are offered in its current state but is expected to receive more content in future updates.
Fun for all
Rec Room
Rec Room is one of the most established social experiences, which allows players to meet up from across the world. Packaged alongside a wide variety of competitive mini-games, Rec Room is a great way to meet old friends or even meet new ones.
Virtual reality is often referred to as an isolated experience, but titles like these are set flip the narrative. As free to play title, Rec Room is a more accessible than some titles, with support for both HTC Vive headsets. While there are a number of competitors accessible through cheaper headsets, Rec Room offers unrivaled immersion and functionality.
Players enter the Rec Room with their own customizable avatar, and able to converse using the game's in-built proximity chat. A number of other gestures and features have made their way into the title, to help streamline the overall social experience.
Maybe the more impressive component of Rec Room is the game's social activities, which allow players to bond through physical activities. Currently, these range from more passive games such as 3D Charades and Disc Golf in more active modes like Paintball and Dodgeball.
Rec Room is now available on Steam as a free to play title for any HTC Vive owners.
Run for your life
Paranormal Activity: The Lost Soul
While not for the faint-hearted, Paranormal Activity: The Lost Soul delivers one of the most intense horror experiences currently available in virtual reality. Being thrown into a deserted home with just a flashlight, you'll have to search for and discover the twisted mysteries hidden inside.
Taking on a unique open world format, The Lost Soul leaves players to search the environment for items to progress forward. Without a linear structure, there's a sense of uncertainty to every scenario making for an unpredictable and heart racing adventure.
While you won't be rewarded with a price cut for picking up the game early, Paranormal Activity: The Lost Soul is already in a relatively complete state. Over the coming months, the developer simply hopes to add further refinement and polish, before a final rollout.
See on Steam | HTC Vive and Oculus Rift
Fly across the world
Aerofly FS 2 Flight Simulator
Aerofly FS 2 Flight Simulator is one of the few simulators to support virtual reality from the outset, with a majority of previous titles having added support after launch.
Aerofly FS 2 might not be the most content-rich simulator on the platform but makes up for this with its notable polish. In its current state, the game has a majority of the features envisioned in the final product, which will be continually built up leading up to the official launch.
The game brings together a range of complex features to accurately simulate flight, including detailed aircraft, realistic physics, and photorealistic scenery. When paired with joysticks, throttle units, and pedals, Aerofly FS 2 provides one of the best virtual flight experiences to date.
Aerofly FS 2 Flight Simulator is currently available for $49.99 on Steam until the game leaves early access. If you're looking for a virtual reality flight simulator, make sure to pick up the title before its price increase at launch. With the game's current offering the price may seem steep, but is a must-buy for any avid pilots.
See on Steam | HTC Vive and Oculus Rift
What about you?
Think we've missed out a great Early Access title? Have any personal favorites? Make sure to let us know in the comments!
Update July 20, 2017: We've added a few more games to our list, included popular shooter, Pavlov VR!
Get the Windows Central Newsletter
All the latest news, reviews, and guides for Windows and Xbox diehards.
Matt Brown was formerly a Windows Central's Senior Editor, Xbox & PC, at Future. Following over seven years of professional consumer technology and gaming coverage, he's focused on the world of Microsoft's gaming efforts. You can follow him on Twitter @mattjbrown.