These Windows Phone games are for the birds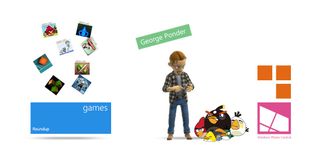 Windows Phone Central Game Roundup: Bird Games
As The Trashmen so aptly put it, "The birds is the word" with this week's Windows Phone Game Roundup. These are games with the central character being a bird.
Most are really nice games to pass the time with and include an Xbox Live title, a sequel, and one that can easily get tangled up in knots. We picked out five games that stood out in the Windows Phone Store and there are still a large flock of "bird" games loose in the store.
If we've missed your favorite game of birds, feel free to chime in below in the comments with your recommendations.
Angry Birds: Star Wars (trial/$.99): We couldn't have a roundup of bird games without mentioning Angry Birds. You've got the original, Angry Birds Space and the one edition that is my personal favorite, Angry Birds: Star Wars.
Rovio did a fantastic job of transforming the Angry Birds cast into Star Wars characters. From the sands of Tatooine to the snow drifts of Hoth, Angry Birds: Star Wars is an enjoyable Xbox Live game for your Windows Phone.
If you aren't familiar with the Angry Birds saga, it is a never ending conflict between birds and pigs. You launch birds of varying abilities (from a slingshot) at pig strongholds in an effort to not only destroy the pig's stronghold but also to crush any pigs hiding out in the structure. With Angry Birds: Star Wars, the conflict takes on a Republic vs. Empire look and feel.
There is a trial version available for Angry Birds: Star Wars and the full version is only $.99. A steal of a deal for an Angry Birds title and an Xbox Windows Phone title to boot. You can find Angry Birds: Star Wars here in the Windows Phone Store.
Bubble Birds 2 (free): XIMAD has a decent library of Windows Phone games that includes Bubble Birds 2. Bubble Birds 2 is a bubble burst styled game that has you "bursting" birds instead of bubbles.
You shoot colored birds into an approaching field of birds to match three or more of the same colored birds. When you do, the birds "burst" and are removed from the field of play.
Bubble Birds 2 is a multi-level game and you can collect/shoot coin bubbles along the way that can be spent on extra levels or extra attempts for a level of play.
Bubble Birds 2 is a free, ad-supported Windows Phone game that you can snatch up here in the Windows Phone Store.
Line Birds (free): Line Birds has been around for some time and is a wonderfully animated Windows Phone game that challenges you to see how far you can fly your bird.
Line Birds has four levels of difficulty and five different birds with unique abilities. You have to navigate your birds through a maze of spikes that shoot up from the ground and hang down from the top of the screen.
To control the birds flight, you tap the lower right corner to make the bird fly up and release your tap to have the bird descend. Tapping the lower left corner of the screen activates the birds special ability. Special abilities become available once the bird collects three floating bird seeds and include invisibility, time warp and explosion.
Graphics and animations are really nice, game play challenging and overall Line Birds is a grand addition to the Windows Phone gaming library. It is a free, ad-supported game and you can find it here in the Windows Phone Store.
Tangled Birds (free): Tangled Birds is a puzzle type game that has a group of birds tangled up in a maze of string. Your job is to untangle the string and let the birds fly off to freedom.
Game play is simple in that you tap and drag the birds around to uncross the strings. As you do any birds on that section will be set free and fly away.
Tangled Birds is a multi-level game with to difficulty levels (easy and hard). As you advance up the levels, the puzzles grow in size with more birds to untangle. There is an online leader board and Tangled Birds isn't a bad way to pass the time.
Tangled Birds is a free, ad-supported game that you can find here in the Windows Phone Store.
Rooster Shooter (trial/$1.49): Rooster Shooter is a hunting game of sorts for your Windows Phone. You are tasked with shooting down roosters and avoiding the roosters dressed up as Deputies.
Rooster Shooter has three game modes; Timed, Reload, and Endless. Timed Game gives you sixty seconds to shoot down all the roosters you can to earn a set amount of points to advance to the next level. The Reload Game is similar to the Timed Game but is more challenging because you have to reload your rifle every six shots. The Endless Game is just that, you shoot as many rooster as you can.
In all three modes you have similar dangers to avoid. Shooting the deputy rooster (dressed as a police officer) deducts points and the deputy shoots back leaving a bullet hole in your screen that will hinder your view. If you get shot up enough, the game ends. Then there is the rooster with a bomb that if allowed to reach the top of the screen will end the game.
Game controls rely on your Windows Phone accelerometer in that you tilt your phone to move the cross hairs. When you have the rooster in your sights, tap the screen to fire.
Animations are nice, game play challenging, and while it takes some time to get used to the controls Rooster Shooter isn't a bad game. There is a trial version available for Rooster Shooter that has the first two levels of the Timed and Reload Games available. The full version of Rooster Shooter is running $1.49 and you can find it all here in the Windows Phone Store.
For some Windows Phone games, the bird is the word and this is just a small sampling of what all is available in the Store. You also have the likes of Penguin, Bonzai Birds, and Twitter Hunter.
If we've miss your favorite bird oriented Windows Phone game, feel free to share your recommendation below in the comments.
Get the Windows Central Newsletter
All the latest news, reviews, and guides for Windows and Xbox diehards.
George is the Reviews Editor at Windows Central, concentrating on Windows 10 PC and Mobile apps. He's been a supporter of the platform since the days of Windows CE and uses his current Windows 10 Mobile phone daily to keep up with life and enjoy a game during down time.