Unofficial Snapchat client, Swapchat now available for Windows Phone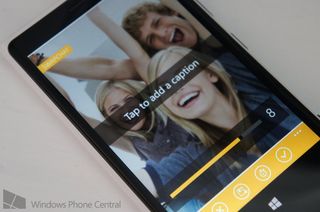 We've previously looked at Swapchat, an unofficial Snapchat client for Windows Phone, which has been in beta testing for some time now. Much like Instagram, until an official offering is presently available, developers will look to capitalise on the absence with an app of their own. While we're heard from multiple sources that an official Snapchat app is on its way, it's good to see third-party alternatives for consumers to enjoy.
If you're not familiar with the name, Snapchat is a service that enables users on multiple platforms to share photos in a rather addictive way. It essentially enables one to set how long images that are sent to other mobile phones will be available and displayed. Of course, the system isn't fool-proof and this doesn't mean images you send can't be kept somehow, so be warned!
Swapchat does sport nearly all the features offered by official Snapchat clients on other platforms. This includes the ability to take photos, add captions, set viewing times and fire it off in to The Matrix. Not only photos, but videos can be received and opened to check out what friends and family have been up to.
Since this is an unofficial (but good looking) client for Windows Phone and not supported by Snapchat, we could experience issues that have plagued other developers who have attempted to work around API restrictions. It's a brilliant start and those who are fans of the photo-sharing service will welcome such a client to the Windows Phone Store. We've been informed by the developer that an update is already in the works too, which will add yet more features. Exciting times ahead.
You can download Swapchat for $1.29 from the Windows Phone Store. Both Windows Phone 7 and 8 are supported. A free version of the app is also being published as we speak and should be live soon. We'll update links accordingly.
Rich Edmonds is Senior Editor of PC hardware at Windows Central, covering everything related to PC components and NAS. He's been involved in technology for more than a decade and knows a thing or two about the magic inside a PC chassis. You can follow him over on Twitter at @RichEdmonds.
MIght as well start coming up with ideas for a new name.

So is this compatible the original snapchat on ios and android like can we send and receive photos nd such with them?

Is this from the developer of instance, or is it still coming? :D

Thats what I am wondering, I was going to buy it right away if it was haha.

Nah. Daniels app is called chatsnap

I think I'll wait for his

You should definitely check out this one as a free ad supported version is coming very soon

Should be within 5 working days

Okay, then i'll wait for it thanks :D

No. The developer of instance is naming his ChatSnap.

Chrashes when i check for pics

Sorry about that, looks like it happens for some people who already had a Snapchat account, but this never came up in the beta. We're working on it.

yep, happens to me as well.
Pretty much makes the app useless :(

Not if you make another account ;)

I used my existing account & it works fine...how strange, I am using the trial version though don't know if that makes a difference lol.

Same here. I bought it and am using the full version and I already had an account. It works great for me.

weird, also all my photos I take with the rear camera ARE UPSIDE DOWN!?
Going to go back to the other snapchat app for now.

Nice app, is there video support planned?
I got it for free too I don't know if it's normal?

Any indication on when this issue will be resolved? I think that's the only issue ive encountered. Everything else is great! Love the UI. Absolutely fantastic app haha (:

Do you know when this could be repared? At forst it functioned, but now it doesn't for no reason... Really sad because apart from this you did a really fine job!

without being an annoyance do you know how long. Cos from what I have seen so far, this is most definetlythe app for me with good metro style layout but loyal to snapchat but if I cannot use it then I am just gonna have to use snapchat unofficial until daniel gary brings his out. However please sort it out quick cos I want this one to work

I had an account before and I'm also getting this issue.

They can name it 'PERVCHAT'

*insert is it WP7 here* :D

If these 3rd party developers can do this, the official company are just being extremely lazy.

You underestimate the amount of internal red-tape in big companies.

They should sort things out then and stop the amount of red tape :P

So said you and every day to day employee and programmer at every one of these companies ever haha.

Is snapchat owned by a big company?

"the #1 snapchat client" :P

So far there are two in the store. The other one is bad.

Can't find friends through my phone book? Maybe in the future...
I still need to verify my phone number I think. No option, this might be too complex to develope?
I recieved a video message and it worked, which is great, except I have a feeling the alignment/orientation of it was wrong. It should have been in portait mode but it showed it in landscape mode with my friend's face sideways basically. And hence it took only a small portion of the screen and the message was kind too small to view, I had to get close to the screen.
Is this normal with the snapchat concept?

yeah, my top feature request would be for contact book lookup. I asked a few friends what their usernames were and they had no idea, it seems on IOS it associates an account with your email or phone number or something..

You registrer on every device with a username. If they can't open the app, check for it and then give it to you they must be dumb. My GF just did it on IOS, no problem.

Hoping for this too! Having difficulty adding contacts.

cant even register? keeps saying the name doesnt exist

Yep. I'll wait for an update.

Ok, since no one else seems to be able to tell how it works, let me: Good stuff:
- Fast
- Good looking
- Simple
- You can add a photo, caption to it and choose time
- You can save the photo you just took Bad stuff
- Somehow you got to know your friends name to add them
I really don't know if that's a bad thing, cause I have never used Snapchat on another device, but it sure takes some time to get all the names. Simplest thing is probably just to give them mine ;)
- I would really like a tile count when I got new messages, just like Instance. So far it looks and feels good, no crashes so far. When I get back from work I'll try it out some more.
It didn't cost much (even though I actually didn't pay for it), so if the next Snapchat app is even better I'll get that to to compare. Strange thing though: when I entered the app in Store, I had the option to "try" it, so I did. Now, 3 minutes after i downloaded it that option is gone. That tells me two things. Either I got the whole app for free in some magical way, or there is a function or two that I am missing. Don't really know yet. Also the store doesn't say that I have it, it only gives me the option to buy it...so what the hell happened? :)

On other devices, you can find friends using phone numbers. Kind of makes life easier.

I also got the app when it said try, it was right when it was posted on here (still 0 comments)

Maybe we are one of the few lucky ones to get the full one for free ;) A glitch in The Matrix :P

I got the trial too, now I can't even find the app in the marketplace on my phone! Considering myself lucky. If I'm impressed enough, and there's no trial limitations, I may bung the dev a quid through paypal.

There are limitations, you just haven't run into them yet ;)

Ahhhh, ok. The trails is limited to view 10 snaps. I'll just have to buy it then :)

competely agree with everything, push notifactions would be epic, i have it on try to i just assumed you could try it first, maybe thats a funtion we are missing

It actually works great, but going in to the app all the time to check for something new is "hard work" :P Need those notifications, I can live with tilecounter...but toast would also be great :) Edit: the live tile actually show numbers...but it's not stable, meaning that mine says "1" even after I have looked at the snap and updated. So it can be better :)

Looks alot better then Snapchat(unofficial) but I don't want to pay for this if an official app is on it's way :/ anyone feel the same?

Nope, I want it now so i'm happy to pay.
Also I want to support WP devs (since nobody else is)

I'm waiting for the one from the Itsdagram developer. I know the time and effort he puts in aso i expect it to be good and receive timely updates

Should have named it FapChat

Haha, yeah we had thought of that :p

Nice app. I got a few errors saying it couldn't load messages though while the video/pictures were showing.

What are the trial version limitations?

You can only view 10 messages.

I can't view any messages

Works great, well designed! Sadly I have no use for it :P Nonetheless, great work devs!

It said videos can be received, but can we send videos also, or is that the next version?

Video sending is actually being worked on.

Is anyone else having an issue with the FFC showing stretched out images? Im on an 8X. Also, when I actually take the pic with the FFC, it freezes up. Doesn't seem to be the case with the RFC though

Yup. I see the exact same thing on my 8x with the stretched out images.

Yep having an issue with the FFC on my 8X as well. Looks squished vertically.

Yea! Oddly on snapchat (unofficial) my ffc pictures on 8x are stretched vertically, on this app they seem squished vertically. weird...hopefully these will be fixed soon?

Does the app have notifications?

I get a black bar at the top of my app, kinda like when you run a wp7 app on a wp8 phone. Anyone else having this issue?

What are the restrictions I am facing with the trial version? Didn't really notice any.

You can only view 10 messages.

Only view 10 messages...ok :)

Can't send any pictures. Keeps saying sending failed. HTC 8X, UK.

i love the third party devs, they keep our platform alive!

Yes!!!! Finally when all of my friends stop using it

Im trying out the trial version.
Would like to see notifications and tile count plus phonebook integration like official app.
Im using the 8X also and the picture is wierd using the FFC. However once the photo is taken it sorts it out and looks normal.

Notifications are not clearing from tile.

I bought the app to support the developer especially cause its on windows phone 7.X <3

Soo, can any of you here that use Snapchat provide a legitimate use scenario? Because honestly, I don't see what purpose it would serve aside from providing a method for engaging I sexting sessions without fear of compromising photos being captured and distributed.

I haven't used it yet (just downloaded) but I know many friends who use it and mostly it's used for just sending silly pics to each other...the fact that the pictures delete helps push people to not be afraid to send pics to friends when they are being goofy or don't look their best. It's just another way for friends to stay connected and share laughs when they aren't together but are thinking of each other. Personally, nobody I know uses it for sexting but that could be because my friends are all in their early 20s. I'd be willing to bet there are less mature audiences who use it for less noble reasons.

how do I know if my friends have an account? how to connect with them?


ask them for their username if they use the app its not like viber or whatsapp where you use your phone number

Ok, so I don't get the instagram fad and why its so popular. but this one... i really don't get. I don't understand the purpose of this at all. I had never even heard of it until the news it was coming last week.

I guess I didn't realize that you couldn't even send regular text messages... O.o Poke had that.

I didn't get it, what's missing in the trial? :P

You can only view 10 messages on the trial apparently

I think this app caused battery drain on my 920... Can't be sure, though.

My phone froze in a weird way right after installing and running the app. Never happened before, but hasn't happened again yet either.

I love this app! By the looks of the interface, it looks sooo official. It's nice and clean-cut! Great addition to the windows phone ecosystem. :)

I had a preexisting account because yesterday i made one on Snapchat (unofficial) and upon signing in to SwapChat I had one message to view but I cannot open it. I click and hold and click and tap and press everywhere around the message but nothing happens.

Looks pretty good...
...suggestions...
Make it possible to change the tile/icon color - for instance, I hate when a tile automatically changes to me theme color (makes my start screen so bland, and everything runs together). Maybe make it possible to choose between the default yellow or your theme color.
...
Facebook or phone contacts integration to help find friends, if possible.

+1 I absolutely support these ideas. Hopefully they're implemented in a future update.

What's the difference between the trial and the paid version? I haven't noticed any ads or limitations.

Read the multiple comments above.

I've spoken to the developer of Swapchat and I've been told that the free version's only limitation is featuring ads on the messages tab. Hopefully it is released soon, I would like to see how large the ad is.

I don't know why, but it has suddenly stopped syncing. Crap! Now it's close to useless :/

Yet somehow it works, just seem a bit slow. Well well, let's hope DG can make a better one :)

The Snapchat servers are having some issues, sorry. Should be back to normal soon.

Hi!
It works like a charm now, so no problem. It's super fast, good job :)

Won't refresh or send snaps all of a sudden, has been working great all day up until now

The Snapchat servers are currently having some issues, it should be back to normal in a little while.

When i try to register, it says failed "network error". I have full bars and 3G.

Before I send my first pic, does it send it to all my friends or just ones I choose?

Just the ones you choose.

I wonder if this new app crashed snapchat?

The Snapchat servers are currently experiencing disruptions, which may prevent Syncing from working correctly. Sorry about this, but not much I can do, it affects all Snapchat apps, even the official ones.

When signing into my previous created account, it states "Unknown Verification Error". Then shuts back to the login menu, any ideas?

Hi, the app keeps telling me it failed and it keeps kicking me out and I can't do anything. I even reinstalled it but the issue persists. Any help is welcomed!

How are you meant to add friends? I know the majority of my friends have snapchat, but even the android app is crap at finding them. I just installed bluestacks for windows 8, installed the android snapchat app, and then tried syncing my contacts there and it would only search by phone number. It looks like two of my friends have associated their phone numbers out of three hundred :/

The flash is on by default and there is no way to turn it off #annoying

Good app, was rly waiting for this one. One problem tho, the photos i take are pretty unsharp. (wp 7.8)

According to the app, my account has already been registered (never used snapchat before in my life) when I reset my password from an android device (to my email) (still no idea how an account was ever made) and sign in on Swapchat, it gives me the error "Unknown response from server" any ideas?

Hey ah, just got this awesome app lil while ago. It works great, at first. However. it goes chrashing and mad now. I just cannot manage to check and message after i click the box icon. It pops up a message saying "Application error", untill now it just pops me out from the app without any notice. Can tell if I can send pics out or not, coz it says "sending........." and it goes on like foever. Soon it pops me out from the app again. I can see the message i got with the pop-up message saying error, but it atcually just close the app itself. Tried reinstall and reboot my device (mine is LUMIA 920), nothing changed except the pop-up message gone and just close itself. Can't login with the "SnapChat (Unofficial)". However, my account works with IOS. My English is poor lol. Please help

I think every one wants this free tbh or to have snap chat really disscus, so they'll notice this:)

i dont mean to be mean this app is great but it would be better for free because most the apps on windows phones that are free are not so great and you have no idea how long iv been waiting forsnapchat to come to this phone because i cant buy because i dont have a credit card just pleaseeee !!! for people like me will ye please make this app free !i would hugly approaiciiate it and loads others i know people with my same problem so please !


I noticed that on mine I have the free version on wp7.8 that when u are holding down to view the image if I slide by finger down the image stays on, so if those that can and want to take a screenshot maybe thats a way of doing it

Hi, I was just wondering how to remove friends from the list or edit their names? I added a stranger accidentally because my friend gave me the wrong name and now I don't know how to get them off my list.

how do i add contacts on this unofficial snapchat

so can we talk to people with snap chat?
Windows Central Newsletter
Get the best of Windows Central in in your inbox, every day!
Thank you for signing up to Windows Central. You will receive a verification email shortly.
There was a problem. Please refresh the page and try again.