For those who enjoy the finer things, we have Whiskey Bar for Windows Phone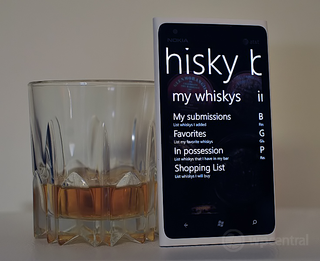 "Alcohol makes other people less tedious, and food less bland, and can help provide what the Greeks called entheos, or the slight buzz of inspiration when reading or writing." -Hitchens
Being a full-time writer and frequent traveler often means one enjoys spirits—it helps free the mind for writing or eases a hard day from running around airports. And in this case, yours truly is a fan of Whiskey—scotch, bourbon, it doesn't matter so long as you're not putting Coke in it. Pansies.
Last night I purchased a nice bottle of Laphroaig Quarter Cask. For those connoisseurs in audience, air high-five. I tossed a lovely pic on Twitter and thus started an awesome stream of recommendations from the Twittosphere. Only one problem: true Scotch often has the original distillers name, which to my eyes (and ears) look like "Hey, you should really try Ddfjpshee Allt-Aphaig" or something.
Foreign tongues can be tough, so when someone really says that I should try anConc or Adelphi Fascadale (real names), I need a way to remember and categorize that. Enter in the app Whisky Bar.
Whisky Bar is free (ad supported) or $0.99 and is a fairly solid app. Not perfect but it could be.
Layout
The app has a very nice Metro layout and an elegant Whisky glass for the main image. The app has two main section: 'Whiskys' and 'My Whiskys'.
Whiskys is where you search for that rare brand. Unfortunately, there is no actual search, just a long list. It does use the alphabet-jump list, but you do have to swipe to find your brand instead of just typing it. The app gets taken down a peg for this. Having said that, the selection is well populated and what's more, it has a database that can be updated over-the-air. That's awesome.
Once you find your whiskey, the app brings up quite a nice selection of info and options:
Info – Type, Vol%, Region, Producer and Country
Notes – Type in your review, thoughts of it
My Rating – based off of 5 stars
Review – thumbs up (adds to Favorites)
Picture – add your own photo
In possession – adds it to another section
Shopping list – tags it for your shopping cart
More from… - gives more from that distiller
Reviews – reviews from other users of the app
As you can see, that's quite a solid list of options and it made me smile. You can also browse whiskys by Type, Country or add a new one if it's not on the list.
Me at work, pondering which Windows Phone is better
My Whiskys
This of course is your section where you can keep track of things. This areas is divided into four parts:
My submissions – Whiskys you added to the database
Favorites – Things you gave a 'thumbs up' to
In possession – bottles you currently have
Shopping list – items you marked as wanting to buy
As you can see, that's a great system for when someone gives you a recommendation—you can look it up, save to your list, read about it, etc. Later, you can review it, write in notes, add a photo and even share your favorites via email.
Finally, there is an area under Settings called Updates. Here is where you can check the server for a database refresh to keep your Whisky list up to date. Nice feature and I approve.
Nice design
What's missing
While the app is very useful for my needs and I recommend the $0.99 purchase, I would like to see some additions:
Search – Really need this to make it easier to find what I'm looking for
Share – Let me Tweet or share to Facebook my favorite Scotch, please!
Pinnable items – It'd be cool to pin my Shopping list to my start screen for quick access when I'm at the liquor store or in a bar. Likewise for my favorite bottle
Cloud backup – Don't make me do all of this work and not have a way to export it, let me save to the Cloud with SkyDrive support
Work under lockscreen - Currently the app stops working if the power screen goes off. Tsk tsk...
To wrap it up, if you like Whisky then this app is for you. I haven't tried many other apps but this one stuck out and I'm glad I tried it.
Pick up Whisky Bar FREE here in the Windows Phone Store or grab the full version (with trial) here.
Related: Try the super excellent Cocktail Flow too if you're more into mix drinks or Rate Your Beer for lager fans.. Have an alcohol related app that I should check out? Tell me in comments!
Windows Central Newsletter
Get the best of Windows Central in in your inbox, every day!
Daniel Rubino is the Editor-in-chief of Windows Central, head reviewer, podcast co-host, and analyst. He has been covering Microsoft since 2007 when this site was called WMExperts (and later Windows Phone Central). His interests include Windows, laptops, next-gen computing, and for some reason, watches. Before all this tech stuff, he worked on a Ph.D. in linguistics, watched people sleep (for medical purposes!), and ran the projectors at movie theaters because it was fun.
On second thought, maybe you shouldn't be drinking and writing :P Signed,
Fellow whisky connoisseur

Eh, that's my normal par for the day :-P

Convert this app for beers ASAP

I think Jay Bennett already has a beer version out in the marketplace doesn't he?

:D thanks!! I'll search for it. Im starting to dislike the marketplace app. It needs a major overhaul to make discovering apps easier. Android is better at this, IMHO, including pushing out update notifications. A Zara app was released a couple of months ago. Just found out about it a couple of days ago by chance. Beautiful app! Fashion review at WPC? Anyway, would not discover apps without this site. Thanks and keep up the great work.

Nice, an app that promotes drinking ! Sweet ! :)

I'll admit, I like a glass of a nice wiskey every once and a while, I'll check out the free version, maybe it will open a door to a new drink !

I'll have to dload this when I get home. Wish it had a scan barcode feature in addition to search!

Could you please do a review on the best application for BEER like beer me, my beers?

We can do that. For now, give Rate Your Beer a go. Made by Jay Bennet, same guy who makes the WPCentral app ;-)

Ah that's why RateYouBeer picked up a few more submissions last night :) hope you enjoy the app guys

Thanks! I have used rate my beer and it is good but looking for something else pay/free as long as it's good!

Thanks Daniel! I've drunk Scotch proudly for years, but have recently started to explore American Whiskies. This is going to be very helpful! I can recommend, if you ever want a road trip, take a visit to Tuthill Town Distillery. They make Hudson Whiskey and Bourbon. They have a very educational tour!

I should mention they're in Gardiner, NY.

Interesting, will look into it!

Are you drunk now, Danny?

No, but I did thoroughly enjoy that glass ;-)

Daniel, did you lose weight? You look younger...different somehow... ;)

Did you just call me fat? lmao

Whisky, and a Hitchens quote. My day is complete.

Downloading this app.
My favorites:
Lumia 900
Glenlivet 12
Glenlivet French Oak



Anything Balvanie... I have a 17 year old peat cask special... Delightful...

Rate my beer is not showing in the marketplace

That's because it's called Rate YOUR Beer.

Hmm, Laphroaig 25 or new Surface tablet. Decisions, decisions.

You quoted The Hitch, always a classy move :)

You could check out the app Mixology!

Have to check that out... And I agree 95% of the time my whiskey is neat... And Irish

To echo a sentiment already expressed:
+1000 internetz to you for quoting the Hitch and for enjoying a fine single malt!

+100 for calling people who mix scotch pansies. I LOL'd!

Just started a new hobby, Wine tasting, although I do red wines, good job on the article an example that tech is supposed to serve us not the other way.

Why did this app need access to owner identity and the music/video library??

I'm trying my hand at making a similar app for wines. There are plenty of wine apps out there, but none of them really get the job done.

Might I suggest buying a Glencairn Glass, instead of using a tumbler?
I got one for myself, and I love it. It's such a nice piece: http://www.whiskyglass.com/
Windows Central Newsletter
Thank you for signing up to Windows Central. You will receive a verification email shortly.
There was a problem. Please refresh the page and try again.