Toilet Time, not your typical Windows Phone time waster of a game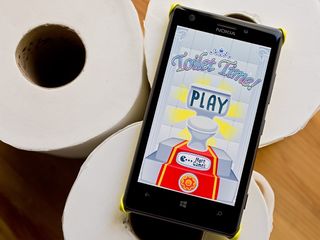 There are plenty of Windows Phone games available in the Store to help you pass short bits of time. These games are not overly complicated but challenging nonetheless. Toilet Time is one such Windows Phone game that is a collection of quick, mini-games designed to help you pass the time from the lavatory or anywhere else for that matter.
Available for low-memory devices, Toilet Time does have a bit of appeal. Games generally test your skills at speed and concentration. It may not be your first choice of games to occupy your private time but if you are looking for a game that is a change of pace, Toilet Time is worth trying.
Again, Toilet Time is a collection of quick games that only take a few seconds to complete. You have four lives (represented by rolls of toilet paper) and the goal is to see how many of these games you can successfully complete.
You can earn plungers during game play that in turn can be used to collect assorted items to fill your Collections section with. Keys are also earned during game play that unlock historical porcelain thrones in the game's Museum section.
The main menu offers up options to jump into game play, view additional games from the developer and access the game's settings (sound, music and alerts on or off). Prior to launching a game you can visit the Museum or Collections section. To use the plungers earned to add items to your collection, just tap the commode button that will appear in the lower right corner of the game launch screen.
Once you tap the game play banner, you will immediately launch into a string of mini-games. The games only take a few seconds to complete and range from squishing roaches that appear from a shower drain to unrolling a roll of toilet paper. A game timer appears at the top of the screen and if you fail to complete the mini-game, you will lose a life.
There is a transition screen that will appear between games that will display your score (the number of games completed) and your life total.
Gaming mechanics will vary from game to game with instructions popping up on the screen prior to the start of the timer. Some require you to swipe at the screen and erase a drawing while other use your Windows Phone tilt sensors to aim your pee to clean the toilet seat. Then you have games that you swipe at the screen to prevent objects from falling into a commode or swipe female and male figures into the appropriate restroom.
Once you've lost all your lives, a scoring summary will appear awarding you plungers to use in building your collection and possibly a key to unlock toilets in the museum.
Overall Impression
While none of the mini-games included with Toilet Time are very difficult to pick up on, the timing involved presents the challenge and overall the game does have a bit of appeal.
Just keep in mind some of these games may not be suitable for all ages.
I'm not sure if Toilet Time ranks up there to be a "go to" game to pass the time with but all in all, it's not a bad title to have in your Windows Phone gaming library. At last check, Toilet Time is picking up a 4 Star rating in the Windows Phone Store, which is about right.
Windows Central Newsletter
Get the best of Windows Central in your inbox, every day!
George is the Reviews Editor at Windows Central, concentrating on Windows 10 PC and Mobile apps. He's been a supporter of the platform since the days of Windows CE and uses his current Windows 10 Mobile phone daily to keep up with life and enjoy a game during down time.
I have never seen anything like this game O.O

I loved the post's photo, that phone on the roll of toilet paper... I laughed

This developer has great games on Android store.
On WP: "Toilet time" and "My Boo"
Great!

Well, the first time I saw this game it was from a friend on iPhone some weeks ago so it's not that unfair...

Thats really funny but I think not worth my time

What happens when you run out of paper?

Lol wow! I've never once considered using a mobile when in the loo, but I suppose its a good thing there are options for those that need it.

You must be one of the only people who doesn't.

Actually toilet time is toilet time, not mobile time. But even I use my phone sometimes there

I personally never went to toilet without my phone LOL so that's my kinda game :P

Looks like a wario ware game.

Imagine someone finds this in your app list

Lol. I didn't really think of that. Lol. I was quite excited of the prospect of having something to do in the toilet other than...you know. I've changed my mind though.

WC office toilets momentarily had no tissue paper rolls, because of George's idea for image.

this may be the right game to play in toilet.

That's what I thought as well until I saw Alphamaster32's comment.

I showed it to my dad and he's demanding my phone whenever he needs to go.

Need more time wasting games like this.. Absolutely love them...

I showed this game to my 5 year old nephew, and now everytime he goes to the bathroom and he takes a dump he coughs "hurrrmm, huurrrmmm" before the shit getting into water. Why did i showed him this? -.-
Awesome game btw

And sanitize that phone screen... o.O

Nice game if you have constipation.... Lol :-p

Who is your photographer??? He is so creative...

I like the way you pictured the 925 (above toilet paper)

I'm in the toilet right now. Lol

Am I the only one that had trouble swiping the iPhone to keep it out of the toilet? I so wanted to let it drop. Pic of a WP would have broken toilet. Lol