Top 5 Steve Ballmer memorable moments
Steve Ballmer is a bit of a controversial figure, depending on who you ask, but no matter how you twist it, he was the CEO of Microsoft for a long time, spawning multiple memes, memorable moments and both good and bad memories.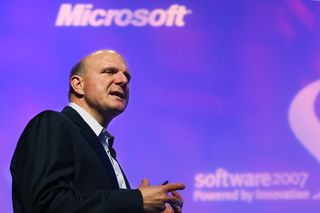 (Image credit: Microsoft)
We collected a set of the most memorable Ballmer moments, in honor of his "Microsoft anniversary;" Ballmer was named the company's president and CEO on January 13, 2000, 18 years ago today.
Without further ado ...
1. Developers, developers, developers!
This fascinating meme has spread way beyond the Microsoft community and infected minds worldwide with its rhythmic nature. When Steve Ballmer gave a presentation on Microsoft's twenty-fifth anniversary, Steve couldn't handle his maniacal energy, and he let it all out by shouting "developers" multiple times as loud as he could, while energetically (and sweatily) waving his hands. It became a huge internet meme which has stayed with us to this day. In 2008, Steve slightly altered the meme by changing it up to "web developers," which proved that he was aware of the comical nature of the whole thing.
2. Ballmer's last speech as Microsoft CEO
When Steve Ballmer held his last speech as the CEO of Microsoft in 2014, a lot of people found it to be very emotional. No matter if you liked the man or not, you have to agree that this particular company meeting was ... heartwarming. Steve Ballmer cried on stage while he was thanking employees for everything they had done, and he wished them good luck in the future under the lead of Microsoft's current CEO, Satya Nadella.
3. Laughing at the iPhone
Ballmer has had more than one infamous moment that is laughed at today, but this one, in particular, is especially memorable. He laughed off the iPhone as being too expensive, not functional enough, and Ballmer said that there was no way that it would sell well. That was almost a decade ago when the iPhone was first announced. The iPhone today is the biggest success in the history of consumer electronics, and Windows 10 Mobile is slowly fading away.
4. The Windows 95 release presentation
The Windows 95 presentation was a huge thing for Microsoft, as well as its customers. It was the most consumer-friendly OS Microsoft had ever released, and because of the huge excitement that filled the people presenting the product, the presentation resulted in a small dance by cofounder Bill Gates, Ballmer and a few other high-profile executives at Microsoft. As expected of Steve, he took things a little too far. The (in)famous internet meme that's known as the "Steve Ballmer monkey dance" was born.
5. What is love?
Ballmer and Gates have a long common history behind them and one of these famous moments was a little play on the song, "What is love?" Gates and Ballmer both decided to record a small parody to highlight the Windows 98 launch. The two have recorded multiple different videos together, but this one, in particular, is very memorable and very funny. The parodic and comical nature of the video once proved that Ballmer can be a really funny guy.
Happy birthday, Steve! And if you simply can't get enough Microsoft memes, check out this list of the best of the best:
Updated January 12, 2018: We double-checked this post and reran it in honor of the 18-year anniversary of Ballmer being named Microsoft's chief executive.
Get the Windows Central Newsletter
All the latest news, reviews, and guides for Windows and Xbox diehards.
Dennis Bednarz is a former writer for Windows Central and the guy behind ModMy. He has been a recognised member of the Microsoft community for years and owns everything from Lumia phones to Surface PCs. He occasionally likes to rant about Windows Phone and drink tea. You can go ahead and follow him on Twitter at @DennisBednarz