Top Windows Phone Games from Magma Mobile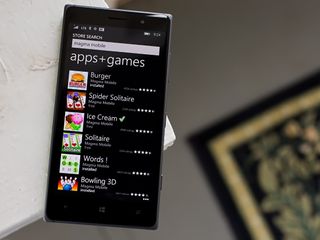 Magma Mobile is a gaming developer that has quietly built up a rather impressive and popular portfolio of Windows Phone games. Many of the gaming titles are great time wasters with challenging game play and nice graphics.
For this weekend's Windows Central Roundup, we have plucked a few of the top rated games from Magma Mobile's collection to spotlight. You can find the full, 40 game collection through this link or simply by searching Magma Mobile in the Windows Phone Store.
Bowling 3D
Bowling games can be a fun way to pass the time with. Games can be relatively quick and challenging. Bowling 3D is one of three bowling games from Magma Mobile and approaches things from a more traditional manner.
Game play supports up to four players (pass and play fashion) and the ability to choose your own bowling ball style. There are 15 styles of bowling balls ranging from sparkly balls, solid colors and sports themed bowling balls (baseball, basketball, etc.).
Game mechanics are simple. You tap/slide sideways at the screen to position your bowling ball on the lane. Then swipe down the lane to send your ball towards the pins. Bowling 3D's course of play follows your typical game of bowling with ten frames in a game.
Bowling 3D may not have the most bling when it comes to Windows Phone bowling games but if you are in the marked for a simple, challenging game of bowling it is worth a gander.
Download Bowling 3D for Windows Phone (Free)
Plumber
Plumber is a challenging puzzle game where you work to prevent a flood from happening. You are presented with a maze of pipe sections that have to be rotated to connect both sides of the gaming board and let the water flow safely from one side to the other and stop the rising waters.
Plumber has two gaming modes that include an Arcade Mode where you make the connections to keep the water from rising and a Challenge Mode that is more level based.
Game mechanics are simple with Plumber. Just tap on a section of pipe to rotate it and make a connection. Pipes that are connected to a water source will turn silver with the red pipes not being connected. To add to the challenge, some sections of pipe are locked and cannot be rotated. The rising water levels are indicated to the right side of the gaming screen.
Plumber comes across as a fun, casual gaming title from Magma Mobile
Download Plumber for Windows Phone (Free)
Burger
Burger is a Windows Phone game for the short order cook in all of us. You are hired by a chain of fast food restaurants to serve customers as fast as you can, earning money along the way.
The game screen will display your available ingredients across the bottom of the screen and your order will display down the right side of the screen. You will need to build the meal in the specific order given by the customer. As you advance through the game, side orders become available for customers to order (ice cream, french fries, etc.)
Time is money and you will need to serve customers quick enough to reach the daily goals before the game timer hits zero. Burger includes three gaming modes that include a Career Mode, Time Attack and Burger Creator. Time Attack sees how much money you can earn within the time limits and Burger Creator is a free play mode where you have access to all the ingredients to see what fast food creation you can make.
Burger will test your reaction and speed during game play and you may be surprised how tough it is to make the customer happy.
Download Burger for Windows Phone (Free)
Words!
Words! is a Windows Phone game that puts a slight twist on the classic word search styled games. A list of words is displayed at the top of the game screen that you must find in a field of letters. Tap and hold on a letter to trace one of the words in the list. You can trace sideways, up, down and at angles to find the words.
Words! has two game modes that includes a Challenge Mode, which is a level based game and a Time Attack Mode that has you finding as many words as possible before the clock hits zero.
The Time Attack has three time sessions (1,3,5,10,20 and 30 minutes) while the Challenge Mode has three difficulty levels (easy, medium and hard), each having 21 levels per difficulty.
The layout of the game is uncomplicated, game play challenging and overall Words! is a fun title to pass short bits of time with. It is also a game that should be appealing to Windows Phone gamers of all ages.
Download Words! for Windows Phone (Free)
Bubble Blast Marbles
Bubble Blast Marbles is a Windows Phone arcade game designed much in the same style as Sparkle or Zuma. You have a row of different color marbles slowly a path and it is your job to eliminate them all before they reach a pyramid.
To eliminate the bubbles, you have to shoot marbles into the row, creating a match of three or more of the same color marble. As the marbles are eliminated, the remaining marbles will roll back to create a solid chain that often triggers a chain reaction of color matches.
Your cannon that shoots these marbles runs the bottom of the screen. You can fire the cannon by tapping/holding the screen to move it in place and when you release the screen, it will fire. You can also just tap on the screen where you would like the marble shot and the cannon will line things up and fire.
Should a marble reach the pyramid, you will lose one life point for every marble. Bubble Blast Marbles is somewhat generous with your life points beginning the game with 100 points in the Arcade mode and 15 per level in the Challenge (or Normal) mode. The Arcade Mode is more of a survival game where the Challenge Mode has 75 levels of play.
The game does pick up in speed the further you progress and the path of the marbles changes as well. To help you survive, bonus items will fall from the top of the game screen that you can collect with your cannon. These items include exploding marbles, freeze rays and one that will slow down the marble chain so you can pick your shots more carefully.
Bubble Blast Marbles has somewhat modest (but nice) graphics compared to similar games but the challenge is present. In playing the Windows Phone game over the past few days, it comes across as a nice time consumer of a game.
Download Bubble Blast Marbles for Windows Phone (Free)
What is your Favorite?
In many respects, the Magma Mobile collection reminds me of the penny arcade games that are a fun way to pass short bits of time with. However, many of these games have more meat on the bone, providing a little longer entertainment stretch.
We have highlighted five of the higher rated Windows Phone games from Magma Mobile and if we have missed your favorite title from the Magma Mobile collection, feel free to sound off in the comments below.
Windows Central Newsletter
Get the best of Windows Central in in your inbox, every day!
George is the Reviews Editor at Windows Central, concentrating on Windows 10 PC and Mobile apps. He's been a supporter of the platform since the days of Windows CE and uses his current Windows 10 Mobile phone daily to keep up with life and enjoy a game during down time.
All available here in Brazil! Thanks!!

Type of games that my mom might like

Well, all except for the last one which looks like a nice Zuma clone

I've only tried Words but I might give Bowling 3D a shot. These devs put a lot of detail in their work and it shows.

We need more developer like this. :)

Yes and no. It's good to see an active developer, but it's a shame these are all clones of popular games. I'd love to see more original titles coming out!

Xbox live ... Any one anyone any one ?

It's not possible for an Indie developer as it's prohibitively expensive in both time & money to integrate

From a long time that game is on my mobile. Classic game.

Are you a jerk? I wrote the full form of coc clash of clans and you are asking you mean coc..

Castle Clash is similar if not better.

Thank you magma mobile for supporting Windows. Thankyou very much.

Sweet! It is slowly getting better I see.

All the games are 13mb.. Anyone noticed??

I've had bowling 3D for a while. Might try Plumber. I liked that kind of puzzle game.

While they support wp, a lot of their games still have a lot of bugs in it :( that's not really cool, but that doesn't take away that I really appreciate the effort that they support our wp devices! :D thx magma mobile

Games are ok, design are ugly..., for kids

Im going to download bubble blast..

Thanks for supporting windows.

I played Burger, it's a nice game.

You need more board games like painted yathzee
Windows Central Newsletter
Thank you for signing up to Windows Central. You will receive a verification email shortly.
There was a problem. Please refresh the page and try again.