Touch Diamond in GSM 3G Flavor hits the FCC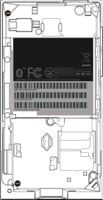 Phone Scoop [via Mobility Site] caught the Touch Diamond over at the FCC yesterday. Ordinarily, this wouldn't bother us much, as we have long figured that it would show up in CDMA flavor here first. Oh ho, but wait, this Diamond is GSM: "This new version seen on the FCC site includes WCDMA 850/1900, and also confirms Bluetooth 2.0+EDR and Wi-Fi."
Those WCDMA 850/1900 bands are the bands that AT&T uses for 3G here in the states. That means, of course, that the Diamond isn't going to be stuck as an EDGE-only device here. What we don't know is whether or not AT&T is going to officially pick it up. They gave the original Touch a pass and we haven't heard any rumblings yet about them picking it up, so the outlook isn't great on getting this thing at a subsidized price.
As usual, HTC has asked the the rest of the details they sent to the FCC be kept confidential, this time "indefinitely." Ouch.
Windows Central Newsletter
Get the best of Windows Central in your inbox, every day!
That picture looks like the original Diamond, Diamond. Not the rounded edge, flat back of the CDMA version. This might very well be destined for best buys.

A world class wow gold supplier online. We have mass available stock for most of the servers, so you are able to get your gold wow in a short while. Do you have a hurry using of world of warcraft gold, ffxi gil? Just come to our website, there are wow gold for sale. We provide cheap gold wow in an unimaginable price. We are sure that you will not find a place where you can get your desired cheap wow gold, the cheapest gold.