Magically erase unwanted objects in your photos with TouchRetouch for Windows and Windows Phone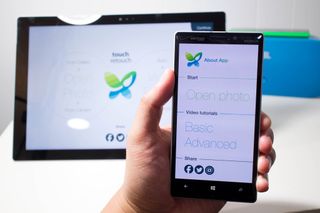 If you asked me to describe the TouchRetouch app in one word, I'd say it's magical. We've covered this photo editing app a few months ago, but it's worth a second look. It's also a universal app, so that means you can buy it once, and then download it both on your Windows and Windows Phone devices. What does it do? It lets you remove unwanted objects like smudges or people out of the picture. Want to see it in action? Watch our hands-on video on the Surface Pro 3 and the Lumia 930.
The user interface on the Windows and Windows Phone is very similar. TouchRetouch first asks you to open a photo or snap one with the camera. The editing screen is pretty straightforward. On the right, you have the lasso tool, brush, eraser, and move.The move tool lets you pinch to zoom and drag the image. This is helpful in finding and zooming into the unwanted objects.
There are two ways to remove unwanted objects. You can use the lasso tool to draw just outside the object or you can use the brush to paint over the object. Whenever your finger is touching the screen, there's a bubble that appears slightly above and to the left with a zoomed in view. This helps you become more accurate. Areas you've selected turn red. Use the eraser tool to remove some parts from the red area. If you make any mistakes, you can also tap the undo button and try again.
Once you're satisfied with highlighting the unwanted objects, tap the go button. Those objects will magically disappear.Press and hold the button that looks like a film roll to compare the original with the edited image. That's it! You can save the image to the gallery or share via email, Bluetooth, OneDrive, and other apps.
TouchRetouch is definitely worth checking out. It's different from most photo-editing apps that just let you add filters. Give it a try and let us know what you think.
I'll look into it. Never mind, got the trial.

Tried it before .. Good .. but with fantasia painter you can do that too and alot more

How do you do this in Fantasia on windows 8.1? I don't see how...

Universal app but two different prices?

Unified apps are the ones that are the same price and linked via the store. Universal means they both run on mostly the same code. Since the market share for the Windows Phone Store is lower than the Windows Store, I understand the price difference.

It's 99 cents on WP as well.

I'll definitely buy it on my WP then download it on my surface :D I'll try that out in a bit :D

Sounds like a good app. Will definitely try this.

I've used this app a couple times.. Works pretty good when you don't have Photoshop with you...

Whatever happened to the Nokia app that did something like that? Does it still do it?

That is for moving objects

Got it long time ago and it's awesome app!

Wow, this just saved a photo i took this friday.

Tahiti... It's a magical place.

Even when the top of your head is removed.

I see what you did there ;)

The UI looks kinda cool but lame

How can it be both? Kinda cool but lame?

Just certain aspects. Like I want it to be full-on metro but its not ya know? Ya gotta be in the know, to know. Ya know?

Have had this app for some time and is fantastic, truly fantastic.

How does it do that and replace the background so perfectly? Posted via Windows Phone Central App

Looks like a perfect app for the S3 pen, where you want to be very accurate.

A Surface 3 Pen? Photoshop would be the "perfect app".

@gwinegarden:
Mark stresses explicitly that there's no need to be precise when you try to mark an object. So fingers work just well.

Mark also gave examples where the background was rather simple. Doing this in more complex pictures would require much more accuracy.

Just used it.. Great app & it works well for me!

I see the opposite from what's listed in the article. It's $0.99 on Windows Phone and $1.49 on Windows.

Definitely buy the 99 cent one on the phone... it'll save you a whole 49 cents when installing on Windows 8/8.1

Oh shoot, you're right! lol math..

This is what I call a good UI. Thanks to developers. !!

Nice app, understandably not as powerful as "real" rotoscoping software but doesn't cost arms and legs and tentacles either.
My only grief is that as a lefty, the magnify bubble is on the wrong side of the screen, this should actually be an option. Recommended this one for some light photo retouching but don't expect full-blown miracles.

Does a great job. Nice app!

This application will not run on the Windows 10 Technical Preview. The Support mailbox is also not working.

Watched the video. Skipped the trial and immediately purchased the app. Money well spent.

Only that,it does, We need more tools like adobe PhotoShop, or more filter.

How well it works depends on the size of the to be retouched object. A rule of thumb seems be an objected max. 1/5 the size in the picture. Anything bigger and things go wrong. Pictures taken using a lumia 1520. You can see that the area where roughly the beetle should be is an oddly shaped blur. With larger images it becomes more clear how the disappearing probably works.

https://www.flickr.com/photos/23874565@N03/

This works pretty well on pictures that are pixel dense Jpg pictures. The more information it has, the better this works. Cool app.
Windows Central Newsletter
Thank you for signing up to Windows Central. You will receive a verification email shortly.
There was a problem. Please refresh the page and try again.