TP-Link Deco X55 mesh system review: Wireless without compromise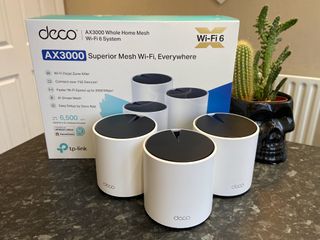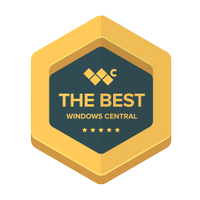 (Image credit: Windows Central)
TP-Link has manufactured networking hardware for decades, and they consistently prove to be some of the best in the business. Their line of mesh Wi-Fi products promises to impress, with the variety of Deco sets offering a solution to weak wireless signals. Mesh Wi-Fi outperforms most single routers by using access points placed around a home or business, bouncing your wireless internet around in a relay.
The Deco X55 whole-home mesh system is available as either a two-pack or three-pack set, with the recommended maximum of 10 Deco units if you have a larger building to cover. Featuring the super-fast Wi-Fi 6 standard and three Gigabit LAN ports in each Deco, the X55 package claims to deliver seamless coverage and remove dead zones. So how does it compare to my usual home setup?
TP-Link Deco X55 mesh system
Bottom line: Solving my issues of weak Wi-Fi in a house with super-thick walls, the Deco X55 is a seriously speedy mesh system. Super easy to set up with the Deco app, I'll never go back to trailing Ethernet cables.
For
Super-fast Wi-Fi 6
Simple setup with Deco app
Plenty of LAN ports
Against
Expensive, but worth it
Only one Ethernet cable in box
Power cords could be longer
Deco X55: Price and availability
TP-Link sells its Deco X55 AX3000 mesh Wi-Fi set through major third-party retailers, including Amazon. The Deco X55 currently enjoys good stock availability and is sold in glossy black and white as either a two-pack or three-pack.
Deco X55: What is mesh Wi-Fi?
Mesh Wi-Fi systems have been around for a while, with the concept of using access points to beam your Wi-Fi signal farther than a single router. Since I've spent the better part of a decade relying on ISP-provided hardware combining modems and routers, I've been stuck in the mindset that Wi-Fi can never be as fast or reliable as hard-wired Ethernet. Third-party routers have given me more control over certain aspects of my network, but none of them outshined any others when it came to providing my old house with wireless internet.
My home is over a 100 years old and has thick brick walls combined with aging power cables, and so typical is it that my office is the absolute farthest room from the fiber-optic connection coming into the house. Trying to connect our combined office and hobby room to the internet has been a chore, and trying to find a solution was a painful search until I tried out the Deco X55 set from TP-Link.
Previously, I had run a 50-foot Ethernet cable across the hallways and down the staircase. Sure, it gives me a strong internet connection, but it also gives me a strong chance of falling down the stairs, so that's not ideal. Running a weather-proof Ethernet cable through the attic is possible, but a high risk of damages could break the connection and be costly to repair.
Past that, I eventually settled on trying some of the best powerline network adapters. They use the power cables of your house to transmit data, which is very clever, but even with a decent set of adapters, I still couldn't reach maximum internet speeds. Luckily, the Deco X55 has opened my mind to the possibilities of mesh Wi-Fi and wireless networking in general, proving to be incredibly capable.
Deco X55: The positive
Setting up the Deco X55 units was a breeze. Using the Deco app from TP-Link on my phone to "paint my home in Wi-Fi" was as simple as connecting the power and naming each unit. Since I use my ISP-provided router, I instead switched that to modem-only mode, leaving the Deco system to take over as my router and control all of my traffic. Luckily enough, each Deco in the X55 set has three LAN ports, so I connected my wired devices in the living room.
Connecting the remaining Deco units was even easier since I barely had to do a thing besides connect them to power. The LED on the unit briefly blinks then the Deco automatically finds its closest available sibling to extend the network. Back on the app, I ran the "network optimization" feature, and it selected a Wi-Fi channel least affected by congestion. The whole system online, the Deco app asked to run a quick firmware update. I had run speed tests on my usual setup to compare the results to the TP-Link Deco, and to say I was pleasantly surprised would be an understatement.
Swipe to scroll horizontally
| Header Cell - Column 0 | Powerline | Deco X55 | Ethernet |
| --- | --- | --- | --- |
| Downstream | 26.98Mbps | 109.89Mbps | 109.77Mbps |
| Upstream | 10.03Mbps | 9.99Mbps | 10.02Mbps |
| Ping | 22ms | 25ms | 22ms |
I ran five separate speed tests on each connection then calculated the mean value since there were no significant outliers. The jump in speed from my standard powerline adapter setup is striking but not too surprising. The real shock was how the office Deco unit, farthest away from my router, performed almost identically to the 50-foot Ethernet cable connected directly to the main router. Wireless speeds matching that of LAN? Maybe it's time I ditched these trailing cables after all.
The overall setup is the base Deco placed next to my ISP-provided router set to modem-only mode and connected via the single included Ethernet cable. With that, I have the two counterpart units upstairs. One directly above the living room placed in the hallway, and the other in my back office, connected to my PC via Ethernet and using the hallway Deco as a relay point. Admirably, this feeds the maximum internet speed from my incoming connection throughout my house without latency issues.
It's a similar experience to using Wi-Fi extenders, but with the benefit of the Wi-Fi 6 speeds and extra LAN ports offered by the Deco X55 system. It does everything that TP-Link advertises and greatly improved my home network. Anyone who suffers from poor Wi-Fi signals in their home should consider the Deco X55 rather than running unwieldy lengths of Ethernet cabling across each room. It's almost too easy to use.
Deco X55: The negative
The whole experience with the Deco X55 was relatively painless, so keeping notes on negative points didn't yield much. TP-Link includes one free Ethernet cable, but there are a total of nine LAN ports, so throwing a couple more cables into the box wouldn't hurt. Besides that, the power adapters have a shorter cord than expected. It's not a deal-breaker, but I couldn't get the base Deco too far from my modem, which remains close to the wall. When wireless signals are the priority, it would be nice to have a little more length to position the units, but it's nothing extension cords can't fix.
Should you decide to use the Deco X55 in access-point mode, you will lose access to parental controls and quality of service (QoS) tools to manage internet traffic. If you have a dedicated modem, this shouldn't be an issue, just something to consider if internet usage requires monitoring. Best to use the Deco as a router and take full advantage of everything the app offers on iOS and Android, including connection alerts if anything goes wrong.
The only compromise I had to make was dropping from five Ethernet ports on my previous router to just three on the base Deco, but we only have three Ethernet devices to connect anyway. If you have a lot of wired devices where your primary Deco would be situated, it's critical to consider how you might remedy this. Each unit does have three LAN ports each, so contemplate moving wired devices closer to the other Deco units to prevent issues. The lack of USB ports also means those using USB external hard drives as network-attached storage (NAS) or USB printers will need to find alternative methods, such as Ethernet-powered NAS.
Past that, the only real downside to the Deco X55 is its price. It's a fair ask, but it's on the high side for people looking to fix their spotty Wi-Fi. I can see why some might spring for cheaper Wi-Fi extenders or convert old hardware into access points, but nothing has compared to the ease of use of this mesh Wi-Fi system. Take some time to consider your options, and if you can afford it, give the Deco X55 a fair shot. TP-Link has knocked it out of the park here.
Deco X55: Should you buy it?
I've never known networking to be so easy. It's incredible how something that resembles an upmarket smart speaker can super-charge my internet far better than the ridiculous reels of Ethernet cables running around my house. The Deco X55 is just one of many mesh systems from TP-Link, but it stands out as seriously powerful and joyously simple to set up.
Compared to some of the best Wi-Fi 6 mesh routers out there, the Deco has proved to be the best solution to my wireless woes. I can't see myself ever moving away from mesh Wi-Fi now.
You should buy this if ...
You struggle with poor Wi-Fi around the home
You need to connect far-reaching rooms to the internet
You shouldn't buy this if ...
You have a large amount of wired devices
You rely on USB-powered network devices
If you suffer from dead zones in your network, you must give the Deco X55 a chance. The Deco app makes setup as simple as possible and adjusts to give your network a speed boost. It is a fantastic way to keep a household connected without compromising on speed versus distance from the router.
With super-fast network connections over a clever mesh Wi-Fi 6 system, the Deco X55 from TP-Link solves the issue of weak signals and dead spots in the home. Though a tad expensive, it's worth the asking price and will perform as expected. Maybe spring for a couple of extension cords to position the Deco units exactly where you want them and enjoy your home, painted in Wi-Fi.
Get the Windows Central Newsletter
All the latest news, reviews, and guides for Windows and Xbox diehards.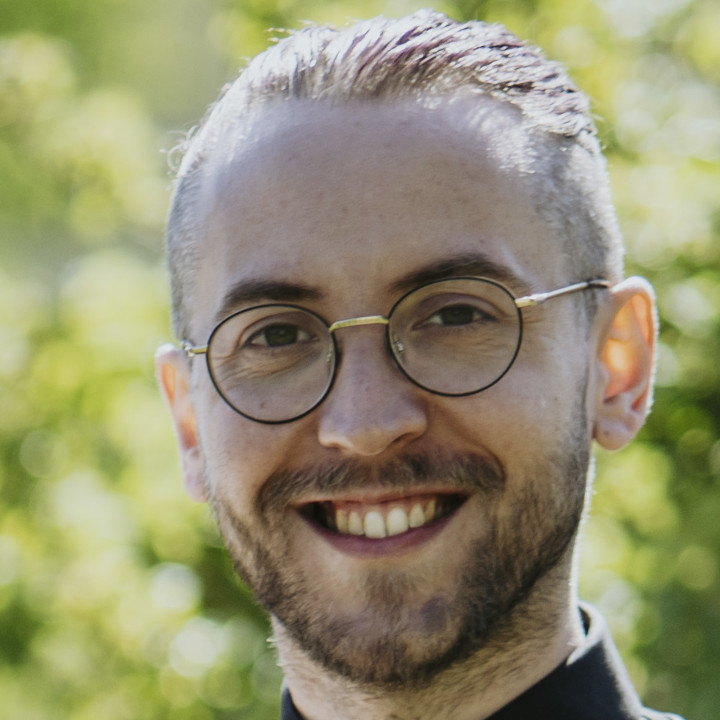 Ben is the channel editor for all things tech-related at Windows Central. That includes PCs, the components inside, and any accessory you can connect to a Windows desktop or Xbox console. Not restricted to one platform, he also has a keen interest in Valve's Steam Deck handheld and the Linux-based operating system inside. Fueling this career with coffee since 2021, you can usually find him behind one screen or another. Find him on Mastodon @trzomb@mastodon.online to ask questions or share opinions.