Best Wi-Fi routers 2023
Get yourself connected with the best routers for any situation.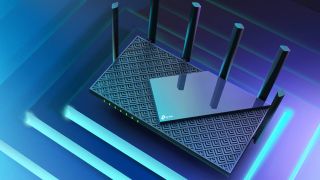 (Image credit: TP-Link)
There's no shortage of choices when it comes to routers, to the point it becomes overwhelming when trying to find the best model for your network. With thousands of variations and features to understand, we've made it easier to find the best Wi-Fi router by narrowing the selection to these easy-to-understand categories.
TP-Link Archer AX73 — WiFi 6 Router
Best overall
Reasons to buy
+
Super-fast Wi-Fi 6 standard
+
Connect over 200 devices
+
Sleek design
Reasons to avoid
-
HomeShield Pro security requires a subscription
Covering all the bases for performance and value, the Archer AX73 features the modern Wi-Fi 6 standard and all the luxuries it brings. Its dual-band signal is broadcasted over six separate antennas, supporting intelligent beamforming to concentrate on your devices. Even with hundreds of devices connected, TP-Link has ensured you won't suffer congestion with the addition of OFDMA and MU-MIMO tech, some of the best upgrades with Wi-Fi 6.
Its single Gigabit WAN and four gigabit LAN ports keep your wired devices connected, with static link aggregation (LAG) supporting even faster speeds by combining two ports. USB-powered network drives (NAS) can connect to a USB 3.0 port, perfect for backing up your data from anywhere on the network. The Archer AX73 has a flush feature set without overreaching and is the best overall Wi-Fi router available today, ready to support your home network for years to come.
TP-Link Deco X55 — WiFi Router
Best mesh Wi-Fi
Reasons to buy
+
Modern Wi-Fi 6 standard
+
Deco app makes for an easy setup
+
3x LAN ports per unit for wired devices
Reasons to avoid
-
Expensive for the largest set
Proven to be a fantastic solution to weak wireless signals in our Deco X55 review, this mesh system from TP-Link is one of the most painless routers to set up due to its companion mobile app. Connecting a family of Deco units means automatically connecting the power and watching them do everything else. The Deco app gives tips on router placement and offers network optimization to help select the best Wi-Fi channel and minimize congestion.
Extending the reach of your wireless network and connecting wired devices in the farthest-reaching rooms of your home doesn't get any easier. With its Ethernet backhaul support, you can push for the maximum speeds your ISP offers in every room without compromise. The larger packs might push the price up, but they are worth the cost considering the benefits. Factor in the support of Amazon Alexa voice commands; this mesh set makes your home network a breeze to manage.
ROG Rapture GT-AC2900 — WiFi Router
Best for gaming
Reasons to buy
+
Optimized gaming traffic reduces lag
+
Customizable RGB lighting with ASUS Aura
+
4x LAN ports for high-speed Ethernet
Reasons to avoid
-
Previous-gen Wi-Fi 5 standard
For the ultimate experience in online gaming, you want the lowest possible latency to eliminate any semblance of lag. The downside is that you'll have nothing to blame for your losses, but that's part of the deal with the incredible ROG Rapture GT-AC2900 gaming router. ASUS touts "triple-level" game acceleration which gives your PC or console priority for its data traffic, taking your gaming packets on the shortest path possible to the server. This tech means it plays very well with game streaming services like Xbox Cloud Gaming and NVIDIA GeForce Now, so there's no better gaming router than this.
Its ASUS Aura RGB lighting will appeal to the gamer aesthetic, with customizable color selection and modes to reflect the status of your network. These gamer-centric features join a fantastic set of networking hardware in the dual-band GT-AC2900, including beamforming and MU-MIMO tech to reduce congestion. Four Gigabit LAN ports sit aside a single Gigabit WAN and two USB ports, perfect for connecting gaming devices via Ethernet for maximum transfer speeds. It might rely on previous-gen Wi-Fi 5 (802.11ac) tech, but the antennas kick out a strong signal, and the dashboard is feature-rich for optimizing online multiplayer gaming.
Netgear Nighthawk RAX70
Best high-performance
Reasons to buy
+
Tri-band Wi-Fi 6
+
Supports 2G Internet with link aggregation
+
Up to 2,500-square-foot coverage
Reasons to avoid
-
Very expensive
-
Bizarre sci-fi design
On the higher end of Netgear's Nighthawk router range, the RAX70 is a tri-band router with its Wi-Fi 6 tech bringing modern networking tools and fast transfer speeds. Four Gigabit Ethernet ports provide adequate connectivity for wired devices, with link aggregation combining two ports for compatible 2G internet packages. Wirelessly, the 802.11ax signal covers up to 2,500 square feet with 40 connected devices.
It's hardly the cheapest option, but the RAX70 packs some powerful hardware under the hood. A quad-core 1.5GHz processor pairs with 512MB DDR3 SDRAM to reliably handle heavy traffic in your network, including USB-attached storage devices, thanks to an included USB 3.0 port. The design might not be for everyone since it looks like a spaceship that escaped a sci-fi movie, but there are certainly uglier routers than this.
Netgear Nighthawk C7000
Best modem combination
Reasons to buy
+
DOCSIS 3.0 compatible
+
Supports Xfinity, Spectrum, and Cox cable
+
Four Gigabit Ethernet ports
If you're interested in a cable internet package, you'll need a DOCSIS modem. Some service providers include standalone modems free of charge or as part of their fees, but you can usually use a replacement without issue. A combination router modem like the Nighthawk C700 saves space and power by including DOCSIS 3.0, supporting maximum download speeds of 1Gbps. It's undoubtedly a cost-saving method, and the C7000 is an excellent choice without going overboard.
Four Gigabit Ethernet ports provide the fastest transfer speeds for desktop computers and games consoles, and its Wi-Fi AC1900 signal can reach a maximum bandwidth of 1,900Mbps on the local network. Double-check your cable plans to ensure compatibility, then save cash by picking up this wireless combination router.
TP-Link AX1800 Archer AX21
Best budget
Reasons to buy
+
Affordable Wi-Fi 6
+
Mobile app or web dashboard control
+
4x LAN ports for wired devices
The most affordable approach to Wi-Fi 6, the Archer AX21 packs an impressive feature set considering its bargain price. It brings all the luxuries of a modern wireless standard without breaking the bank. The dual-band signal hits up to 1,800Mb/s with OFDMA tech to handle dozens of devices at once, with plenty of bandwidth for HD video streams and gaming.
Four Gigabit LAN ports and a single Gigabit WAN keep the options open for wired devices, with a single USB port connecting devices like printers directly to your network. Pair the AX21 with a TP-Link OneMesh range extender to further increase the reach of the wireless signal, all protected by the latest WPA3 security for password encryption and firewall protection against unwanted intruders.
Choosing the best Wi-Fi router
Why you can trust Windows Central Our expert reviewers spend hours testing and comparing products and services so you can choose the best for you. Find out more about how we test.
The best overall choice for anyone is the Archer AX73 from TP-Link, a jack-of-all-trades dual-band router with the perfect balance of features, style, and affordability. If your home suffers from weak wireless, then mesh Wi-Fi with the TP-Link Deco X55 set proved in our review to be the solution. Extending the reach of your wireless signal with the powerful and modern Wi-Fi 6 standard ensures you get the fastest speeds available in the farthest-reaching rooms of your home.
For gamers, lag is the ultimate enemy of online multiplayer. The ASUS ROG Rapture GT-AC2900 is designed with you in mind, packing plenty of tools and features into its firmware to prioritize your gaming traffic and keep the games running smoothly. Keep costs down with the Archer AX21, another fantastic choice from TP-Link with affordable Wi-Fi 6 tech without any serious sacrifices in its features. Whatever your networking needs might be, there's a router for you.
Get the Windows Central Newsletter
All the latest news, reviews, and guides for Windows and Xbox diehards.
Ben is the channel editor for all things tech-related at Windows Central. That includes PCs, the components inside, and any accessory you can connect to a Windows desktop or Xbox console. Not restricted to one platform, he also has a keen interest in Valve's Steam Deck handheld and the Linux-based operating system inside. Fueling this career with coffee since 2021, you can usually find him behind one screen or another. Find him on Mastodon @trzomb@mastodon.online to ask questions or share opinions.