Ethernet backhaul or wireless: Which should you choose for your mesh router?
Isn't mesh Wi-Fi supposed to replace cables? It depends.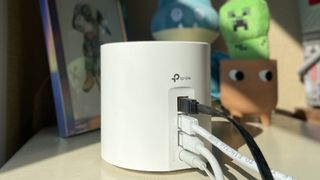 (Image credit: Windows Central)
Using mesh Wi-Fi kits is a fantastic way to deliver a reliable wireless signal around your home, often supporting up to as many as 10 nodes effortlessly transporting data traffic from your modem and router. You can move from one node to another without switching Wi-Fi networks or needing separate passwords, so the benefits for larger homes are fantastic.
One downside to mesh Wi-Fi is that data travels node to node from the router and then back again using the wireless backhaul, meaning each packet of data must make multiple stops in each direction of its journey of your mesh network. Using an Ethernet backhaul means that outgoing traffic can travel directly back to the router via a high-speed LAN port, faster and more reliably than any current wireless technology could match.
Since Ethernet cables can reach lengths around 300 feet before demonstrating any signs of degradation, connecting the farthest-reaching mesh node to a LAN port means you won't have to sacrifice internet speed for convenience in hard-to-reach places. If you can reliably fit an Ethernet cable long enough, you'll enjoy the best possible network performance by connecting your mesh Wi-Fi system with Ethernet backhaul.
Ethernet backhaul or wireless: Which should you choose for your mesh router?
If you can neatly fit Ethernet cables around your home at your required length to a particular room with weak signals, you should use Ethernet backhaul to maximize your maximum network speeds. Ethernet cables usually work reliably up to around 300 feet and help avoid common Wi-Fi woes like channel congestion.
Amazon Basics 100-foot Cat7 Ethernet cable
100 feet of flat Cat7 Ethernet, well suited for discreet cabling and rated for speeds of 10Gbps. The perfect way to test out Ethernet backhaul from a mesh node up to 30m away from your router.
Upgrading your mesh Wi-Fi system
Running lengthy cables isn't always easy and might require a route outside the home or underground. In this case, you need an Ethernet cable with a weather-proof jacket that can withstand the elements. Otherwise, a more discreet, flat Ethernet cable can run around the edges of rooms and ceilings to reach its destination without being noticed.
Alternatively, you can choose from some of the best Powerline adapters to transfer data over the power cabling in your home. A set of adapters capable of matching the speeds of your wired network might be on the higher end of budgets, but they are a reasonable way of bringing Ethernet to your nodes if longer cables are out of the question.
Once your mesh system is wired directly to the router, you have options for connecting more wired devices in far-reaching rooms. Mesh systems like the TP-Link Deco X55 include three ports on each node, perfect for devices that might lack wireless functionality. Keep one port free for the Ethernet backhaul, and you'll hit the maximum speeds offered by your modem and router, so it's definitely worth the effort if you can make it happen.
Get the Windows Central Newsletter
All the latest news, reviews, and guides for Windows and Xbox diehards.
Ben is the channel editor for all things tech-related at Windows Central. That includes PCs, the components inside, and any accessory you can connect to a Windows desktop or Xbox console. Not restricted to one platform, he also has a keen interest in Valve's Steam Deck handheld and the Linux-based operating system inside. Fueling this career with coffee since 2021, you can usually find him behind one screen or another. Find him on Mastodon @trzomb@mastodon.online to ask questions or share opinions.