Track Runner is an excellent fitness app for Windows Phone 8 aimed right at runners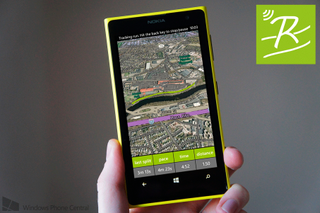 There was a period of time where Windows Phone didn't exactly have any stellar running apps in the Store. That changed this past year with Runtastic getting big updates early in the year and Active Fitness joining the Windows Phone Store. There's also Endomondo to help add variety to the selection of fitness tracker apps in the Store. Today we're getting one more and it's leaving us quite impressed. Let's check out Track Runner for Windows Phone 8.
The App Cauldron is a new start-up bringing us Track Runner to Windows Phone. Why'd they set out to build Track Runner when others apps like Runtastic, Active Fitness, Endomondo and others already exist? They wanted to create an app that was uniquely focused on the needs and wants of runners. Those other apps are great, but their focus is on nearly any activity, whereas Track Runner is aimed squarely at those running.
It has a few tricks and features for runners that make it stand out when compared to those other apps. Track Runner does the basics that you'd expect like tracking runs, giving you a running diary, and the ability to monitor your progress through statistics. Here's the full list of features you're getting with Track Runner for Windows Phone.
Super accurate GPS tracking
Intelligent track and lap recognition
Powerful statistics (fastest times, accurate splits, calories burned, pace graph, etc.)
Performance Genius (uses the McMillan method to estimate your potential times for popular race distances)
Diary with notes feature
Records of your fastest runs and laps
GPX import and export
No sign-up or membership required
Automated backup
Social network sharing
Voice notifications, including split notifications
Works under the lock-screen
"Add untracked run" option to log indoor training or when you forgot your phone
Intuitive and easy to use interface
By far one of the coolest features in Track Runner is the ability for the app to automatically determine when you've completed a lap and to provide you with information like lap time, split, etc. Track Runner will also provide you with voice feedback during a run to keep you clued in on your performance while you're performing.
Another neat feat that Track Runner accomplishes involves the ability to help you determine how you'd do running a marathon. The feature is called Performance Genius and uses the McMillan running method to help you calculate what would happen if you ran.
Track Runner is available for Windows Phone 8 and goes for $1.99 in the Store. There's a free trial so you can play with it and see if it's for you. Grab it in the Windows Phone Store.
Windows Central Newsletter
Get the best of Windows Central in in your inbox, every day!
Now I want to run a mile just to see my marathon genius results.

Hmm... currently using Runtastic. Will give this a try on the next run

Sports tracker is pretty good. I first started using that app back on my old Nokia c7 phone.

I'm still looking for a running app that can predict my Half or Marathon time based on my current pace.

Adidas MiCoach can do it if you log on to their website. Hopefully those stats eventually make it to mobile.

This is exactly what the Performance Genius does. Just do a run as fast as you can (at least 1K; but the method gets more accurate with increasing distance) and the Performance Genius will tell you your predicted Half Marathon and Marathon time (amongst others!). Sarah from The App Cauldron

So while you are running you can glance at the app and it'll tell you your predicted time? Cool!

We've written a blog post explaining the Performance Genius in our #TrackRunner101 series: //www.theappcauldron.com/2013/12/track-runner-101-performance-genius_6.html

Is there a simple pedometer for walker, always on, something like Moves for WP? Thanks !!!!!!!!!!

Just swapped to runtastic after about 4 years of endo purely because their app is way out of date. Hopefully apps like this will force endo to up their game on WP.

GPX import/export is all I care about, so I'll have to check this out.

You'll enjoy our GPX export. It's incredibly fast and multiple runs can be exported at the same time. You can literally export 100s of runs in a few seconds. Sarah from The App Cauldron

It's cool that the developer is replying to our comments. If there's one thing that would make me jump ship to your app immediately, is if it had Runkeeper/Healthgraph integration. Only other WP app that has it at the moment is Caledos. Also, I didn't read in the features, but do you have auto-pause?

RunKeeper integration will be added in the next weeks. (If you would like to beta test this, email us on info@theappcauldron.com). Auto-pause is implemented but not activated; without a dedicated motion sensor (i.e. iPhone) it's simply not reliable enough and we didn't want to ship things that aren't working properly. In practice, this probably is not too much of a problem, the app is clever enough to compute records correctly without pausing. If the runner stops moving for 30 seconds or the GPS signal drops, the app will pause the run / voice notify the runner.

I would love to beta test RunKeeper integration. Will be sending you email after I post this comment. Also interested in getting Heart Rate info on the app. And customizable personal running plans, including notifying user if they're falling behind a certain pace when doing intervals. I understand there's not much HRM that's compatible with WP right now, but this would greatly enhance my training. BTW, your app has the most accurate GPS tracking. Only took two runs for me to buy the app. Will continue using the app further and will recommend to friends as well.

Might be a noob question but does this work without internet?

Yes, absolutely. The only features that require internet access are the backup and GPX export. You probably should download maps for offline user (otherwise the map during your run will be empty).

When will someone release a proper interval timer running app so i can stop using my old iphone everytime i go for a run.

I've posted regarding running apps in other threads but I wanted to add. I have been using TrackRunnerApp for the past 6+ weeks in rural Alaska. I have primarily used endomono in the past. TrackRunner is much better (subjective I know) at holding a signal and will track my routes when endo drops the signal. The app functions well on the track, you can simply stop and start a new track for intervals. The design and flow is so much nicer the endo. If you own a windows phone and you want/need a daily training app then you need to use TrackRunner. Go buy it. If your still reading this stop, and go buy the app! @alaskanjackson

How can I download map for offline using?
Can I set my pace goal and make the app notify me (faster/slower) to reach my goal? Same question for distance, time (running time/rest time for pace/interval training)?

I have been using this app for a while, and it is good. However, I've never needed to upload the GPX files until now. I'm registered with Strava and want to collate my runs with a running group. I can go through the process of uploading, but nothing shows on the email that I have registered. I have tried a different email address, and again, there are no files uploaded. Is this a phone configuration or a setting in the app? Thanks.
Windows Central Newsletter
Thank you for signing up to Windows Central. You will receive a verification email shortly.
There was a problem. Please refresh the page and try again.