Track Runner is an excellent fitness app for Windows Phone 8 aimed right at runners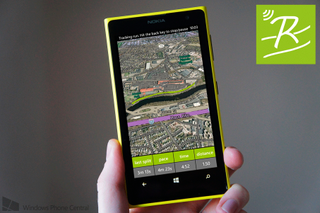 There was a period of time where Windows Phone didn't exactly have any stellar running apps in the Store. That changed this past year with Runtastic getting big updates early in the year and Active Fitness joining the Windows Phone Store. There's also Endomondo to help add variety to the selection of fitness tracker apps in the Store. Today we're getting one more and it's leaving us quite impressed. Let's check out Track Runner for Windows Phone 8.
The App Cauldron is a new start-up bringing us Track Runner to Windows Phone. Why'd they set out to build Track Runner when others apps like Runtastic, Active Fitness, Endomondo and others already exist? They wanted to create an app that was uniquely focused on the needs and wants of runners. Those other apps are great, but their focus is on nearly any activity, whereas Track Runner is aimed squarely at those running.
It has a few tricks and features for runners that make it stand out when compared to those other apps. Track Runner does the basics that you'd expect like tracking runs, giving you a running diary, and the ability to monitor your progress through statistics. Here's the full list of features you're getting with Track Runner for Windows Phone.
Super accurate GPS tracking
Intelligent track and lap recognition
Powerful statistics (fastest times, accurate splits, calories burned, pace graph, etc.)
Performance Genius (uses the McMillan method to estimate your potential times for popular race distances)
Diary with notes feature
Records of your fastest runs and laps
GPX import and export
No sign-up or membership required
Automated backup
Social network sharing
Voice notifications, including split notifications
Works under the lock-screen
"Add untracked run" option to log indoor training or when you forgot your phone
Intuitive and easy to use interface
By far one of the coolest features in Track Runner is the ability for the app to automatically determine when you've completed a lap and to provide you with information like lap time, split, etc. Track Runner will also provide you with voice feedback during a run to keep you clued in on your performance while you're performing.
Another neat feat that Track Runner accomplishes involves the ability to help you determine how you'd do running a marathon. The feature is called Performance Genius and uses the McMillan running method to help you calculate what would happen if you ran.
Track Runner is available for Windows Phone 8 and goes for $1.99 in the Store. There's a free trial so you can play with it and see if it's for you. Grab it in the Windows Phone Store.
Get the Windows Central Newsletter
All the latest news, reviews, and guides for Windows and Xbox diehards.