Active Fitness joins the Nokia Collection, could easily become one of our favorite fitness apps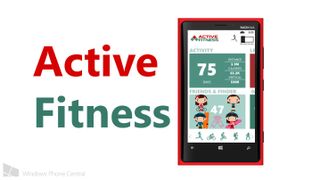 Summer is in full swing up here in the northern hemisphere. Depending on your location, this might be the only time of the year where you can really get outdoors and enjoy activities (I'm looking at you Seattle). We have a handful of great apps to track your workouts on Windows Phone (like Runtastic), but Active Fitness is a new one that has some pretty cool features that you'll want to check out.
Active Fitness just hit the Windows Phone Store yesterday. It's spearheaded by Kevin Ashley, a Microsoft architect and crazy good skier (he kicked my ass on Mammoth this past winter). Speaking of winter, remember that app called Winter Ski and Ride that tracked your runs while you were either skiing or snowboarding? He made that one too. You can basically think of Active Fitness as the summer version of Winter, an app to help track you running, cycling, rollerblading, or anything you can think of. Winter is easily one of my personal favorite apps for Windows Phone 8, how's Active Fitness stack up?
Activity tracking, long battery life while tracking.
Share your runs and activities with your buddies, family and friends! Social network integration is fun.
Compete with your friends and people around the world with leaderboards for every activity and sport.
Works without connection and completely offline. Take it to that trip with you!
Beautiful user interface by the same team that designed Winter Ski & Ride app, Microsoft Award for the Best app of the Week, featured in WP Central and Microsoft Windows Phone Blog.
Training plans: stay organized and motivated while Active Fitness automatically tracks your progress
Speech and voice support: keep tracking of your runs while you run
NFC support, supports Tap-to-Friend, touch two Windows Phones to make friends with this app.
When I used the Winter Ski and Ride app snowboarding last season I was completely blown away at how it was able to track my runs, top speed, and more while not annihilating my battery. I haven't personally used Active Fitness yet, but it looks like the same battery saving magic used in Winter is found here. We'll have a full review later next week once we've gotten a few runs in under our belts.
If you used Winter you'll feel instantly at home with Active Fitness. The UI and layout is very similar, which is a good thing since your data and account works with both apps. This app has so many cool features, we'll take a more in-depth look when we review it. But you can look forward to voice interaction (both you talking to the app and the app talking back to you), purchase training plans, NFC support, and much more.
You can grab Active Fitness for Windows Phone 8 devices. It's free and ad-supported, but you can purchase training plans if you want. Prices start at $2.99 for a plan or you can unlock them all with a 6 month or 12 month time limit for $9.99 or $19.99. When you buy the unlimited passes (either the 6 or 12 month) you also get no ads. The app is part of the Nokia Collection, so you'll need to be rocking a Lumia device.
Grab it here in the Store, use the QR code below, or swipe to the right in our app.
Windows Central Newsletter
Get the best of Windows Central in in your inbox, every day!
I really like this, I haven't tested it out biking yet but looks great so far. My only concern is it doesn't sync with myfitnesspal or fitbit.

yeah, for a lot of people like me as well, syncing with Fitbit is a must-have.

With all these fitness apps and everyone owning a smartphone nowadays, are there still unfit people in the world?

The question needs to be modified a bit. "WHY are there still SO many unfit people in the US?" it's like have the P90X collection and watching it instead of replicating what u see on the tv. It's as if the more ways technology tries to help a person get healthy, the fatter the world gets..

Why work out when you can sit on a couch and eat some Popey's while doing a Netflix marathon.

I want FItBit too. App sounds cool, can't wait to try it out.

Since it was "spearheaded" by a "Microsoft architect" what are the odds we'll see a 7.x version?
Disappointed.

Why disappointed? There are things that Windows Phone 8 does that you just can't do on 7.x.

What WP8 can do that 7.x can't isn't the point. An app like this certainly has a home on the latter platform - the "Tap-To-Friend" NFC feature notwithstanding.
I was just driving home the (sad, IMHO) point that an app originating from "within" MS can't support 7.x.
-C

Get the Lumia 520 for $99, to hold you over until your next upgrade is due. Can't beat that price. You will have a WP8 device and not have to worry if any new apps will be made for the older WP7.x platform.

Funny how the article appeared when I was exercising :)

I like it but I can't seem to change my photo.

How does this compare to say... Runtastic Pro?

We'll find out next week :)

Did you find out? Couldn't find an article. Another round up of fitness apps would be nice. What I want is, as many features as possible in the app on the phone, and no need to sync anything to a website unless I choose to. Sync to an app on a PC via USB would be nice to have, but WP seems to want to make this difficult in favour of the cloud.

Wondering the same. Will try this myself. Music integration would be nice.

How dare you badmouth Seattle!? Winter is an amazing time to be outside. It isn't freezing cold, you just have to contend with a little rain, and the trails/streets/mountains are empty because of people like you who think the weather is horrible and they can't possibly be outside.

Yo! I was just in Seattle for a month. I freaking love it sun shining or water falling. You watch your mouth!

Having spent three years in Seattle, you're smoking crack if you think the weather is fine there. I moved to Austin to get away from all the rain and I have no regrets. I spent over 30 years in the Northwest between Oregon and Washington and I don't miss it at all.
At least here I can do things outside without getting rained on and BBQ whenever I want.

Tomorrow it will be 81 in Seattle and 106 in Austin. Both of those are above average for this month but I will take a little rain in the winter in exchange for not dying of heat stroke in the summer. My point was that you can easily get outside in a little rain. Well over 100 isn't really a usable exercise environment.

Funny. I walk 4 miles every day in the 100+ degree weather and I'm still alive. But hey, thanks for the weather report. Don't forget your umbrella.

Hmm i dislike all this must register apps.

This needs a website like Endomondo or Runtastic.
Endomondo team wake up and update WP8 app or your going to be left behind...

Totally agree. =/ I like Endomondo, but they haven't updated in a while.

Does this app work without a gps signal to track jogs?

$20 for 12 month fitness plans? Shut up and don't take my money!

All tracking and goals are free, training plans are optional, if you are into some serious training and cost $2 per plan...

Hey Kevin. I bought the 12 month plan but the app still says it is the free version and still has ads. I have restarted the phone but nothing changes. When I completed the in app purchase, a message popped up saying I had unlocked additional features but nothing changed. All the training plans still say I have to buy them for $2.99. What now? Sorry to post this heare but I can see no other way of contacting you. I love the app but a bit concerned about how the in app purchase.
By the way, clicking on the 6 month plan takes you to the 12 month plan. There is no way to purchase the 6 month plan

Thanks for using Active Fitness: our support site is http://winter.uservoice.com. We just submitted an update, after an update you'll see your plan (will take a couple of days to propagate through the store). Sorry for the inconvenience. Happy tracking!


OK thanks. I thought that site was just for suggestions

can you somehow access you stats and data on a PC?


Little bird told me Windows large screen Active Fitness apps coming this fall.. stay tuned

Does it support heart rate? That's the main thing lacking from the fitness apps on windows phone

Good.. Thanks Nokia❕.. Once again.

This app looks absolutely gorgeous but it lacks the connectivity to one of the major fitness tracking website such as Healthgraph (runkeeper) or Fitbit.
Most of us already have our data on some kind of service like those with a group of friends etc... Difficult to switch to a new system!
The app could take Caledos as an example, nice app (way ahead on this one on design though) but the best selling point is it's connectivity with Healthgraph!

Is it me, or does this look a bit cartoony? The rest of the UI is great, but those avatars make me think I'm playing Pocket God Fitness or something. I keep thinking I can fling one of those avatars across the screen. I'll check it out, but I'll probably stick with Endomondo.

I just used it, I think it looks alright but it didn't track all of my run. Also, you can't end a workout, you can only pause and continue each day. I'm going back to Endomondo for now, which I'm pretty happy with, but I'll keep an eye on this one.

One thing I really liked is that you can set it as a lock screen, that's pretty neat!

I have an Samsung Ative S and live in Norway. I want This app asap :-)
Windows Central Newsletter
Thank you for signing up to Windows Central. You will receive a verification email shortly.
There was a problem. Please refresh the page and try again.