Elevate your time on the slopes with Winter Ski and Ride for your Lumia device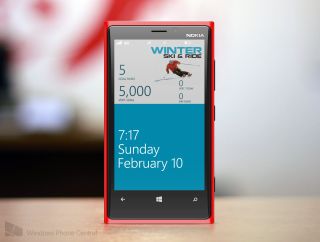 Winter is in full effect right now, just ask the Northeast which was just slammed with a blizzard and the storm about to hit the Midwest. While the majority of the population doesn't enjoy these freezing months, there are a few of us who gear up and hit the slopes with smiles as wide as Chad's gap in Utah. Before you hit the slopes, try out this Nokia Collection exclusive Windows Phone 8 app called Winter Ski and Ride.
Whether you snowboard or ski, Winter Ski and Ride should be on your Lumia 620, 820, or 920. The app allows alpine enthusiasts access to:
Snow reports and mountain stats
Real-time activity tracking
Beautiful run analytics
Social and friends: ski, connect and share!
Ski lessons from pro ski instructors
Goals to improve skiing and performance
Safety
Maps
While I haven't been shredding this weekend, I'll be up in Mammoth Mountain next weekend and will put the app to the test. And since this is fitness month here at Mobile Nations, I'll be able to use the app to track my activity on the slopes. You get access to your average speed, top speed, number of runs, and vertical elevation gain throughout the day. A good way to compare with your friends who pushed harder that day on the mountain and settle the argument for fastest down the slope.
The app is free, but has a does include in-app purchasing to unlock some features. The free app has all the basic features and should service most. But for others you can get the 'Gold' license for $19.99, with that you get no ads and unlimited ski lessons. Ski lessons are a part of the app that include videos with tips and advice on alpine skiing, snowboarding, cross country skiing, freestyle, and telemark skiing. There is also a 'Silver' license for $9.99 where you get no ads, but only 12 ski lessons. A 'Team and Coach edition' is coming soon, no details on what is in there.
While Winter Ski and Ride won't help your après ski game, it certainly can elevate your fun during the day as you slay double black diamonds and powder bowls.
Like I said, I'll be in Mammoth next Saturday and will test this app out. If you have any questions ask below! And we already have an answer for "when is this coming to non-Nokia devices?" unfortunately might be a few months. If you do download Winter Ski and Ride, add me as a friend and we'll compete this season - sam@wpcentral.com
Download Winter Ski and Free on your Nokia Lumia for free in the Windows Phone Store here, use the QR code below, or swipe right in our Windows Phone Central app.
Additional sources: Winter app homepage
Get the Windows Central Newsletter
All the latest news, reviews, and guides for Windows and Xbox diehards.