Elevate your time on the slopes with Winter Ski and Ride for your Lumia device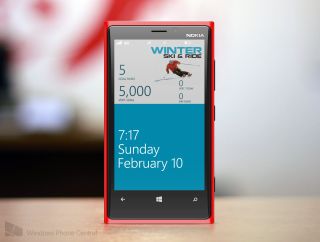 Winter is in full effect right now, just ask the Northeast which was just slammed with a blizzard and the storm about to hit the Midwest. While the majority of the population doesn't enjoy these freezing months, there are a few of us who gear up and hit the slopes with smiles as wide as Chad's gap in Utah. Before you hit the slopes, try out this Nokia Collection exclusive Windows Phone 8 app called Winter Ski and Ride.
Whether you snowboard or ski, Winter Ski and Ride should be on your Lumia 620, 820, or 920. The app allows alpine enthusiasts access to:
Snow reports and mountain stats
Real-time activity tracking
Beautiful run analytics
Social and friends: ski, connect and share!
Ski lessons from pro ski instructors
Goals to improve skiing and performance
Safety
Maps
While I haven't been shredding this weekend, I'll be up in Mammoth Mountain next weekend and will put the app to the test. And since this is fitness month here at Mobile Nations, I'll be able to use the app to track my activity on the slopes. You get access to your average speed, top speed, number of runs, and vertical elevation gain throughout the day. A good way to compare with your friends who pushed harder that day on the mountain and settle the argument for fastest down the slope.
The app is free, but has a does include in-app purchasing to unlock some features. The free app has all the basic features and should service most. But for others you can get the 'Gold' license for $19.99, with that you get no ads and unlimited ski lessons. Ski lessons are a part of the app that include videos with tips and advice on alpine skiing, snowboarding, cross country skiing, freestyle, and telemark skiing. There is also a 'Silver' license for $9.99 where you get no ads, but only 12 ski lessons. A 'Team and Coach edition' is coming soon, no details on what is in there.
While Winter Ski and Ride won't help your après ski game, it certainly can elevate your fun during the day as you slay double black diamonds and powder bowls.
Like I said, I'll be in Mammoth next Saturday and will test this app out. If you have any questions ask below! And we already have an answer for "when is this coming to non-Nokia devices?" unfortunately might be a few months. If you do download Winter Ski and Ride, add me as a friend and we'll compete this season - sam@wpcentral.com
Download Winter Ski and Free on your Nokia Lumia for free in the Windows Phone Store here, use the QR code below, or swipe right in our Windows Phone Central app.
Additional sources: Winter app homepage
Windows Central Newsletter
Get the best of Windows Central in in your inbox, every day!
All these apps for Nokia only. It has made up my mind I'm getting a Lumia when my contract is up. I don't see as many apps from other company's as I do with Nokia. (hopefully I will) I say if you want a WP (right now), get a Nokia. Btw I like this app... If I could get it.

Nokia drive did it for me orginally but glad I got a 920 or would have been annoyed on missing out on some of the great apps and freebies from nokia.

I do hope nokia shares them with the whole windows phone ecosystem as it is important everybody is kept happy at this point, if people get pissed off and dump the 8x some may get a 920 but some may jump platform and that is not what WP needs currently. Nokia should offer these apps for a short exclusive period and then always charge a little to customers on other devices after the exclusive period is up.

I can't decide who to be angry at on the exclusivity subject.
Should we be annoyed that HTC aren't keeping up with Nokia rather than Nokia (or Microsoft) for doing all this exclusivity? I like everything about the 920 except the weight but I can't commit to purchasing the 8X either due to all this stuff I'll be missing.

I have mixed feelings about this. I get it that Nokia is trying to do everything they can to get people to buy their devices. And it is clear HTC is making less of an effort here. But this exclusivity is only frustrating for the users. I see posts by Nokia users asking for a clock live tile, and users of HTC asking for the Nokia exclusive games.
What do they want? HTC to make their own ski app?

Why should Nokia make free apps for the others....? ;)
If the others (names not mentioned) would put in just a little effort, it would make a whole lot of difference.
Buy are they really committed?
The main reason I bought a Nokia this time is that they REALLY seems to be.
After tree (name not mentioned) without any support or updates at all, I'm really, really glad to see Nokia pushing out updates all the time to their fantastic apps.
Tried many, many phones over the years and are back with Nokia after fifteen years, and this time to stay... maybe... Just keep it up Nokia... :)

I don't think Nokia shold make their apps free to others but why not make some money on some of them. At this point in WP all devices sold are a boost to the platform and since nokia is relying on the platform to sell devices it will benifit in the end. It is a tricky situation but it is better for Nokia than a consumers buy an 8X than buys an iPhone or Android device as it is increasing the WP user base.


Frggin' awesome, I'm about to go skiing soon and now this beautiful app comes along! Thanks for the tip!

Awesome, add me on the app and we'll compete.

Is support for Lumia wp7.8 comong for this?

That really sounds like a great app for skiers. Nice to see more sports apps.

Very nice one, but... Lots of places missing, especially in Europe. 2nd - loading a map for the first chosen resort takes forever (or I'm just unlucky...). Another one, take a look at for example ZDIAR/STREDNICA ski map.
Generally check out any trial map. Even for Austia resorts maps are soo low resolution. If you zoom in to see anything, it's big pixelation and nothing else...
For Zell Am See (there are 2 resort parts, there are same resort maps, so for one of them map is wrong of course...
Maybe NOKIA would add such features like links to local cameras, use own nokia maps with some nice overlay (even render it 3D? )
I think they did it in such a hurry, that it's soo flawed right now... yet the idea is great.

Yes this app is far from great.
Hardly any Swedish resorts, luckily it had Livigno,Italy where im going in a month. Yay! :)
Sadly the trailmap for Livigno is a joke.
Good idea for an app, poor execution.

Livigno is there (see the screenshot): http://www.troovi.com/mvZfrizXVSwW Just my 2c. Awesome app, thousands of North American, Canadian and they are adding European resorts. Plus it has sociual network and tracking.

@Sam. Please could you test how good the app is without a data connection?
For those of us who'd be using it with data roaming disabled. :)
Thanks.

All ski trail maps are pulled online. Also all weather data. Probably all is served from the cloud. So it's a real issue.
I already posted like 4-5 ideas to developer support here: so get your ideas here:) http://winter.uservoice.com/

Can you directly compare the activity tracking portion to what Endomondo offers for downhill skiing?

Why won't this work on my Lumia 710?

Let's go back and read the article - Windows Phone 8.

This is a gorgeous app! I installed it on my new Lumia and I want to use it already, when I go skiing this weekend! Fantastic set of features: thousands of resorts covered and it also tracks activity: I saw people sharing runs and stats that they were skiing. Wow! Thanks for posting about this app.



I just came back from skiing, 2 hours ago, the app would have been great, but only saw it now :(, but eiherway for next time.
Nokia is being great with pushing great apps to windows phone users, I'm so glad that I went with the 920. We need more support like this, but for the whole windows phone community.
Windows Central Newsletter
Thank you for signing up to Windows Central. You will receive a verification email shortly.
There was a problem. Please refresh the page and try again.