Transform your photos into tiny planets with Planetical for Windows Phone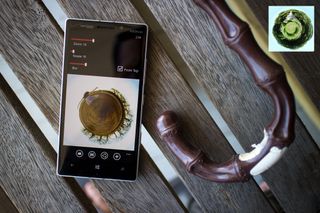 If you like being creative with Tiny Planets Pro, you might also want to check out Planetical for Windows Phone. Both apps turn your photos into tiny little planets that will amaze everyone. Planetical includes a couple more features and is currently free for a limited time.
Head past the break to watch our hands-on video and overview of Planetical.
Features:
Full resolution support
Different filters
Adjustments for zoom and rotation
Open a photo from storage, or make panorama directly from an app.
When you open the app, you are faced with a screen that is mostly black. Perhaps the developer can spice up the design in an update. You can select a photo from your photo albums or take a photo with the app.
Planetical's camera has an option to take a panorama. It will guide you with instructions on the screen. It asks you to take a calibration photo, which basically means taking a photo at the center of your planned panorama. You then start from the left continue taking photos towards the right. Press the complete button when you're done.
Planetical also allows users to add filters to the photos. Simply click on the plus button on the lower right corner. The filters are categorized as either enhancements or artistic. There are plenty to choose from. One complaint we have is the font being used for the filter titles. It hurts our eyes, but we are being nitpicky.
Once you're happy with your planet photo, you can either save it, or share it online. It uses the built-in Windows Phone sharing feature, so you can send the photo via email or other apps like Instagram or Facebook.
Planetical is a free download from the Windows Phone Store for a limited time. The developer of Planetical tells us the offer expires on April 15th. Go get it now while it's free and let us know what you think in the comments!
Get the Windows Central Newsletter
All the latest news, reviews, and guides for Windows and Xbox diehards.
I've been looking for an app like this. Now all that's left is a Manga/Anime Camera app.

Very cool. Makes me want to get out into nature more.

That means less time playing Titanfall.

But you can pet your car outside in the sun

What...You mean go outside? Get out of the house? Are you insane?

He must be... All I'm doing is starving myself in a dark room repeatedly pressing 'check for updates' on my 520

If we are persistent enough, maybe they'll give up and just roll it out
(turns on screen, continues raping "check for updates" button)

Sometimes for Windows Phone, you will have to do some crazy things!!!

That's pretty cool, I like it

http://instagram.com/p/mnranQtRLA/

http://instagram.com/p/lssYNXwOmw/ :D

Its awesome. It needs a bit work on the UI, but content is pretty nice. I haven't tried other apps like this, but I'm pretty happy with planetical.

Introducing #dvlup for developers. Though I don't how to write any apps but reading any article related to this program is awesome. We should recommend this program to this developer.

I love using Tiny Planets Pro. I'm definitely giving this a whirl!

Which is better, this one or Tiny Planets Pro? (Except price wise. With this now free it's obviously price-wise this is better)

Antoine de Saint-Exupéry's favorite app

At first I wasn't too sure about this....but then look at what it did to a sunset image at the beach in Southern California.... http://1drv.ms/1ge6tAp

Not as smooth as tinyplanets. Tinyplanets is better option than this.

Which one is better? This or tinyplanet?

tinyplanet blows and it also costs money

Well would you look at that :) Who's gonna buy the tiny planets app now eh? :D

Tinyplanets should also make their app free for a limited time. Since their latest update, i can't save my photo anymore. I iz sad.

USA from Canada http://instagram.com/p/mo36XLgqTI/

It's cute and all, but nothing more than a gimmick really. Fun for an image or two, but that's it. http://instagram.com/p/mpGHXiTNOm/

Agreed,Maybe incorporate it as a filter in a regular photo app but as a stand-alone product? Nope. I can see this getting old real quick.

Getting some really nice results with this app 5 stars because u feel like an artist with one simple click :)

http://instagram.com/p/mp7Mj9TZo2/

Great, it saved in high resolutions!

here is a step by step guide on creating your own mini planet - for free - using Microsoft Image Composite Editor and Planetical go check it - ok-interesting.blogspot.com /2016/06/how-to-create-your-own-mini-planet.html