Trivia Crack Review - an online trivia game for Windows Phone with potential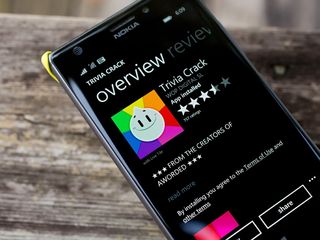 We mentioned Trivia Crack being released in the Windows Phone Store last week and had the opportunity to spend some time with the game to see how well it shook out. Trivia Crack is an online trivia game, very similar in nature to the popular Trivial Pursuit games.
You have six categories of questions to test your knowledge against and a few power-ups (life lines) to help nudge you in the right direction. Answer three questions in a category to try to win a crown and win all six crowns you win the match.
Available for low-memory devices, Trivia Crack isn't a bad choice of games but it felt more like a work in progress than a polished final product.
Registration Required
When you first launch Trivia Crack, you will need to register with the game's servers to play the game. It's an easy process and once complete you can log into your Facebook account to challenge a friend to a trivia match, find an opponent at random or eventually challenge past opponents you tag as favorites.
The main page for Trivia Crack will list your games in progress, the option to start a new game and several gaming stats. There is no help screen, no tutorial on how to play the game and the only setting available is to mute the sound. You can view your profile by tapping the green smiley box at the top of the gaming summary screen.
You do have a life meter on your gaming summary screen which regulates the number of games you can start. Trivia Crack affords you three lives, to start three games. Lives do replenish at the rate of one per hour. You also have what appears to be a game chip count and coin count on the summary screen but, without a help section it's a guessing game as to what each represents. The coins can be used to buy power-ups but no clue as to what the chips represent.
Starting a new game is simple, just choose your language choice and select an opponent from your Facebook friends, favorite opponents or have the game find an opponent at random.
One quick note about initiating a new game is that at the top of the screen you will find a handful of language support options. Trivia Crack will not default to your Windows Phone language. Before starting a new game be sure to select the appropriate language or you'll be receiving trivia questions that are likely illegible.
Game Play
As you would imagine, game play is turn based. You spin a wheel to randomly select your trivia topic and have the option to answer the question or skip it (limited to three skips per game). Questions are presented in multiple choice fashion and you have thirty seconds to choose your answer. Each turn continues until you incorrectly answer a question. Answer three questions in a row and you can answer a trivia question for a crown and the player with the most crowns after 25 turns wins the game.
The six trivia categories include geography, art & literature, science, entertainment, sports and history. Crowns are available to earn from any of those six categories.
There are four cheats available at the bottom of the question screen that include (and some of this is a guess) time extension, a bomb to remove half the answers, a reset button (resets the clock?) and a skip to the next question button. Each power up will cost you coins that are apparently earned by winning matches.
The questions can be challenging and if you answer incorrectly, the correct answer will briefly be highlighted in green. Should you answer correctly you have the opportunity to up or down vote the question (not sure what that does) as well as the option to proceed to the next question.
There is no time limit on how long you have to start your turn and no means of notification as to when it is your turn. You will simply have to pop in on the game periodically to see if your opponent has completed their turn. If another player is non-responsive you can resign a game.
Overall Impression
I wanted to like Trivia Crack but it was very difficult to bring myself around to liking the game. I don't mean to be harsh but there are so many features missing from the game that it is hard to enjoy it.
For starters, you need the game to recognize the language your Windows Phone is set to. If English is your language of preference, it can drive you nuts if questions are presented in another language.
Next up, the game needs some sort of notification system to alert you when it is your turn to spin the wheel. Otherwise a game that might take a few hours to complete could be drawn out for days. I also think Trivia Crack needs a help section or a tutorial to shed some light on the aspects of the game that isn't so obvious (power-ups, challenges, etc.).
I like the concept of online trivia matches and Trivia Crack does have the potential of being a fun Windows Phone game. But as is, the game just felt more like a Beta version than a finished product.
Trivia Crack is rated at 3.5 Stars in the Windows Phone Store, which is slightly on the high side with all the missing features.
Trivia Crack - Windows Phone 8.x - 5MB - Free - Store Link
Windows Central Newsletter
Get the best of Windows Central in in your inbox, every day!
George is the Reviews Editor at Windows Central, concentrating on Windows 10 PC and Mobile apps. He's been a supporter of the platform since the days of Windows CE and uses his current Windows 10 Mobile phone daily to keep up with life and enjoy a game during down time.
Argentinian developer! Weeeeeeeeeeeeeeeeeee =)

Cuantas copas tenes papa frita

The king developer should at least release there other apps for windows phone. How stupid developers are they.

Been playing it a week, and generally I like it. Notifications and the language issue definitely need sorting tho

This never loaded in my 620 so I uninstalled it after 5 hours of trying.

King has been losing tons of money

Been playing this game for about 2 weeks now. Easy going quizzes which are nowhere near as hard as Quiz Clash. Game play is missing some features from iOS and Android, but well playable nonetheless. Would be happy if notifications came with it and missing animations.

They've released their first update two days after the launch, so hopefully they won't forget WP so soon.

Notifications are coming soon. And the language issue is related that you can have your device in English (like me) but all my friends play in Spanish because we are from Argentina!
Thanks for the feedback!

Hi. Are you one of the Trivia Crack developers??
The game is a huge sucess here in Brazil, but is not available for download in the brazilian Windows Phone Store. Can you please check this?
I already helped a lot of developers to get their games published here and I think I know why the game is not available here. I can see the brazilian certificate for the game but is not available probably because you forgot to "check Brazil" in the "countries of distribution" list.

Bom dia Guilherme. You should get a store credit from Microsoft for your efforts at getting apps released in Brazil.

notifications? why you lie? Otra app de etermax y woop digital abandonada...

My favorite quiz game!! Been playing this game for about two weeks now. 5 stars.

I agree with the overall impression; i really like the game but notifications and a quick tutorial will really help make this game complete.

The chips lets you spin the roulette again, if the one you got was a dificult one

Still waiting for quiz up!

Great game, I hope it will one day have all the features it has on Android and iOS....

I watch my wife play hers on her iPhone and see all the cool animations and ui designs we are missing. And yes my biggest complaint is lack of notifications :(

Whatever happened to "Age of Empires" which was supposed to come to Windows Phone. Such a shame it never materialised.

It did come to Windows Phone, or at least it did in the UK Windows Phone Store. If it's not available for your region, change your region to UK or US and you should see it.

Yeah, I've been playing it for a week. Good way of quizzing though. But doesn't stay on par with droid/ios app Quizapp.

How do you delete your account/email? I want to delete my account that keeps me signed in and change it to another email? I went to profile/edit but cant seem to figure out how to do this? I tried to delete the ap and re-download it but when I sign in it keeps my previevious email? Any help Thanks in advance :)

I have the same problem...help

Every so often a mind simulating game hits the market and catches the attention of large audiences with its impossible tasks, which leave players feeling ignorant. These games have shifted from more traditional games like scrabble and boggle, to online applications. Trivia Crack has recently emerged as a popular question game app, receiving number one on the iTunes free app chart. This app is somewhat a copy of last year's QuizUp. However, QuizUp contains questions in over 550 different topics, while Trivia Crack forces opponents to compete in only six categories: Science, Entertainment, Art, Geography, Sports and History. This is aggravating to some who are not well versed in many areas and would rather compete in topics in which they know they would win. But this aspect of Trivia Crack actually adds an exciting component. As you choose an opponent, either a stranger or friend, and spin the wheel of categories, suspense builds about which topic you will be given most often. The questions that then appear range in difficulty, but most are very hard. This is probably due to the fact that they are submitted by other players who wish to get revenge on those they have lost to. Some people choose to get around the hard questions by looking up the answers, but this is distasteful and defeats the purpose of the game. By getting many questions or specific ones right in a category correct, you can receive a cartoon character representing that topic. The player to finish the round with the most number of characters wins. There are also ways to take characters from your opponent, augmenting the competition. Although this game often leaves me feeling quite dumb, I am okay with it because 1) I'm not expected to know these esoteric facts and 2) I'm learning while playing. Seeing the my sad character's faces after I lose and being told by an opponent that I am "no competition" was not exactly the highlight of my week, but I enjoy the game, nevertheless.

So sweet game
If you found answers, advice http://trivia-crack-answers.com , i use sometimes :)

Note that notifications now work and best, if you have friends on apple and Android you can play with them too!

Can you play without Facebook? If so how do you connect with friends?

This is the shittiest trivia game in the history of shitty trivia games. Trivia Crack, why did you decide to let RANDOM PEOPLE MAKE THEIR OWN QUESTIONS?!! Honestly, it's not fair because all of us have varying amounts of experience in the field of knowledge. Also, the random generator issue is completely fucking unjust - what if you're playing against someone who is WAY smarter than you and WAY more experienced, and you get an extremely difficult question like "In Major League Baseball, what must a web developer do the biochemical reageants specifically produced by the city of Panevezysin order to increase the ratio of peroxymonosulfuric acid to that of hexaoxacyclononane compounds?" or some bullshit like that. (You can tell that I'm making that crap up, because obviously, no one would use that. But I digress.) What if you're playing against someone who honestly doesn't know what the capital of France is? Yes, Trivia Crack, it's fucking unfair to them, even though you may just ask them to study a little bit more. You say you want to be as good as the next Kim Kardashian game? Fucking act like it.

The game is dumb yes. My wife loves it but the questions are so easy for me. I just wish I could buy it so I could keep playing. And why does it make you stop after 3 pies. And I did get a question wrong because whomever made up the question was incorrect. I saved it and looked afterwards. I was correct. But it is fun never losing I guess. dsm091.570. Come try me.

I tried the game. Too many questions have to get answered before a crown is awarded. I quit.
Windows Central Newsletter
Thank you for signing up to Windows Central. You will receive a verification email shortly.
There was a problem. Please refresh the page and try again.