TrueAchiever Review: a promising app for Xbox Live Achievement hunters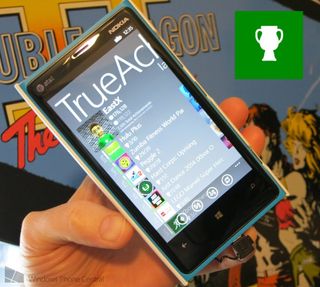 You can't count on much from Xbox Windows Phone games (what few there are these days) other than Xbox Live Achievements. But lots of gamers love those, so there exists a significant crossover between Windows Phone gamers and users of the two primary Achievement sites: TrueAchievements and Xbox360Achievements.org.
Surprisingly, neither site has released a Windows Phone app… until now. A developer called Divided Pudding (who also published xkcd Comic Reader back in March) has just released a TrueAchievements app, called TrueAchiever. Despite not using the exact site name, it appears to be pretty much the site's official app. How does it measure up to the site? Find out in our full review!
Getting started
TrueAchievements is a site dedicated towards tracking Xbox Live Achievements earned, providing guides and other assistance towards earning Achievements, and allowing Achievement hunters to socialize with each other. The site supports Xbox One Achievement tracking, which Xbox.com amazingly still can't do. TrueAchievement is truly an invaluable resource for Achievement hunters, despite the rough and unintuitive layout of the site.
That poor layout and lack of mobile optimization gives TrueAchiever ample opportunity to craft a better mobile experience than the real site. And the app does make many of the TrueAchievements site's functions faster and easier to access on your Windows Phone device.
However, at present it lacks some of the site's functionality. For example, you'll need to have registered at the real site before you can use the app. Otherwise you'll get smacked with a rejection notice like poor George. Once you have a TrueAchievements profile, logging in to the app is as easy as entering your Gamertag.
Achievement browsing
Having logged in, users will be able to view all of the Xbox Live games and apps in which they have earned Achievements. You can already do that through the Xbox Live portion of the Windows Phone Games hub, but TrueAchiever goes above and beyond with its Achievement tracking.
For each game listed on a user's profile, it also shows a meter and percentage reflecting how many of that game's Achievements the user has earned. You can probably calculate that information in your head or use a calculator, but it's faster and more fun to have the information at a glance.
It gets better. Select an individual game and you'll be taken to a list of that game's Achievements. The same page also displays how many registered TrueAchievements users have played a game, and how many have completed it (earned all Achievements). The ratio of users played/users completed gives a general indication of how difficult or time consuming that title's Achievements are – or whether it has any unobtainable ones.
A game's Achievements can be sorted by alphabetical order (the annoying default), TA score (a proprietary Achievement value based on rarity), Locked or unlocked status, and GamerScore value. I've always found the Locked/Unlocked sorting option to be especially useful when calculating which Achievements I still need to complete.
Achievement lists can even be pinned to the Start screen so that you can jump straight to them at a later date. The tiles the app creates are awfully low resolution, but they still provide a great shortcut for Achievement hunters.
As mentioned before, TrueAchiever and its source site can track and browse Xbox One Achievements. It goes without saying that using the app to look through those Achievements is much faster and easier than doing so through the console itself.
Guides
Perusing games and seeing which Achievements you still need to complete is nice, but the app's Guide functionality truly sets it apart from the phone's built-in Xbox features or any other resource. See, the TrueAchievements site allows users to create guides for individual Achievements (as opposed to full game guides like Xbox360Achievements.org). When you're just working on a specific Achievement or two, nothing is quite so convenient as quick access to guides for the ones you need.
TrueAchiever can display those guides – with some caveats. You can't tell which Achievements have guides and which don't from the Achievement screen; you have to select the individual Achievement and see whether a guide comes up. Fine for now, but that needs to change in the future.
Having selected an Achievement that does have a guide, users can read both the guide and comments left on the guide by other users, and watch attached YouTube videos. You can't leave comments or rate a guide from within the app, two elements that also need fixing. Nor can we write guides from within the app, which is less essential but still totally doable from a mobile interface.
The author of the guide appears at the top of the screen. Just a nitpick here, but the word "Author" is unnecessarily abbreviated as "Athr." Since the app has plenty of room to display the full word, it shouldn't be calling my peers and me Athrs.
Those complaints aside, it's still terrific to have quick access to Achievement guides on the phone. Selecting an Achievement and reading over its guide proves so much faster than slowly navigating to the same page on the phone's web browser.
The guide text fits the screen much better. It correctly displays bold and italic text too. Even some of the best Windows Phone apps can't do that, for some reason.
You can reduce or increase the guide text font, which should be handy for people will smaller phones like the Lumia 520 or more robust ones such as the 1520. A Maximize/Minimize button next to the font size controls seems to do nothing at present.
More features present, in need of changing, or missing
TrueAchiever isn't just about getting Achievements for yourself. It lets you read over your friends' Achievements too. The app's actual friends list is limited to the top 11 positions on your TrueAchievements friends leaderboard, oddly. I'd love to browse my full friends list as well. But in the meantime, we can at least search for individual gamers and look at their lists.
One of my favorite features of the site is the friends feed. This feed, similar to the Xbox One feature displays a list of you and your friends' recent accomplishments. The TrueAchievements site allows members to comment on individual Achievement gains and accomplishments, sort of like Facebook. You can pat a friend on the back or just ask her how she got that tough Achievement.
The app does have a friend feed function, but it could be a lot more useful. It only displays Achievements won, not accomplishments like site anniversaries or other milestones. Selecting an Achievement from the feed just takes you to that Achievement's page on the actual TrueAchievements site; it doesn't even lead to the app's version of the same page. Nor can users comment on Achievements, etc. or private message each other through the app.
The final feature on my wishlist is for users to be able to request updates from within the app. TrueAchievements only scans players' Achievements once a day on its own. We can request additional updates through the site, but the app doesn't support that just yet.
Okay, one more thing: that awful Live tile/Store icon needs to go!
Overall Impression
TrueAchievements is a must-use site for gamers who enjoy Xbox Live Achievements. Even if you're not a huge GamerScore hunter, the social nature of the site (seeing what friends are playing, etc.) can be plenty of fun.
Don't let the laundry list of missing features dissuade you from grabbing TrueAchiever. It handles Achievement tracking and guides much better than mobile Internet Explorer. Going after those hard-to-get Achievements will be easier with TrueAchiever than ever before. The app does have lots of room for improvement, but most of the missing features will surely come in time.
With so few new Xbox Windows Phone games on the horizon, let's do our best to earn what Achievements we can as we wish for a change of heart from Microsoft.
TrueAchiever – Windows Phone 8 – 3 MB – Free – Store Link
Thanks to Stumbleduck06 for tipping us on the app!
Windows Central Newsletter
Get the best of Windows Central in in your inbox, every day!
Paul Acevedo is the Games Editor at Windows Central. A lifelong gamer, he has written about videogames for over 15 years and reviewed over 350 games for our site. Follow him on Twitter @PaulRAcevedo. Don't hate. Appreciate!
Woo, i see my name there :D

Thanks for this! I wonder why Xbox One achievements are so off the grid. You can't see them via the Xbox app on Windows Phone. You can't even see them on Xbox.com. This app looks like it can display Xbox One achievements just fine, so I wonder why MS can't get it's act together with those..

I'm hoping they'll fix the Xbox hub in WP8.1 to include Xbox One content. But yeah, it's weird and dumb that you can't see them on xbox.com. If you didn't know, you can at least see your Xbox One achievements in the Xbox One Smartglass app (regardless of whether you're connected to your One). Just open it, tap the menu icon, then tap Achievements.

Because so much about the Xbox one was rushed and half-baked. Using the system daily, I can definitely see how another 6 months of work would've really benefited the Xbox one. I love it, but so much is missing.

Agree with you completely, I'm just glad we get to use the Xbox One Beta right now as we await the final release this spring.

The TrueAchievements.com website also displays them just fine, which makes me wonder: how? They got 360 achievements by screen-scraping xbox.com, but that's impossible with One achievements since they don't show up on xbox.com. Did Microsoft finally release an API for accessing achievement information?

No leaderboards? Nice to see "TNTJudbud" in your screenshot.

Good for you man, doing a great job for the community!

This app is for me,btw can anybody tell me what's the difference between green labeled Xbox games and white labeled Xbox games??

It's just a different style of banner. Games with the white banner are generally older.

and i thought white banner was for games originally launched for windows phone 7

All of those games did come from the WP7 era, but many green banner titles did too.

The Windows 8 version probably deserves its own review, but we do at least link to it in this story: Despicable Me: Minion Rush lands on WP8 and Windows 8

well the next games in line are TR2,GTA..wish u break the news soon!! ;)

Hi Paul, i have a question that's slightly off topic but ive been feverishly checking the app and google play store for gta:sa release updates. Are you able to let me(us really) if its going to see this weeks release? Ive been checking at ludacris times of day,3am uk time even so i can get it. Help!!!!!!!

Wish I knew, man! I wouldn't be surprised if the WP version came out a week or two later than the other versions. But Rockstar hasn't been able to confirm for us.

Paul, you need to try harder in Lego Marvel Super Heroes. 3/45? Step it up, man.

Ha! Yep. I'm behind because I'm only playing it with someone I see biweekly, and I have to prioritize review games over the ones I bought just for fun. Next Xbox One game reviews: Zoo Tycoon and LocoCycle.

Thanks for the update Paul. A little sad but one can hope R* doesn't let me down. They already screwed me over once this week with an update the broke my GTA:V. The game wont load story mode anymore..... >:-(

Aww, that's awful! It's not a widespread problem, is it? I might have to avoid updating GTAV the next time I play it.

It kinda is and isn't in the since that its all over the rockstar forums pages but no tech or gaming site has highlighted it to my knowledge. Its annoying as i cleared my 360 system cache as suggested but it didn't work and i lost all the updates for my other games. Not happy atm.

Update..... I have resolved the issue. It seems that the update corrupted my autosave which the game tries to load from by default and resulted in the infinitely looping loading screen. After starting game without signing into my profile and then signing in after the game restarted, i loaded the manual save and it worked. Too bad it was 2months between the autosave and the manual save :-(.

Dang! Well, at least you don't have to start completely from scratch, I guess.

What a nice surprise! I've been waiting for a TrueAchievements app on WP for awhile. I love the Friend Activity Feed on TrueAchievements. Xbox One really needs to incorporate the ability to comment on friends' activities, to make it more social. I'd also like to see Xbox make it possible to share clips to other friends (including those that aren't your own) within the Xbox One UI and also bookmark and share clips. Anyway, glad to see this app on WP now. Now, if only we could get more Xbox games on WP...#SaveXboxWP!

Comment num. 2: really impressed! Nice design; fast. Good job, whoever did this!

Great. All we new is some x box games now

Very awesome...wanted this since day 1 of WP :-)
Big Kudos TA!

I think its quite good. Does not show all of my games though :(.

To bad it doesn't allow searching for games not on your gamertag

It's a bit of an odd hybrid app. Despite requiring your account be registered on TA, it doesn't seem to be pulling its info on your profile from TA itself. Rather, it seems to be getting your account info from the Xbox Community Developer License, which explains why it is limited to the last 50 games you have played, many gamerpictures aren't correct but rather use an avatar image, no Xbox One achievement tracking, and other aspects of that community developer feed from Microsoft (which, unsurprisingly, doesn't include anything Xbox One related. The only reason TA has any Xbox One tracking is through the tireless efforts of the site owner somehow developing his own way to get the info). Rather, only the Trueachievements.com specific things (friend feeds, comments, ratios, etc) are pulled from the site itself. If it exists on Xbox.com though, it chooses Xbox.com over TA. This would likely explain why you don't see if an achievement has a guide for it before selecting it; the achievement information is pulled from Xbox.com, but the guide information is only loaded from TA once you select it. At least, that's how I think it's happening. Looking forward to seeing how this develop, but considering how touch friendly the site already is to me, I'll probably keep using the main site. Full Disclosure: I am the Forum Manager and a Moderator on TrueAchievements.com, although I had no involvement with the creation of the app.

Good to have you here, PutNameHere! The app does track Xbox One Achievements, as I mention in the article. It did crash any time I tried to scroll all the way down the Zumba World Party Achievements, though.

Well, that was a bad misread on my part :/ Good to see that's in there though, big pull for the site as Microsoft remains convinced Xbox One Smartglass is good enough for One achievement stuff. Still believe there is some sort of hybrid feature going on, I'll make note of the bug though. And I've been around for a while, just never bothered to actually make the account til now lol.

Good to.see.this kind of app. I don't really think it is that well made.or useful other than if you want to quickly browse achievements in your list. For anything social it is terrible. Will keep it on my phone for now, but it is not worthy enough for a pin to my start screen just yet!

Have any of you seen the achievement hunter app? I've been using it for the last few months, don't think it has Xbox one games, but it has maps for collectibles and lets you access guides for each achievement. also I didn't have to make an account to use it, I just needed my gamertag. just search "achievement hunter" on the store if you want to check it out
Windows Central Newsletter
Thank you for signing up to Windows Central. You will receive a verification email shortly.
There was a problem. Please refresh the page and try again.