Truecaller for Windows 10 Mobile adds offline caller ID features and more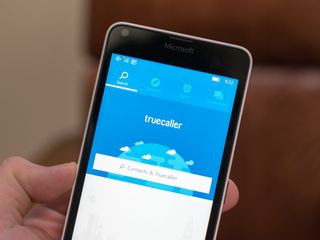 Truecaller has released a new version of its Windows 10 Mobile caller ID app. It contains a number of new features, including offline caller ID support.
Truecaller says this is the biggest update yet for the Windows 10 Mobile app, thanks in part to a "close collaboration with the Microsoft team". Here's what the company had to say about the new offline caller ID support:
The new version also now shows profile pictures of identified callers. Here's what else is included in the new Truecaller update:
Tagging: See how other Truecaller users have described a caller by tags.
Contact request notifications can be accepted or denied without opening the app.
Suggest name: You can suggest a better name for identified calls.
Prefix and suffix: This feature allows you to improve Caller ID by removing any extra numbers your operator or company might add to an incoming call number.
Open social profiles in device browser so you don't have to login to your account inside the app.
Universal notifications: Never miss a notification, even if you're away from your phone, we'll sync it with your PC (enabled from Cortana settings)
Download Truecaller from Windows Store (opens in new tab)
It wasn't showing caller ID for a while for me I hope they fix that.

Just uninstall and reinstall

And then again the same things happen

NETFLIX, Store & Wallet apps are also getting latest updates.

Much improved update, now that's what's up, good work true caller pls keep it up

Great app, very very useful.

Universal notifications...yeah yeah yeah

Does anyone know of any privacy concerns with the model of operation and the use of Truecaller? I find it very creepy!

I found it creepy too! I just disabled the enhanced search in the hope to have my contacts removed from their databases!

All these tech companies collect ur data anyway. So as long as it is a known company u can just trust them. If u want to keep ur data private dont use then smartphones

You're right, people don't realize all those apps that have access to theirs contacts then they will wonder how's my info is out there.

Even if you don't use a smartphone, any of your friends or relatives having your number on their smartphone and using truecaller, your mobile number is still going to their database. So the conclusion is, whether you use trucaller or not, your data isn't private!!

Wow. So no point running from it!

Just don't call back that Nigerian prince!

But any good advice on apps/services (that aren't google voice) that can help hide your number? Or give you a temporary number to use when you don't want your name showing up?

You can actually request your number/info be removed from their database. Its pretty easy.

You are right. And actually if anybody is so concerned about privacy then he should be away from using the total internet.

Hi Eric, You can read more about our policys from the link below. https://www.truecaller.com/privacy-policy -Kamran

Yes no biggie.. "Installation and Use When you install and use the Truecaller Apps, Truecaller will collect, process and retain personal information from You and any devices You may use in Your interaction with our Services. This information may include the following: geo-location, Your IP address, device ID or unique identifier, device manufacturer and type, device and hardware settings, ID for advertising, ad data, operating system, operator, IMSI, connection information, screen resolution, usage statistics, device log and event information, incoming and outgoing calls and messages, times and date of calls, duration of calls, version of the Truecaller Apps You use and other information based on Your interaction with our Services. Truecaller may use the information collected from, and in connection with, all of our services to provide, maintain, and improve them, to develop new ones, and to protect Truecaller and its users. Truecaller also uses this information to provide you with tailored content, such as search results and advertisements more relevant to You."

Everyone and anyone collects data. T's&C's are now about as much fun as a root canal. I had apples app store t&c's the other day. 17 pages!! All about what YOU mustn't do, and how they are allowed to keep anything or everything about you whether it is pertinent to the app store or not. Google are worse, as we all know. They want to know pretty much everything as far back as your great great grandparents and your inside leg measurement!! Even a basic app will collect an horrendous amount of data. Most data is secure, but there is some that they can 'sell'. In the UK, the rules are pretty strict about what you can and cant sell. Your name and address is one they can. Some companies, yes you ARGOS, will try and confuse people by regularly switching the opt in / out check box. Then they will word it in such a way that they can switch their position as well. Then, you have comparison websites. Don't do it!! How do you think the fund their soft toy giveaway?

How can I delete my name+number from your database?

Much needed update. I always wondered if Android has this feature why not W10M.

I know it was updated my band vibrated during the night to tell me lol

Too bad they won't have a band 3, I was looking forward a slimmer design.

We don't know that if you believed that rumor then why not believing all these rumors saying that the new version will be announced in october? The only solid thing about that rumor is that they stopped trying to put Windows10 on the Band (which is understandable, Win10IoT is lightweight but not as lightweight as it should be and it would drain battery greatly if developers were allowed to run apps on the band directly...see apple watch debacle, and apple watch doesn't run iOS anyway).

I don't use this app because it uses my contacts data which I don't like. It's an issue of privacy.

Almost everyone with android phone in India uses Truecaller to protect spam calls. So if your friends have Truecaller. The app will get your info from there as they have your Number. So there is no place to hide for you !

I know that. What amazes me is that people cited privacy as one of the reason for not upgrading to Windows 10 and then give away all their data willingly to TrueCaller.

You can delete your listing from true caller.

So you are ok with all those companies spamming you with calls (i.e. they know your number) but not with truecaller knowing your number.

There has to be an alternate way. There is always an alternate way!

Only other way I know of is answering 1-2 unwanted calls a day. :)

Other way is to use Skype calling. No one can call you unless you add them to your friend list. Sim based calling has to go. It's an old and useless technology.

You don't have to answer any call you don't recognize. Just let the unknown numbers go to voicemail. If it is an important call, they will leave a message. You can review your voicemail messages at your convenience, whenever you want. It's easy, while listening, to delete any robo calls that leave a message.

It's one of the great apps in store and It's still improving and adding features.

Hey Monil! Thanks for sharing your feedback, we appreciate it! -Kamran

How well does this work for users in the UK?

Seems to work quite well. It's warned me of a few of the PPI robots, and even let me know the names of some genuine companies.

The idea of everybody collects your data anyway..... Just because you've got one broken window in your home do you leave all the windows open and the doors locked? You pick and choose who you give your info to, not any free app that puts your friends and family at risk. No reflection on THIS app, it's just the attitude.

Hi Mike, You can still use our app for filtering spam calls and so forth. You can keep Enhanced search disabled but a few of the core features like Number look up and Caller id will not function. If you decides to not share your phone book then you can simply disable Enhanced search and all the uploaded names will not be searchable anymore. Thank you for your understanding, Kamran @ Truecaller

Since I installed this app all those call centers have been blocked automatically. It works wonders.

This is among the top in the UWP app list !! Simply amazing. It also integrates with the OS really well !! If only ALL the devs (who ignore Windows) were like the TC devs. :)

Anything that relies on Caller Id is seriously flawed as Caller Id is easily and often spoofed. For example, if I am a telemarketer and I spoof my Caller Id to be YOUR telephone number and then all of the Truecaller people list it as a telemarketer, YOUR phone is in the blacklist NOT the telemarketers.

I had this app, one my fav for WIndows Phone...but, I only used it for Caller ID.... it worked great....

I tired this app, but it wouldn't even work on landlines.

I've been using Whitepages ID. Has anyone tried both? Any particular benefit to using Truecaller instead?

Been using it for a while. Just purchased a month of pro.

Unfortunately Microsoft insider build version 14936 breaks TrueCaller. Received an email from product support that a fix will be released as part of an upcoming insider build.
Windows Central Newsletter
Thank you for signing up to Windows Central. You will receive a verification email shortly.
There was a problem. Please refresh the page and try again.