Truedialer gets updated with a refreshed design and new features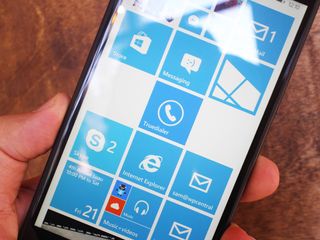 The Truecaller folks today launched the refreshed Truedialer app for Windows Phone. With over 10 million users worldwide, the app makes it easy to search and identify trusted contacts. The app aims to replace your native phone dialer and make your communications experience smarter.
The Truedialer app gives you instant access to relevant information on people you are about to call and automatically fills in missing contact information via Truecaller integration. The latter gives it the ability to identify more than 1.7 billion numbers. The new Truedialer is complimentary to the main Truecaller app that has over 100 million members now and adding more than 250,000 users every day.
The app allows you to access information about your contacts, even those you haven't saved. There's T9 search now that supports predictive text and you can switch between numeric and alphabetic keypads. From within the Truedialer app, you can save contacts directly into your phonebook. The latest update brings a modern and simple design and features a dedicated search box to find people quickly.
Truedialer is a pretty neat app, and Truecaller has been working closely with Microsoft for a while to integrate the two apps pretty nicely for a seamless user experience. It's useful, although attracts a lot of rants from pro-privacy individuals. Give it a whirl, and let us know how you like it.
seems to be a nice update. keep it up!

I don' t understand how this app works.

Its a dailer which will show up names of unknown or unsaved contact details (if they are in Truecaller)

A good dialer on a phone could use the eco system background services to gather information. lets say the local shoe guy is calling you with number 0500-shoe .. you dont have him in your list. on Android it shows you either the location of the phone on map or even the guys name including the number to say - local shoe guy is calling with number 0500-shoe. We dont have that on windows phone so this app will overlay the incoming call and give you the name for the number 0500-shoe if they have him in their database

You missed last line.....
.
.
.
.
Thanks Abhishek!!

hey thanks abhishek.. how could they have missed that.. please.. some attention everyone.. abhishek sent in the news.. its him.. thanks mate

why would he thank himself :P

Uh.... They probably checked the store for updates themselves. :D

I tipped this 20 min before they published this article

I wish this had a black theme

Was trying to install truecaller on Lumia 635 build 10149. Keep crashing on me. Guess not able to use on preview build yet.

Doesnt work with the win10M API yet

....which is awkward, considering how stable it was, and how it resembled a modern W10M app

Well it links right into the phone dialer API. It is not just a "people hub add some numbers" App.

Hi all, Thanks for reaching out to us. Truedialer and Truecaller could have some complications with Developer preview version as we do not test it on Operative systems that has not been officially out yet. It should be working just fine if you have the official WP 8.1. Thanks for listening, Kamran from Truecaller

I dnt understand the use of this app at all...

Just think of it like the Worldwide international yellow pages for mobile.
---------
Even if you dont use it, your number is on it whether you like it or not because it has taken it from someone else's contact list who does use truecaller.

Hi Abhishek, Thanks for your comment. Truedialer is basically replacing your dialer and it's and you can say that it's an "outgoing caller id", it searches the number before you press call and enriches the unidentified numbers in your call log against with Truecallers database. Best regards, Kamran

Thank You! Does it search my Phonebook & Truecaller both?

Does Truecaller Caller ID work for you guys on 8.1 Update 2? I can't make it work on my L640 XL. I switch the Caller ID toggle on but when I go back to that setting it appears off again.

I have the same problem on my 930. Can't find a solution for that unfortunately..

I used to have this problem on 8.1 GDR1, and I contacted their support and they even added me to the beta app with no luck. Then, when I updated to GDR2 the problem went away and it started working again! I think it's a problem with Windows 8.1 API itself. It's like it's stuck or something, and Truecaller can't do anything about it. Now I am on W10M, and Truecaller doesn't work here yet :/

Hi Carlos, Thanks for reaching outa bout this. It should be working fine on WP 8.1 Update 2 but some users are facing this issue as well and we are still looking into this issue but there is one solution that has been working for a lot of users. Note that we do not support "Developer preview". Here are the steps: - Re-install Truecaller and setup your account.
- Truecaller will ask to enable caller id, press "ok". Then close TC.
- Go to WP-store and install "Gesture Beta app" and set it up. Then close it.
- Last step is to open Truecaller and the caller id should be enabled and be working fine. Revert back with feedback please. /Kamran from Truecaller

Yes this method is quite useful. But its painful when u (say) hard reset your phone coz then we should have to remember these steps everytime...

Hi Abhishek, This method seems to work for 4 of 5 and i would not say that "Hard reset" is the only solution. Just make sure to have the official OS and it should be fine. Best regards,
Kamran

That happened to me as well on my 930. It was a lot of uninstall, soft reset and reinstall and back and forth with their user support but nothing helped. They said that it would not work if your phone was made in China, and not if you had any preview stuff, not if you had "gestures," and you needed the later network+ and extras+info. None of their suggestions applied to me. Later I installed Windows 10, but I thought it was still a bit rough, so I used the recovery tool to reset to 8.1. I restored all my backups during installation, and suddenly Caller ID worked perfectly. I still don't know what was wrong, but it makes me think that a hard reset is the only way to go.

Wow.... Has been updated for WP too, for android it has been updated with material design and other host of features. I am glad that they're not like other devs and keeps the WP version updated along with other platforms.

Hi Megsh, Thanks for showing love! /Kamran from Truecaller

Yep, fully appreciate the effort.

Thanks all! We appreciate the support!

Will it work in windows 10 mobile? True caller isn't...

Hi there, Thanks for your comment. It will eventually work, we are not testing it on Developer preview as it's not officially out yet. Best regards,
Kamran from Truecaller

Ok, thanks for your reply. Looking forward for a working true caller in windows 10..
Btb, its an awesome program! Keep working on it. Kudos to the developers.

Hi, Thanks for your understanding. Have an nice week!! /Kamran

I installed it on my 925 back when Win Central ran the last article about it being updated and love it so far. I understand the concerns about privacy, basically if your number isn't recognized when you call someone with Truedialer, that user could just report the number to them and have it added to their database. But it is really useful in helping identify numbers. Glad to see they are supporting the platform as well!

Y do we need truedialer while we have true caller

Hi Chethan, Thanks for your comment. As you know, Truecaller cannot identify outgoing calls, only incoming caller id. While Truedialer handles your outgoing calls will Truecaller handle your incoming calls. And do more other cool stuff. Best regards,
Kamran

How come TrueCaller doesn't work on the Icon? It says I dont have Cyan thats bc the Icon passed it and went to Denim. Can this be resolved? I would like to use it

Hi, Thanks for your valuable feedback. These are the requirements for caller id: 1. Windows Phone 8,1, -> http://www.windowsphone.com/en-us/how-to/wp8/basics/how-do-i-update-my-p.... 2. Latest Cyan or above version -> https://www.windowscentral.com/e?link=https2F%2Fclick.linksynergy.co... 3. Latest "network+" version -> http://www.windowsphone.com/en-gb/store/app/network/62f172d1-f552-4749-8... (http://www.windowsphone.com/en-gb/store/app/network/62f172d1-f552-4749-8...)). 4. Developer preview is not supported. 5. Phones that is manufactured by Verizon or China is not supported as well. This is beyond our control to adjust unfortunately. If you still experience some issues then please contact our support and include screenshots of the messages you receive and we'll take a look at it asap. Thanks for your cooperation,
Kamran from Truecaller.

Its good to know they are working on true dialler....they should also work in true caller.... I almost never get info on my incoming calls... :( using on L830 denim

Hi Arvind, Thank you for your valuable feedback. We have to apologize that we don't have that number in our database. We are constantly working to improve our database to give you the best results. Hopefully we will have the number you are looking for soon. /Kamran from Truecaller

If only it would replace the need for a caller id subscription

It's a shame it doesn't seem to work with the 1520 or the 1020. All three phones don't do anything with it except open it and search for for numbers I type in. The integrate lookup never works no matter all the FAQs I've been through.

Hi there, Thanks for your comment. It's very unfortunate to hear that. Is the caller id enabled but still won't make any instant look ups? Are you using Developer preview (WP10?) or phones manufactured by China or Verizon? If yes, then caller id won't work unfortunately. This is due to technical reasons which is beyond our frames to adjust. Please feel free to contact us as "Support@truecaller.com" for an deeper investigation. Best regards,
Kamran from Truecaller.

It's a no go on my side, I'm sticking with my dialer from Microsoft , way more features including Call and SMS blocking.
Windows Central Newsletter
Thank you for signing up to Windows Central. You will receive a verification email shortly.
There was a problem. Please refresh the page and try again.