TuneIn Radio updated on Windows Phone 8 with new UI and support for 512MB devices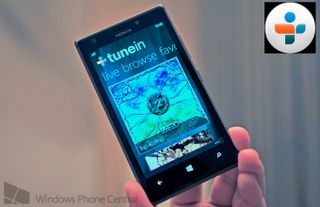 Want access to over 70,000 radio stations all over the world? With TuneIn Radio for Windows Phone you get your favorite music, sports, and news from around the globe on your smartphone. The app has been wildly popular on Windows Phone, but has had its shares of ups and downs on the platform. Looks like we're about to have another up as the app has just been updated. Let's check it out.
TuneIn Radio is a multi-platform app that gives users access to their favorite radio stations no matter where they are. The last news update we had for TuneIn Radio was in March of this year. It was then that the app was updated, but in doing so lost the ability to run on some devices, a big down for users. If you were on Windows Phone 8, you needed at least 1GB of RAM to use TuneIn Radio. Devices like the Lumia 520 and 620 couldn't access it. Does TuneIn Radio version 3.0 address that? Yes, it loaded up just fine on our Lumia 520.
You're also getting an app with a redesign. TuneIn Radio is sporting some fresh threads in the latest version 3.0 update that makes it look really awesome. Performance was mixed at first, but that could be our spotty data connection here.
With TuneIn Radio you're able to find radio stations and can sorts stations by trending, categories (like music, talk, sports, news, etc), location, and language. It's a wonderful app for when you're travelling, but don't want to miss out on the programming from your favorite radio station back home.
Want to get TuneIn Radio for Windows Phone 8? Grab it in the Windows Phone Store, use the QR code below, or swipe to the right in our app.
Thank you everyone for the tips!
Speaking of apps.. Search the WP store for "Microsoft Webapps" and see what MS is doing to bring popular apps to the platform..

Interesting.. Moblie site wrappers. Not exactly what I was hoping for.

there is a whole discussion right now happeing on http://www.theverge.com/2013/10/21/4863386/microsoft-windows-phone-web-apps-mobile-sites i dont know how to feel about this

They say that this is what Apple did back in the day to encourage companies to build official apps.. Also, if these companies see a lot of hits on their mobile sites from WP devices it may encourage them to develop an official app for WP..
And, that discussion is full of haters that could never see anything positive about WP❕

Was just today thinking that this app needed a redesign, went into about, and it said TuneIn for Windows Phone 7... Good call on the update!

The new circle icon looks weird with all other square apps. Hmmm.

I have had TuneIn on my Lumia 620 since forever and it worked flawlessly. :/ I don't like the new Live Tile, but the UI refresh is welcome :)

is sleep timer available in this update?

Noticed this too. Really sweet feature

Funny this happened. I was looking at the app description and reviews this morning and the consensus seemed that this app was in need of an update

GREAT update. Use this app a few times a week. Kudos to the tunein peeps

Now if only Slacker Radio can get updated too...

ive emailed those POS's so see when it would be updated like they promised but the usual "we will pass it to our WP dev"

Can't get the stations to cache offline. I really hope they release an update soon... Begining to look at Rdio :-/

Looks nice but I noticed at least one problem that didn't exist before :
If you pin a favorite radio station to the homescreen and select a small size tile, it only shows TuneIn's logo, not too good if you want to pin multiple favorites in small sized tiles...
In the previous version, you could see the station's logo.

Exactly my point as well. WP 7.8 does have this option. Windows 8 doesn't. The experience is not consistent across the platform.

To bad that is not available globally, using on daily basis and each time when they release update I must switch region to UK for installation please made it available globally for download, at least in Bosnia.

slacker radio need to update thier app

I updated and lost access to a sports radio station I had pinned before the update.

Me as well. I listen to 105.3 The Fan every morning. With the update I can no longer connect to this station.

Looks realy Nice. I Will gif it a try. Previos version was buffering all the time.

"Devices like the Lumia 520 and 620 couldn't access it."
But I have had TuneIn on my 620 for three months!

I am impressed with the new design!

Sam, I have a 620 and I have Tunein installed since day one. It has been compatible with 512MB devices, at least for a long time.

For animenfo station, unlike tunein web player, that know song change. The live tile should have change when song change. Also small tile is not station logo.

Sam Tunein was available on 512 ram devices before the update, edit the post :)

Stunning redesign. By the way, anyone who listens to Italian talk radio station Radio24 will find a superb official Radio24 app in the store too. Check it out, it needs more reviews.

TuneIn in my experience still has serious streaming and buffering bug issues. A new skin is nice, but it won't improve the overal experience. A pity, because the app is otherwise good. Thus I'd rather read an update from them that reads bug fixes than new layout.

Agreed. My streams frequently stop a few minutes into playing, or just randomly after an hour or so. I'd also like a Pro version like what's available on iOS and Android.

Likewise. Some stations are having serious streaming issues in my country, while the Android version works just fine. I wonder if it is due to the poor support of AAC format on Windows Phone.

Hope they update the Windows Store client as well.

Before the update, I couldn't listen to my favorite sports talk station. After, I still can't. TuneIn isn't really that useful if all you want to do is listen to one station and can't get it.

Always got it on 512 mb devices.

Very nice ui, hate the new tile logo but overall im glad this was updated

Nice upgrade overall, but meh, doesn't play my fave sports talk station anymore - 94 WIP in Philly. It now says "restricted by broadcaster"...

Would like to see a wake up alarm feature. Has a sleep timer. A paid version with all the ios and android features would be a hit too. Like the new UI and they're still at least developing the app. Unlike BBC . No BBC radio player at all and their mobile version of the site won't stream a thing!

Way better in almost every way to iheartradio. First, it has way more radio stations, second, navigation is more intuitive in my opinion. Third the layout works for me. Thanks for letting me know about this app!

Also way loved this app since there are more stations. The refresh looks good.

Not too shabby. I like it.

The only station that I use this for (WFAN-NY) is now restricted by broadcaster. Plus, I have a 928 so I can't get it ota either. I wish I saw these comments before I updated.

Still unable to listen to my local stations, just like the previous versions, while there is no problem with the local apps developed. Have no idea why this is so lousy with Tunein. Having that being said, I have no problem with fetching the streams on Tunein Android version. Is really sad....

Still doesn't play the few stations I listen to. I've had it on my WP7 device forever and then downloaded it just today on my new L925. Thinking the WP8 version would play them...but no. Bummer.

Do what u have to do, sometimes web are better

Do what u have to do, sometimes web are better

Epic fail lol, now have two versions in my list. Tell your devs there not meant to change the app I'd.
Windows Central Newsletter
Thank you for signing up to Windows Central. You will receive a verification email shortly.
There was a problem. Please refresh the page and try again.