Tweet It! gains ability to translate tweets, notification improvements and more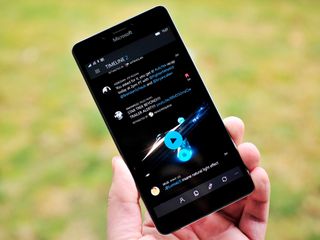 Tweet It!, a great Windows 10 Twitter app has received an update bumping it up to version 2.2. This update brings improved CPU and RAM usages, ability to translate tweets and much more. The developers has squashed a number of bugs, like the one causing repeated notifications as well as poor reading position handling. A full list of changes in version 2.2 include:
Improved CPU and RAM usage
Added ability to translate tweets
Notification in menu when you have new tweets, mentions, messages and etc.
UI improvements
Fixed repeating push notifications bug
Added ability to change tab by vertical swipe on right side of screen (for phones)
Improved reading position handling
Improved messages (ability to view over 140 symbols and attached pictures)
Ability to pin profiles on 10586 build if this feature is supported by device
Improved tweet conversation viewing
Lots of bug fixes
If you are a Tweet It! user, be sure to grab the latest update from the Windows Store.
Download Tweet It! from the Windows Store (opens in new tab)
Source: Tweet It! (Tumblr)
Windows Central Newsletter
Get the best of Windows Central in your inbox, every day!
Jared started off writing about mobile phones back when BlackBerry ruled the market, and Windows Mobile was kinda cool. Now, with a family, mortgage and other responsibilities he has no choice but to look for the best deals, and he's here to share them with you.
Good work by the wpdev community. But here I'm still waiting for the w10m version/continuum enabled official twitter app. When will it arrive? Anyone has any idea? They seemed to have forgotten about it.

And when is the official going to be updated to 10? Lazy mofos.. :/

The tab switching gesture is quite confusing to use. Would've been better with pivot navigation. Still a great app though.

Nice app. I hate twitter tho. It's so useless.

This is my favourite Twitter client for W10.

Do you guys not link to apps anymore? Or does it just not show up in Wm 10

The Windows Central app doesn't work properly on Windows Mobile 10.

Are the pinned profile tiles live? ​ ​

Six bucks for a Twitter app is just dumb.

Try iOS sometime or Android and come back with that opinion. E.g. one of the most popular Twitter apps on iOS is Tweetbot and it sells alll the time for $9.99 with no trial. I think many of you folks live in some weird shell of the actual tech world and simply do not understand the market dynamics and reasons for why things are the way they are. You take for granted what is on the Windows Phone platform and complain about spending a few dollars on your $600 phone. It's hilariously embarrassing. Finally, this app was 50% off for two weeks very recently.

When there is no money to be made on a platform, whether it is becasue of the size of the platform audience and/or the audience's unwillingness to pay for apps, the developers would simply leave.

Agreed. What it's $6? The "make it free" culture is ridiculous.

I'm sure ads are as good income as paid apps, if not better.

lol, Not on Windows platform where the users are way less than Android and iOS. That's why some apps are paid on Windows Store but free (with ads) on Android. Also because of twitter's token limit, you can't really count on ads for income. Once it reached 100-200k user, (which easy to reach if your app is free) the app will no longer accepting new users, means it will be obsolete. So really doesn't justify the efforts and time these devs put into the apps if you ask me.

Exactly. The amount of dev time put into an app like this is enormous. Meaning thousands of hours. It is actually a good price, particularly if the app is important to you.

It was 50% off over Christmas. Snooze = Lose.

Is this app better than "Fenice"? I'm just curious cause it might come to the xbox one

we'll have to do a comparison at some point, but issue is they are all in rapid development mode at this time. A lot of it is personal preference, so hard to definitively say which is better. Some people "require" features that I barely understand or use.

Yes. The fact that notifications (when they work) are shown as well as mentions is a massive plus.

Love this app and have had a lot of dialogue with the dev but the notifications still do not work. Toast and UI notifications are fine but nothing ever shows on the app apart from followers. The blue dot indicator it's good but that is sporadic too.

How to get redeemable code?

Thing I'm looking for is the dm with more than one user thing. Woks on android standard twitter app, haven't seen it on windowsphone!