Tweet It! gets massive new update, making it a solid choice for Twitter on Windows Phone 8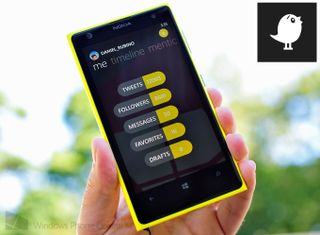 When it comes to Twitter clients on Windows Phone, we've noticed everyone has their favorite and its usually for specific reasons. Tweet It! by developer Timur Khamidov has always impressed us for standing out from the pack. The app comes with numerous unique options like a using the camera for a background, so you can see where you walking when typing, orientation lock, tweet your currently playing music and more.
Version 6.2 just went live in the Store and it's quite a colossal update. The update and changes are so big, we would have thought it was a worthy of a 7.0 designation. Let's see what's new.
Tweet It! version 6.2 changes
Main page was redesigned – No longer tiles the Main page features a graph like layout with your stats for easy reading
Little circle with number in the top right corner is showing you your new notifications. Tapping it opens the app's notification center
On start-up application will track who has followed/un-followed you while it was closed
Profile page was redesigned to show favorites
Pin individuals to your Start screen with a gorgeous Live Tile
Now when you are on detailed tweet page dialog and answers loads automatically on the same page. Counts of retweets (with ability to see who's exactly retweeted it) and favorites will be right under the tweet
New Pocket API for improved read it later functionality
More powerful compose page and drafts. Now there's visual map instead just button if you want to add location to your tweet. Autocomplete username feature on the same page. #Nowplaying feature is on the same page too. And drafts will let you save photo with tweet if it was attached.
Tweets filter is back! And it's really cool this time! It is features filtering by apps and "Sets".
More powerful search feature with pinnable tiles for quotes. Local trends.
For those who post photos a lot there is Lens feature. And photo filter creator. And powerful photo editor.
Those are some substantive changes to what was already a powerful and fun Twitter client. Version 6.2 from our usage has certainly stepped up to the plate to make it one of the best Twitter clients around, should you desire more power than the built in functionality of Windows Phone.
Make sure you watch our video tour above of the new features in Tweet It!.
Tweet It! runs for $0.99 with a free trial and can be found here in the Store. Windows Phone 8 only. Highly recommended.
Daniel Rubino is the Executive Editor of Windows Central, head reviewer, podcast co-host, and analyst. He has been covering Microsoft here since 2007, back when this site was called WMExperts (and later Windows Phone Central). His interests include Windows, Microsoft Surface, laptops, next-gen computing, and arguing with people on the internet.
I don't know about you, but I find it hard to pay for a Twitter or FB app. There are so many free good ones. While not perfect, the official (free) ones are really good.

Sad that Rowi hasn't been updated in a while

It only costs 99 cents though....and its better than a lot of the free twitter apps

How will WP get apps with atitude like that? I buy apps sometimes just to support developers, sometime I don't even use some of those apps. . 99 cents is a drop in the bucket for something that you enjoy using each day.

I love that apps are getting like huge UI interface changes. It make it feel like a new app but it just makes the WP OS constantly feel fresh when things stay stagnant fir too long it get boring!

Correction:Its 0.99$ not 1.99$

Ah, it *was* $1.99 but just dropped to $0.99 after we published. Updated.

Ya,at first I thought that was it some kind of a region specific price because it was pretty unlikely that wpcentral would mess up with the price of an app.But then saw the discount on myappfree.

I will buy it, seems neat :D

Good thing I got it when free, checking it out again, if its so much better as you said!

The developer is a thief. I paid for this app on win phone 7 and it tells me it's no longer published. Crock of bull...

Sorry for that. I got some tech issue with WP Store. WP7 update was published too but in some case it's invisible for WP7 users. I'd contact tech support and currently waiting for their answer. Just give me a little time, I'll fix this asap. And for the record, I'll never drop support for WP7.

Thanks for the recommendation! I just bought it after using it for a bit. It's actually $0.99 not $1.99

Does it support multiple accounts?

I just tried the app, and as far as I can tell it does not support multiple accounts. There's no "add account" setting, just a "manage account" setting that takes you to a Twitter authorization log-in page. You have to log out of one account to log in to another. No easy way to toggle between accounts. If the app supported multiple accounts, I'd seriously consider switching to it, but since it doesn't, I'll stick with MeTweets, which I also really like.




Too bad. Yeah, I have an account I have to do for work, plus my personal account, so toggling is a must for me. Maybe they'll add that in the future.

I like this new look. Finally WP developers are starting to experiment with Metro UI.

If I could change the tile color to whatever I wanted, I'd get this in a jiffy.

This option will be avalible with next update in a week or so. Currently testing it.

Doesn't seem to have tweetmarker support, l move between desktop and mobile client and would love that. Anyways I'll purchase the app as a support for WP8 dev for now. edit: I do love the notifications of followers and that it shows the twitter clients people post from, I'm just curious sometimes

Great, now I can twerk all day long! (according to Harper)

Wow, looks like an awesome Twitter app! The only thing keeping me from using a third party twitter app is no push notifications :(

No longer available for WP 7.8

Seems like this apps doesn't available for my Lumia 720. Or perhaps doesn't available for my country ? (Malaysia)

Just downloaded mine. This app really is beautiful. <3

gonna try this one out on my new 620 :)

Testing this out. I need a better twitter client.
Windows Central Newsletter
Get the best of Windows Central in in your inbox, every day!
Thank you for signing up to Windows Central. You will receive a verification email shortly.
There was a problem. Please refresh the page and try again.