Twitter shutting down its Xbox One app this week
Twitter for Xbox is going the way of the dodo.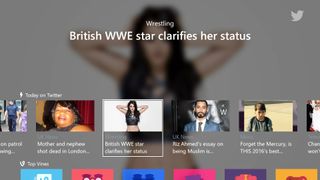 Twitter announced today that it is shrinking its presence on the big screen this week. Starting May 24, the Twitter app for Xbox One, along with those for Android TV and Roku, will no longer be available or supported. Instead, Twitter is directing users to its desktop experience and mobile apps.
On Thursday, May 24, Twitter for Roku, Twitter for Android TV and Twitter for Xbox will no longer be available. To get the full Twitter experience, visit https://t.co/fuPJa3nVky on your device or desktop.On Thursday, May 24, Twitter for Roku, Twitter for Android TV and Twitter for Xbox will no longer be available. To get the full Twitter experience, visit https://t.co/fuPJa3nVky on your device or desktop.— Twitter Support (@TwitterSupport) May 22, 2018May 22, 2018
For Xbox users, the app likely won't be missed by many. The app launched late in 2016, primarily as a way to keep track of trending content on your TV. And while keeping up with moments and live video may be fine for some, you can't actually tweet from the app. Currently, Twitter for Xbox One is sitting at a 1.6-star rating (out of five) on the Microsoft Store.
According to TechCrunch, the sudden shutdown was spurred by Twitter's efforts to comply with Europe's new GDPR privacy rules, which are set to go into effect on May 25. The apps apparently weren't worth the time to ensure compliance. Issues related to the video player on Xbox and Roku also contributed to the decision, TechCrunch says.
Twitter will still maintain a presence on TVs, but through its Apple TV and Amazon Fire TV apps. But, if you're currently using the app for Xbox, just be aware its days are now numbered.
Windows Central Newsletter
Get the best of Windows Central in your inbox, every day!
Dan Thorp-Lancaster is the former Editor-in-Chief of Windows Central. He began working with Windows Central, Android Central, and iMore as a news writer in 2014 and is obsessed with tech of all sorts. You can follow Dan on Twitter @DthorpL and Instagram @heyitsdtl.
So this is directing to the PWA-experience or....?

Only app from the Microsoft store. If Xbox has a web browser it should still use the PWA.

It was a useless app anyways.

Assuming it works the same for Xbox as it does for Fire TV, it's good for watching the live sports they broadcast.

In theory I liked the idea of being able to see Twitter live video on Xbox (and Roku). But I don't think I ever actually used it. There's one regular Twitter show I watch, but rarely live since it is during the workday - I end up listening to the podcast version later instead. Presumably there weren't enough actually using Xbox/Roku apps to justify trying to deal with those issues.

The beginning of vendors dropping of support for Xbox before Microsoft gets rid of another consumer product (Xbox) like they did the phone? Lovely.

Oh damn, guess it's the end of days for Android TV and Roku too then since it's the same story...you also must have read the part about this being driven by GDPR, but hey, why read. Also, macOS Twitter app is dead too - deprecated by Twitter a few weeks ago, so macOS is EOL too I guess. Your comment gets a 1.6 (out of 5) rating. Just awful, would not recommend. Not even a witty trolling. 👎

But, why even 1.6? That still seems kinda high.

Sorry. Probably over reacted. I'm still pissed how they burned several years of my life away working on Silverlight and buying Windows Phones and Xbox which I primarily bought because of Kinect. Ignore my post.

The sharpest knife in the drawer: That ain't you.

Drop the Windows app to. It's absolutely awful. Still is stuck on the 140 character limit.

If you're on Redstone 4 (April update) it's a PWA/UWP app and has 280 characters, so what are you talking about? If you mean the "old" UWP app, yeah, support was dropped months ago, but we knew that.

There are plenty of better Twitter apps, though. The official Twitter app is just horrible. I prefer Tweetium.

Choice is always a good thing. Find what works for you. I prefer the official Twitter PWA even though I spend the whole day on twitter, replying, and posting things. Never felt the need for much more.

I've got a budgerigar. It does enough tweeting for me :)

For now. When Twitter updates their API, those better Twitter apps may no longer be better, unfortunately.

Mine hasn't updated. Hmmm

In all honesty though...UWP....PWA....forget it. It's far to much hassle figure out what they are doing, what app is using what format...blah, blah, blah. The average user isn't going to follow all this constant change of direction and will just decide it is a mess and move on.

You're partially right there. The average person will not care or recognize if it's UWP vs PWA... So they'll go into the store, search for an app, and "download" whatever the app is regardless if it's UWP or PWA.

Yeah, what's the situation with XBox One and PWA support?

🤔.. Good thing its not a Windows only pull.

I mean, Twitter also pulled its macOS app too a few weeks back, so they're just cutting back where it makes sense, going in on PWA where it makes sense (see today's update with night mode).

will we still have at least the social sharing features available though? Last week I got to share some sweet content from my x box to twitter 😥

With everything working on a PWA this isn't a big deal at all, oh well.