Uber reportedly makes a $3 billion bid for Nokia's HERE Maps division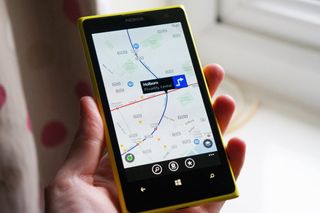 Uber has reportedly made a bid totaling upwards of $3 billion for Nokia's Maps division. If true, Uber is just the latest in a long line of companies reported to be vying for the purchase of HERE Maps after it was reported last month that Nokia was interested in selling the division.
From The New York Times:
The report goes on to note that Uber's bid joins another from a group of German car manufacturers, including BMW, Audi, and Mercedes-Benz. This is in addition to a previous report that several other big tech companies, such as Apple, Facebook, and Baidu have also expressed interest in purchasing Nokia's mapping assets.
If today's report is accurate, Uber's bid comes close to the reported $3.2 billion that Nokia is reported to be seeking in a potential deal. With so many interested parties reported, it will be interesting to see where this deal goes and who will end up bolstering their mapping efforts with Nokia's assets.
Source: The New York Times
Dan Thorp-Lancaster is the former Editor-in-Chief of Windows Central. He began working with Windows Central, Android Central, and iMore as a news writer in 2014 and is obsessed with tech of all sorts. You can follow Dan on Twitter @DthorpL and Instagram @heyitsdtl.
Hashtag whoa... Didn't see that coming.

I was thinking the same thing... It might make sense though =). Better maps for their drivers with traffic info and whatnot... If they use it for that that is.

i think somewhere said that nokia wants 3billion for minimum and uber just bid the minimum bid xD

3.2 billion dollars actually Posted via the Windows Central App for Android

Re: MDMcAtee,
>Advertising for google.

This is not a surprise at all for anyone who listens to Windows Weekly.

It isn't a surprise to anyone, I just didn't expect Uber

wouldn't that be "hash woah" = #woah = hash(tag)? otherwise it's #tagwoah

Lol sorry its a habit to say hashtag out loud. It would just be #Whoa xD

What kind of tool says hashtag......I guess its something the kids do these days...kind of like the word cool, or rad, or phat.

How does saying a certain word make you a tool? I don't think you know the meaning of that word. Also, complaining about "kids these days" is a huge cliche. Just stop.

Because he's just following a fad or trend. Its one of those words that don't mean anything, and didn't mean anything up until recently. Its stupid to try to be cool and trendy actually say the word 'hashtag'.

Really...? People say "hashtag" on the news all the time.

That's because they are trying to relate to a younger crowd. What news do you watch? the evening\morning news? Watch a real business news session, or politics like CNN or BBC, none of those people say hashtag. The only time they are really talking about a actual hashtag, they say you can 'follow' this topic or comment or whatever at hashtag bla bla.....but it does sound sorta simpleton to add a word in front of another word when you are not discussing twitter.

I was thinking the same thing. I would assume a wedge, the simplest of all tools.

As long as Apple doesn't buy it, I don't care.

i prefer european cars to buy here maps division like audi,bmw and mercedes... to keep here maps in european... i dont like USA to have all the things koz of the NSA

I understand. I know Nokia is important to Finland and Europe. But since Uber is American anyway, I would prefer Apple or Microsoft buy Here Maps over Uber.

Those European car brands are interested to buy here maps. They are planning to buy it and share 1/3 to each BMW, Mercedes Benz and Audi even when they are rival companies

TuanLVT, you do realise that all of them are made in Germany right? They aren't rivals, more like brothers. Each of this companies has their fair share in the market. They don't struggle to much to take the others clients;). As for HERE, i hoped Nokia won't sell them. Well crapp!. Nokia sells everything. What's next to sell Nokia, your director?

Lol, car companies compete, they're not brothers. "Brothers" would be like Chevrolet and GMC since they're both GM, or Ford and Lincoln since they're both Ford. Being made in the same country doesn't mean they're not competing. If that's the case, Apple, Google, and MS are one big happy family.

They are competing with each other I didn't say they didn't... I said they r planning to buy here maps to use on all those branded cards I told you. There was article that those three are planning

You do know that Navteq was an American company before it was acquired by Nokia in 2007. Im not too sure but I think most of their operations are still based in the US.

You don't think other countries have intelligence agencies that do things that you don't like? OK.

Oh no. It'd be terrible if the nsa could see maps. :P

You prefer Apple who will shut it down on other platforms vs. Uber who (I guess) would keep the app operation going while integrating it into their own app. Uber could make a run at people using them whether they take Uber, drive, walk or use public transportation.

Re: Dailydose (Anonymous),
May I ask, what are you trying to say? The words don't go together? "... make a run at people using them...?". What does that mean to say?
Uber has no track record at all. They are a private company, not transparent. Just nothing, but marketing and possibly, maybe hype? What evidence do you have that they are anything but a media hyped financial shell?

I'm not anonymous. I use that username all over the Internet and it's attached to my real name of Jeff Daly. Nice try, but I'm not so easily discredited.
I'm not interested in your hatred of Uber. I'm simply starting that they could use this to market themselves as the resource for getting places, no matter the mode of transportation. They would also have their name associated with all of said modes of transport. Car service, walking, driving and public transportation. It would immediately diversify and expand their brand.
Many companies are marketing and service focused. That's not really the point here. The only track record I'm concerned about with THIS potential transaction, is that Uber supports Windows Phone with an app that they pay attention to. I don't have confidence that the other suitors would continue supporting WP.

I don't get why MS doesn't buy it. It would help Bing maps become more competitive against Google maps at least internationally.

Microsoft actually intentionally declined purchasing the mapping part back during the initial Nokia acquisition. They seem pretty uninterested in doing maps in house.

It's too costly to maintaing up-to-date maps. They're much better off licensing the data from a different company, like whichever one is foolish enough to pay $3.2 billion for HERE. That said, Microsoft was foolish enough to pay $7+ billion for Nokia's hardware division, just to lay most of them off, so, who knows.

I find it interesting that I had to scroll this far down to see someone who can see how asinine this amount of money is. Posted via the Windows Central App for Android

You have absolutely no idea what the value of navigation is to driverless cars. This unit, which has turned in a profit in Q1 for Nokia, should go for way higher. They bought Navteq for about $8 billion several years ago and have added so much value to it.

It's a smart investment in order for MS to become significant outside the US they need a service that's already established. Use here as a foundation and build Bing on top of it.

I read differently. Microsoft actually wanted Here Maps but Nokia declined to sell back when MS was buying Nokias phone division.

Nokia had no problem selling HERE back then but the amount they sought from Microsoft was even more than that of their handset division. So, the board which already wasn't interested in the handset business rejected the maps division.

Not true. Nokia declined selling it. Read the original selling story. It's what delayed the acquisition.

Re: WhiteNiteLitr (Anonymous),
I don't think you have the facts correct. I believe, that the "story" says that Microsoft wanted Navteq (now, HERE), but Nokia wanted too much for it since they paid maybe $6 Billion, and the decision makers at Microsoft were divided and ultimately the vote decided not to pay what Nokia was asking, at that time.

What's the problem with this dude?

Yup. like said here many times, MS wanted HERE, but Nokia asked too much in MS opinion.

Apple buying Here would mean nothing much would change for MSFT but with Uber that may be quite different. Also Uber is pretty much a soap bubble IMO.

Interesting indeed. This is good for MSFT. Better Uber than Google. This will put Bing Maps data side by side or perhaps better than Google Maps. Come on MSFT partner up with Uber to make this happen.

Google has a good map solution. There is no reason for them to bid on it. The worst scenario is if Apple gets it. They probably won't license it to others. Microsoft probably has a long term license in place. However,when that expires and Apple is the owner, who knows if they will be able to work out a deal. If the automakers or Uber gets its, I'm sure they will license it to others.

Im actually surprised that onstar hasn't jumped on it since their service,GM,&xm/surrius(full screen) dashes use navteq

Lots of companies use navteq.

BING maps and many other companies use NAVTEQ (now HERE) Maps. Research it for yourself.

It's a great acquisition for Uber. Better than if Microsoft got it actually since they already have Bing Maps. As long as it doesn't fall into the evil hands of Google or Apple.

Uber has billions? really?

Why isn't Microsoft interested?

I don't get why they'd sell a beautiful maps platform. I've grown to love it. I don't wana see it go. Or see it turned into some social BS app.

They'll only sell if someone pays them what they want. If someone comes along and places a bid high enough on Xbox, for example, Microsoft would probably sell it too. Everything is for sale as long as you have enough cash to buy it ;)

Lol Microsoft selling Xbox is never going to happen. On the long term, they can make more money than whatever the amount you're going to pay them.

Don't put your faith in that. There are Microsoft shareholders and members of the BoD that, if they had their way, would have seen Xbox already gone. If one day someone offers enough for Xbox, Microsoft will sell it.

For most sales, yes if the price is right. But there are certain painful part of busisness that you just don't sell, because they contribute wholeness to the company's cash cow sector. XBOX is one of those types of bussineses. It give MS opportunities into your living room, with that they can serve all types of apps and adverts, Bing and Cortana as search engine will be profitable, they can easily engage in home automation, It bolsters the era of Software services eco-system. So selling it kills more than games and streaming games for MS as a whole There is still the battle of home entertainment to be fought, you sell XBOX now, you just lost more than 60% of that battle or potential battle. outright

Microsoft don't need to sell anything. And with the way Xbox is getting more and more involved with the company's plans (HoloLens, Windows 10 and universal apps, etc) then no, Xbox will not be sold. And anyone who can afford it probably doesn't have an interest in it anyway.

And i remember that thurrott was one of the few people that suggest MS to sell Xbox and Bing, which I totally disagree. And now I think it is even mor impossible seeing the strong ties MS is building in the ecosystem (holo plus xb1 plus Cortana plus w10 etc)...if only Bing worked better...for me at least,,it would definitely be the end of a monopoly that I consider a dangerous business anomaly of this century. The search engine business in the hand of almost only one profit company. Something that not even the most audacious scifiwriter would write back in the 20' century

Selling Xbox makes no sense now. They tested voice commands on Xbox before coming to windows via Cortana. They tested their ability to deliver rapid continuous feature updates on Xbox before bringing it to Windows 10. Kinect debuted on Xbox before becoming more successful in commercial spaces and lead to Hololens. Xbox live was their 1st successful large scale cloud service other than Hotmail. Xbox has basically been testing lab! Eventually, gaming will turn into a Netflix style service and they are well positioned for that eventual future with Azure.

Unless you pay them MORE than that amount (because you think you can figure out a way to earn more from it than MS can)... which is what DJCBS is saying.

I think if Apple came along and said they wanted to buy XBOX for like 150 Billion dollars they would sell it =). Its crazy talk and realistically probably wont happen for the next 10 years or more but tech moves fast so one day we might not have an XBOX or it might get sold off.

Not necessarily. Thank God Apple is not interested in Gaming. As of now if Apple announces a Game Console Its game over for PS4 and Xbox one.

I disagree... What games would it have? Nothing a console gamer would want at the moment. I think they could do something but they would have to get game studios to release an amazing game and hope people buy it. And it would be a premium price point not a race to the bottom. It would be hard for Apple to get in. Not impossible. Just hard.

Nah it depends on how powerful it is and what games it has. Right now there is no-one who can join the console wars right now and expect to beat Xbox or Playstation. Google tried it with android consoles. Amazon tried. Ouya which had the most hype failed miserably it was supposed to be a huge threat to xbox and ps. But nope. Valve is trying with steam machines but is failing too only thing remotely interesting about steam machines is the controller which can be used without a steam machine.

You talk nonsense;). Allot of nonsense. Apple and their "Security" way's (more like a new way of making money and invade privacy) will fail in about several minutes.

Apple are having problems trying to sell the iPad and are concentrating efforts and cash there. Their efforts to get into the living room via TV is even less successful than the iPad division. To contemplate the idea that Apple releasing a games console would be game over for Xbox and PlayStation is pure fantasy.

The iPad remaind the best selling tablet in the world by a pretty good margin. And why the tablet market as a hole is in a freefall, Apple is not having a problem selling millions apon millions of iPads a qurter. Apple doesnt have any efforts in the livingroom as of right now. Tim Cook has hinted at Apple adventual entrance, but as of right now, Apple's effots in the living room through the Apple TV has yet to begin. And through Apple classified the Apple TV as a hobby product for years, the Apple TV in itself is a billion dollar prodcts according to Tim Cook. Due to Apple very successful track record, it is reason to worry for any business if Apple suddenlty sets it's sight on your industry, Xbox and Playstation incuded.

What about Apple buying Windows ? Let's go all in, if everything is possible. Frick sake...

If Apple bought the moon everybody would move there lol

But but the moon is made of cheese!!! You can't buy cheese!!!

A good number of Microsoft shareholders, major ones, have publicly stated that they'd like Microsoft to sell off Xbox, Bing *and* the remainders of Nokia's devices business that Microsoft was foolish enough to pay $7 Billion for.

Lol. Microsoft selling Xbox would be the dumbest thing ever. It's the only part of Microsoft that is still "cool"(even though they almost lost it) in the general publics mind. No amount of money is worth that. If xbox gets sold. Then MS can forget about ever being seen as cool as Apple or Google. And they know that.

Microsoft shareholders don't care about being cool. They care about the share price, the divident pay out, and the earnings.


Only stupid short term investors.

Short term to make a profit quickly shareholders, who would sell their mothers to make a profit!

Makes sense. F* Uber, however. And Lyft. I'm assuming with HERE comes Navteq the real cream of the crop. Posted via the Windows Phone Central App for Android

I think navteq is seperate. That division as far as I know is based here in Chicago.

Nokia owns Navteq however. Posted via the Windows Phone Central App for Android

Well Nokia did Acquire Navteq...

That's the point... Posted via the Windows Phone Central App for Android

Navteq no longer exists. HERE is the new name. Look on Garmin's website. It says HERE, not Navteq.

I would love to see the German car manufacturers share the license. Please, dear god, do not allow Uber to get a hold of the license.

I don't want HERE to change into a marketing gimmick. Although, a car manufacturer would be a nice company to own it but only if they allow proactive development of the service.

A car company will make it exclusive and revert it 20 years back in time, Tesla should buy it, that's THE car company

Ahhhhh Tesla. I'm just sitting in my little corner quietly waiting for 2017 and the launch of the TESLA Model 3 (dear baby Jesus..please let everything go as planned)

Would like to see Microsoft aquire HERE and offer HERE powered maps across Android, iOS and Windows.... Dont see a future for Maps on Windows platform is a competitor purchases it

I agree. Perhaps Microsoft would merge its Bing Maps with HERE maps to offer a comprehensive mapping solution across all mobile platforms. Nokia just recently acquired Alcatel-Lucent for approximately $17 Billion, so Nokia is on a strategic course of change.

Wrong Alcatel. That Alcatel was involved with networking and back end stuff. You're thinking of the Alcatel that sells phones.

Why would he/she mean the "Alcatel that sells phones"?

Because Nokia is already doing infrastructure and networking stuff. Purchasing the networking Alcatel signals no "strategic course of change".

I think it signals that they are giving up on the consumer market, which might not be a change of direction, but definitely a change.

A strategic course of apparently getting out of the consumer business. They might end up where Ericsson is today, which isn't exactly a bad place to be. Sad though for nostalgic reasons that those two phone giants were completely sideswiped by the app-centric touch phone revolution.

Bing Maps and Here Maps are already merged very, very decent in the new Universal maps app for Windows 10. I can tell you from using it that it is a million times better than Here Drive ever was. It has all the features that were missing for almost 2 years. Microsoft just needs to worry about whoever buys HERE that they continue the agreement for Microsoft to license the mapping data which deep inside is really Navteq. The real deal is Navteq who Nokia bought back in 07.

"Don't see a future for maps on Windows if someone buys it" Microsoft has a legal agreement that says that they can license HERE data for 10 years. If someone else buys it, they legally have to honor the agreement.

I think the here maps data is actually between 4-5 years...10 is for the Nokia branding on dumb phones...read it all recently again...

HERE sucks. Bing Maps is far superior. Go to Seoul or Tokyo and see how far Here gets you; both cities are just grey splotches with random roads drawn across them.

I never figured Uber has so much money

They don't... Uber bubble coming up soon

If I were Nokia, I would say "show me the money" before considering any bid from them.

They are fighting legal battles all across the group because someone injected them enough money to be capable of blatantly breaking the law and then trying to sue the government. So yeah, I'd say they have a lot of money.

Given the legal issues Uber is facing in Europe, I'm not sure their bid would even be considered by the European Commission. At any rate, I'd rather see HERE in the hands of the German Car manufacturers consortium. It would be far better served there and would serve us - smart people who know who makes the best cars in the World - better :P

I think if HERE get's bought by the car group, HERE gets used...only by the car group. Also, I had no idea that Tesla was made by Germans! :P

Germans used to make all the good stuff....tanks, weaponry, rockets, narcotics (my favorite)...all before everyone else...1910-40s...

Honestly the best company for it would be Microsoft, ugh hate to say it but Apple, any car company

They're not currently one of the bidders, so it seems that Microsoft is pretty disinterested.


No,Stay with us.Here maps,stay exclusive. :(

On one side, it's us. On the other, $3B. :/

they are not exclusive, HERE Maps have already been launched on other platforms.

What do you mean stay exclusive, iOS and Android users have had HERE Maps for a while now.

Microsoft isn't going to buy it

What does Nokia do after this? I thought they sold the hardware division to focus on Here and related services. Seems the company is just floating about, waiting for something to stick.

Well, they're doing a lot of networking stuff, which honestly was one of their only profitable divisions. They're also, in a very limited quantity, designing tablets for Foxconn to sell. That's the short version. DJCBS will give you a long winded explanation in a few minutes.

Ultimately, Nokia is becoming a service provider and R&D company. They might return to phones, but honestly, no more than Polaroid is to tablets. People will cite that Nokia Android tablet, but that was foxconn end to end. Nokia provided the launcher and a few bits, but foxconn did the hardware design. They utilized their iPad experience and released an android iPad air.

Nokia has 3 Divisions: Nokia Networks; Nokia HERE and Nokia Technologies. Nokia Networks is set to expand massively with the purchase of the French Alcatel-Lucent (it will become the second largest network provider after Ericsson and surpassing Huawei). Nokia Technologies is the division with all the mobile patents, the R&D teams, the designers etc. They're the ones that made the N1 and will be making future Nokia products (you can call it Nokia's new D&S division if you want). If you want to understand their business model, think of a book author. Nokia is the book author. They design the hardware and software, the tech that goes inside etc. Then a third party (Foxconn or another that meets their standards) "publishes" and sells their work. So if Nokia sells HERE, it means further investment will be made on Networks and Technologies. With the later possibly spelling trouble for Microsoft for the obvious reasons.

Are you a substantial Nokia shareholder, perchance?

Their main business is Nokia Networks (formerly Nokia Siemens Networks), they make telecommunication equpment (base stations, 4g networks etc). Their main competitors are Huawei, Ericsson and Samsung atm. (They're testing out their own 5G technology too). Here is a rather small business in comparison.

Ahh ok, that makes sense.

I think that's no good for windowsphone ecosystem... Or am I wrong?

I don't care who owns it, as long as they keep it on WP.

Good question for MikeSo to answered lololololol

Uber makes a lot of sense. They would obviously want to have some leverage against Google, one of their investors. The only problem is that I don't think the EU will allow it. They seem to have a hard on for keeping out American companies lately. Microsoft and Apple also make a lot of sense. Microsoft relies heavily on the mapping data (which the buyer would obviously have to keep their 10-year contract) while Apple definitely needs to update their mapping data (seriously Apple, there is not a mythical highway that runs through my University).

lol, I would agree Apple almost deserves this data from HERE. Also is puts the mapping data in a safe place for Microsoft to continue its agreement deal into the future. The maps app on Windows 10 is already all I have ever asked for. GPS, directions, directions list while GPS, bus routes, walking directions, 3D aerial view (needs work) but yeah miles ahead of my current Here Drive+ app.

@Jas00555 "The only problem is that I don't think the EU will allow it. They seem to have a hard on for keeping out American companies lately" Utter nonsense. Name one USA company the EU is "keeping out"

Now maybe Uber can actually get people where they need instead of ending up in a drivers shady apartment

Good. Maybe then the uber app will stop sending cars a block behind my place.

Nokia Here Maps has voice navigation unlike the original Windows Phone maps. Hope Microsoft will add that features soon...

MS should just bite the bullet and pay the $3.2B use OS cash and once again be the "other" option for mapping against google. Put it deeply into Windows 10 everywhere and on sell it to all others who needing mapping to build it up and viable option against google maps. MS will never be able to build something like this up so its a once off opportunity to own control and leverage a via mapping solution while also driving income from it. If it breaks even that's a successful buy price. End of the day ea h platform needs a great mapping solution that works globally with Google maps out of the picture for MS this is the only option moving forward will MS prefer to control it or let others dictate what they get moving forward.

License makes more sense. I'd rather see the R&D not be stretched thinner by developing a good set of maps, and focused more on Windows 10, WP, Xbox, and Cortana.

RnD won't be stretched as this is already within Here for which they will be buying. Part of Due Diligence MS should be able to see how much revenue they are making from others they already license too IoT will need maps too. Better guide Here guys to the direction MS and Windows 10 needs I say. Keep it independent so it doesn't impede MS RnD. In the long run this will be a key asset and will help MS get into car dashboards like Google and Apple are trying to do. Here Maps can be key to breaking into this. Better controlling and cutting the fat of a company that will be needed in the future to deliver all over products. As Google won't play ball any other owner can play Here maps against MS too. This can also be a bundling effect used with Bing to get Yahoo and the likes to pay more and tighter integrate with MS. This would be long term purchase not short term decision. Either way I think best other option isn't Uber is Germany/European car consortium.

As long as Google or apple doesn't get it, I'll be happy

Google would never be allowed to get it because it would create a de facto monopoly in the mobile world.

Whoever buys it should keep it independent, like Nokia did. HERE, former Navteq, is maybe the biggest map provider in the world. They do an amazing work and they provide data for more companies that one can think (many car makers among them, that's why they are interested in buying them). It's not only the apps that you see, there is a huge amount of data, data gathering procedures and analysis besides it. I suggest that eveyone has a look at their blog.


I don't trust on it at all. What if the guy is a psycho serial killer or whatever? Meh... I prefer taking a bus or subway.

Yup. Definitely no psychos on buses here in San Francisco.

So, Google bid. Cool. I was talking with an Uber driver recently and he was saying how the "Uber phone" is what they use...it's an iPhone with some specially licensed maps that they had to contract for or something. It's locked to that device and they have to pay royalties or something. This would be a puchase that would free them from the royalty update fees, so a good move I guess. There has to be an Uber driver here...chime in!

Im okay with uber buying it.

It would be yet another among Microsoft's more recent BONEHEADED mistakes to NOT purchase HERE from Nokia.