UC Browser keeps the updates coming; now supports background downloads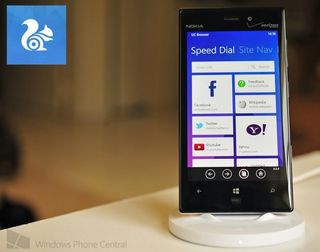 UC Browser, the flagship product of UCWeb, claims to have over 400 million users in more than 150 countries around the world. The popular Windows Phone alternative to the default Internet Explorer has just been updated to version 3.2 with key enhancements like background downloads, enhanced download management, and UDisk branded cloud storage service.
If you download a lot of files off the web on the move, Background Download is a neat feature. It allows you to continue downloading files even after you exit UC Browser. Also, the download process will automatically resume if the download is interrupted for some reason, all in the background. There's a caveat though, the company notes that because of Microsoft's restrictions, Background Download may not function properly under a 2G network.
Also, the new download management system allows you to categorize downloaded files and quickly access to them. The latest update introduces UDisk, a cloud storage service that allows you to store files on the cloud. After signing up for a UC account, you get 6GB of space to store downloads on UDisk directly, with 2GB permanent and 4GB temporary storage.
Although not a native browser, UC Browser is the No.1 browser alternative on Windows Store. While I prefer the default IE experience, many Windows Phone users prefer the differentiating features of UC Browser. Using cloud acceleration and data compression technology, it claims to load web content much faster. You can download the latest version from the Windows Phone Store (for both Windows Phone 7.x and Windows Phone 8).
You're just amazing, above second man.

Now I can download my videos in the background ;)

Wpcentral is slow..this update came couple of days before. Works perfectly. Thumbs up

Ok so I wasn't tripping I was thinking this update came already

I have this for 1 week already -.-

Considering MS doesn't have any better way of pushing updates to your phone, sometimes it takes a while to get the update. I know for a fact my phone checks for updates on a timer because I get a bunch at once. Not one every now and then. Almost every time I see an update on WPC I have to click to download the app to get the update. Or, they're slow. Who knows lmao.

I have no problem getting update notifications. However, even if WPC did have a notification delay, they should have known about this update for I myself sent Daniel a PM to hint him on this the very same day this update was released.

There is a delay, regardless of device. But not a week lol. But I still love WPC. The way I see it this is my Daily news app. Only other I use is Waive. More news, more consistently would be nice but on a nice busy day the flow is perfect for my daily routine. Thanks WPC

Why I stopped sending tips. I even sent a tip about MetroTalk and never got credited for it. There's alot of stuff so I just stopped. Still my goto sure for WP hands down.

lol.. come on guys, they are people at the end of the day like the rest of us not machines... jeez.


Yeah slow, there's even rumors on lumia 1820 lytro phone and 2020, 8" tablet with stylus

Its not a flash news to update immediately, its just information dude..

Why didn't you tip them on it then?

I've tried a couple of browser alternatives, but still prefer IE on WP :)

UC crashes on me all the time, especially when watching videos.

for a month now, even with updates. UC browser crashes in WP7.5. not sure if it's my phone, but i get resets all the time. i've stopped using it, until its get stable again. about 3 versions ago, it worked fine. now, not so sure.

How to download video with IE on WP

Ok am a DJ I buy music online is this an app where I can download songs and be able to access them on my PC later without having to upload to cloud(more data wasting) the option of being not able to choose storage for downloading is a huge blow.

Media downloader is for u.

File downloader!!! Great app

I don't see how that is possible without either manual work or the cloud. You could either download them to your phone (which is possible) and manually stick them onto your desktop or put them on the cloud (presumably) and then sync them later. You can't just save to desktop if that's what you're wondering, except for perhaps save to SkyDrive.

ok bro let me break it down I select a song on beatport or iTunes then now I download windows mobile will download after download open the tune for play I want it to be stored with my curent trax then I will know anytime I,plug my USB cable tune is available

This browser is a must have for por........video downloads :|

I use ucbrowser for downloading videos,,

Ucbrowser crashes on 512 ram phone but still best video down loader.

There's no way to transfer it to PC though right ?

UC browser crashes upon opening two three tabs or links.. Not useful

How about Nokias "Room makeover Sweepstakes". Lol come on WPC! Weave* is what I meant to say.

I just wish there is a way to change the default browser to UC

how can we make UC the default browser?

how can we make UC the default browser?

how can we make UC the default browser?

I tried checking FB on my Lumia 521 using the UC Browser and it was completely unusuable (page jumpled, navigation jerky, only parts of page loaded etc). Maybe it only works on higher spec phones?

I can confirm, as a previous Lumia 521 user, that UC Browser is pretty terrible on 512 MB devices. Any large web page including blogs, some articles, pages with lots of pictures, ect. will eat through lower spec devices' RAM before the page even fully loads. Either the text gets completely cut off, or you get that annoying 2 second "clearing memory" video interruption every few minutes. It's simply a RAM issue, and I've never gotten that message since I bought my 8X. FB loads smoothly and hasn't crashed a tab for me or gotten jerky like it does in IE. RAM is still a limitation on 1GB devices, however. Though it might just be the design of WP8, considering I don't have the 3GB RAM Lumia 1020 to test. The issue is, whenever UC Browser is kicked off the list of 7 or so multitasking items, it is completely removed from the RAM. Meaning, all your tabs will be reloaded next time you open it. In IE, unless you specifically close the tabs, it takes opening a ton of other apps (way past the 7 multitasking screen limit) to force pages to reload.

Thanks for the info. Guess I'll go back to IE (which frankly I'm happy with except for the odd handling of history and the lack of a forward button).

Same issue on L920. So, I would say, UC browser is not recommended for FB

ack, sorry to hear that Aboout page jumpled ,do you mean when clicking backward? and are you under speed mode?

What I hate about IE is that drop down menus don't work on some sites. Devs don't code for it which makes using IE frustrating at times. When is an alternative browser going to bring this? :-/

Do you have an example of such a site? I have never seen that.

can i acsess the downloaded file outside the app. i mean if download a song can we play it without opening the browser

Love this app! Would pay if they offered premium features
Windows Central Newsletter
Thank you for signing up to Windows Central. You will receive a verification email shortly.
There was a problem. Please refresh the page and try again.