UC Browser making the jump to Windows desktops in new beta
Popular alternative web browser UC Browser is now available as a beta for Windows desktop machines.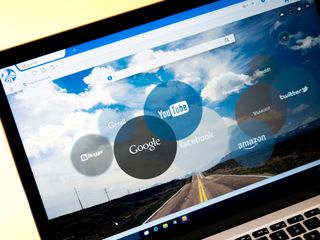 Long one of our favorite alternatives to Internet Explorer on Windows Phone, UC Browser has made the jump to Windows machines.
UC Browser for Windows brings with it a lot of what we've loved about UC Browser on our phones:
Fast Downloads: Enjoy high speed downloads with a resume option when interrupted and a smart file manager.
Smooth Browsing: Load photos and links beforehand so you can open them instantly later on for non-stop browsing.
Cloud Sync: Seamlessly switch between UC Browser across your devices by syncing your open tabs and bookmarks.
Fun & Easy to Use: Customizable speed dials, themes and add-ons, plus unique and user-friendly features make your browsing easier and fun!
To make things even more interesting, the UC Browser for PC beta is available as a "general" version and as one specifically-customized for the Indian market. Both are available as a 45MB download at the source link below.
Source: UC Browser; Thanks to Himanshu for the tip!
Windows Central Newsletter
Get the best of Windows Central in in your inbox, every day!
Derek Kessler is Special Projects Manager for Mobile Nations. He's been writing about tech since 2009, has far more phones than is considered humane, still carries a torch for Palm, and got a Tesla because it was the biggest gadget he could find. You can follow him on Twitter at @derekakessler.
Cool, Wait it's from China. They'll spy on your browsing history.

As will most other browsers

Specially customized for indian market.. Warning bell? I am not installing. :-p

These Chinese products are a threat to our national security.

yep, better to use something made in the USA /s ever heard of the NSA?

then do not use windows, IOS, Android, they are from USA, they are spying on you

your laptop comes from china, your phone comes from china, your toilet comes from china, your clothes come from china, would you like to smash them?

At least I can't be spied while shitting on a Chinese made toilet by communist regime.

Indian market loved to hear that.. ❤ India ❤

Another hint that universal apps will be a hit.. Btw UC browser is the best browser in WP.. Thumbs up

Isn't this a x86 program and not an app from the store?

It's not an Universal App, but a Desktop application (x86).

Needs to be a universal app. I have a Surface 2 & can't stand having to use IE all the time. UC's current Windows 8.1 app is horrible.

Wait, but it's not modern app, just normal browser (installing from *.exe file, not from Windows Store) like Firefox or Opera, right? So it's not universal.

Ohhh! But there is a app for uc browser in windows believe me..

Ohhh! But there is a app for uc browser in windows believe me.. I am serious

Yeah I hope they make the effort of making universal app as well. Show other companies it's worthwhile. I try to download what I own on the phone on the desktop if they are both available.

Maybe they can do it like Spartan.. Start from Where you left on your smartphone.. Or vice -versa

UC Browser HD - https://www.windowscentral.com/e?link=https2F%2Fclick.linksynergy.co...

I wonder what's its rendering engine....

So it means chrome extensions can be installed on it, no?

Yes, it links to the Chrome extension store.

Cool beans. Gonna have to check it out.

Extensions from chrome store work fine but I'm having trouble with themes... anyone else?

UC browser is the best browser in WP till now! Lets see if Spartan can beat it! I know it will

Wen in ind...oh wait. Never mind.

Yeah you dont have to bugger off

That was pretty neat, yeah.

I'll give it a shot. I like UC browser.

UC is good. I like US. Would love to see their windows work.

I am using right now. Loved the installer. Loved to know that ADBlock in built-in and The design is amazing... I will use it for a while and let's see :)

Already installed this browser, cool interface and smooth. Go UC Browser!

For those of you who use a browser other than ie on WP, are there any that are worth even having. As far as content loading, password management, security, etc. I tried opera and it disappointed me horribly.

Downloads can be resumed, unlike IE navigating to previous page and forward is easy and fast, you can put a picture password in Uc browser. Opera mini is in beta.

But does it have Cortana built in? No? One point for Spartan

No, Only Spartan has Cortana build in.

What a beautiful installer! Wow talk of creativity!
Needs a little better hardware acceleration for smooth scrolling, or is there a setting to enable this? Doing some brief comparisons with project Spartan, seems Spartan has better default hardware acceleration, but the presentation and interface of UC is simply beautiful!!

Uc on wp supports some commands from cortana...

For me IE works fine looking forward to the new ME in Windows 10

I always did like their WP app. I'll definitely give this a shot! I love trying new browsers anyway, they're a great way to make my online experience feel "new", you know?

I will try as much as possible to not install any Desktop app on my Surface 3 when I get it, either you make a Universal app or no install from me.

If only they improved their Windows Phone browser. Experience is abysmal.

Any guess that this is a universal app? Definitely going to give it a try. Hopefully it will support extensions. I hate having a browser without extensions

What's the difference between Indian and general version ?

First time I used UC browser my Skype , hotmail, itunes were hacked , so I quickly ditched it, seems Chinese hackers can break UC

I hope Surfy goes universal.

Hahaha Spartan is on the way, who cares about chrome, Firefox, opera and UC? :P

Will wait the Spanish, version, also Spartan will be the next wreck of Microsoft not because be bad but changing names isn't a, solution, also haven't learn Microsoft from the wreck of Windows 8.1 which don't have an start menu so looks that don't learn from past errors

I prefer Maxthon for Desktop, more history and more features and better sync.

Now if we only could have a WP version that supports Chrome extensions.... I know I know, but a man can dream.

I can't sync with my windows phone.

Er, to complete registration you have to sign in to a page in Chinese? Uh ...Think I'm going to delete and stick with Opera.

Alternative Windows RT browsers would be nice.

Anyone have a problem with UC Browser making your 1520 hot? My 1520 gets pretty warm when I use UC browser.

Cool! That's my browser of choice for "science" ;-)

Here's the link: http://www.ucweb.com/ucbrowser/download/

Too cool. I love them on mobile.

The best Browser on all the Platforms!! None can beat it!! Now, its time for Google Chrome to face this!

Lets wait for it since the version for WP make me satisfied

It's time. UC is the best browser imo. I use it on my Android tablet and 1520

This Browser is just GREAT! On desktop is so fast! It installs in 2 seconds. It opens faster then any other browser. I have tried, IE (as my previous first choice), Firefox, Chrome, Maxthon, Vivaldi and UC is the fastest and has everything (and also nice features other don't have, for what I could see). Now is my #1 browser, waiting for Sparant.
Windows Central Newsletter
Thank you for signing up to Windows Central. You will receive a verification email shortly.
There was a problem. Please refresh the page and try again.