UC Browser offers alternative to IE9 on Windows Phone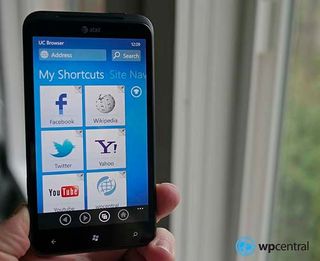 UC Browser is an alternative to Internet Explorer on Windows Phone, one of the first of its kind. It's been around for some time (it was on Windows Mobile) but only supported Chinese for the Windows Phone build which under went beta testing a few months ago. The browser was recently updated and now has language support for English.
UC Browser is a well designed web browser and pages loaded with a little zip. There's still some work to be done to complete the transition to English and a few features we've yet to discover. But all in all, if you're looking for a change of pace from IE9, UC Browser is worth a try.
The UC Browser layout has your traditional URL entry field up top with a keyword search field (Google Search) next to it. There is a small button control just below the keyword search that has, what looks like, a t-shirt emblem. This button cycles through various pre-loaded wallpapers. The app has four pages spread out in landscape fashion that include:
Shortcut Page: This is the UC Browser Home Page and offers a dozen customizable shortcut tiles that will take you directly to your favorite web pages. Just tap/hold one of the tiles to edit/add your favorite URL's. Tiles not in use will be populated with your most recently visited web pages.
Site Navigation: This page lists a handful of websites in the following three categories; Top, Popular and More. Just tap/hold on a link to pull up options to open the site in the background or new tab as well as add the link to your bookmarks.
History: Your browsing history is tabbed and broken down for sites visited today, yesterday and three days ago. Tap/hold a link in the history and you'll have options to add the link to your Shortcuts, delete, or open the link.
Bookmarks: As you would guess, here is where your bookmarked pages will reside. Tap/Hold a bookmark pulls up your options menu that includes editing, deleting and adding the link to your Shortcuts Page.
Settings for UC Browser include options to sync bookmarks with UC's server, pre-load pages, turn on Incognito Browsing, and set your rotation settings, language choice (English or Chinese) and how you want to handle form records (auto-fill). There are also options to use a custom skin and delete records. The Incognito Browsing setting does not record web sites visited in your browsing history and cookies are deleted once you leave that particular page.
A few additional features that make UC Browser stand out is the support for tabbed pages, horizontal display support, and online video display without the need for plug-in clients. I should note that in tinkering with UC Browser the online video viewing was hit and miss. There were several pages with embedded videos that were viewable with no issues while other sites the video produced a "not compatible with your device" error.
I did find UC Browser to be zippier than Internet Explorer and while a subjective issue, the layout was more user friendly. The Shortcut Tiles are a nice touch and there's even a Home Button that will send you back to the Shortcut Page eliminating the need to hit the Back Button.
While I liked UC Browser there are still plenty that is still a bit of mystery. The app is billed as having some sort of SkyDrive integration. From the Marketplace description,
We haven't seen any signs of SkyDrive controls/interaction yet.
There is a page that lists downloads (from the three-dot menu), but we don't know what downloads will appear. You also have the capability to sync bookmarks with UC's server but the set-up pages are in Chinese. This may be an indication that bookmark sync service isn't available outside of China.
While there is some room for improvement, UC Browser isn't too shabby of an alternative to IE9. UC Browser is a nice looking, easy to navigate, zippy web browser that is worth a look. UC Browser is a free app that you can grab here (opens in new tab) at the Windows Phone Marketplace.
Thanks, Stephen, for the tip!
Windows Central Newsletter
Get the best of Windows Central in in your inbox, every day!
George is the Reviews Editor at Windows Central, concentrating on Windows 10 PC and Mobile apps. He's been a supporter of the platform since the days of Windows CE and uses his current Windows 10 Mobile phone daily to keep up with life and enjoy a game during down time.
Never knew about this. Thanks!

Does it render any better than IE? It's maddening just how many sites (even mobile optimized - read: iOS Safari optimized) sites look horrendous in IE.

no, they aren't because using IE9-engine.

Thanks for writing up my tip! Another little trick...when browsing if you swipe to the right it will take you back to your last home page (site nav, history, bookmarks, ect.) rather than the home button that always directs you back to shortcuts.

I do like this app, but I've had it crash a few times. Happened to someone else I work with as well. My guess it has to do with the language setting as I've seen it happen with apps in the past.

It doesn't matter how good any of these third-party browsers are (I particularly like the GUI of SurfCube even having said that) because their performance is always worse since IE9 Mobile has the advantage of being developed using Native code.

Can we trust this browser?

how can it be more user friendly than IE? it doesn't even have a user agent switcher like IE does. going to have to pass on this one, it was crap on WM and it probably still is crap now. IE FTW!

I liked it till i found out that it doesn't have a user agent switcher. Fail. I use full desktop site always to browse. It's impossible in this browser unless each site provides an option to full site.

IE9 would be much more user friendly if it had at least "find on page".

Is this a new shell for IE9 or is it actually a new browser? If the latter, is it rendering on device or is it like an Opera Mini that is prerendered? If the latter again, can we trust a Chinese company with our data?

thats kinda racist there homes.

Can you trust Google with your data? They've had their moments too. Pretty much any time you work with a company you need to ask this question as different companies may follow different local laws and even within the same legal jurisdictions companies have shown varying degrees of integrity with regards to information.

They haven't had there moments, there primary business is to make money off your data.

Is this a completely new browser for Windows Phone or is it a skinned version of IE9 with different features?

yes, it is a skinned version IE9

wow : really nice. been playing with this for a few hrs: not bad. i like it way better then the IE on the phone: i think its even a little faster too



The browser on windows phone is seriously an area of concern. How is it that this browser is supposed to be so great and the same as desktop ie, yet it renders pages bad and doesn't even play videos? What is this i read about mobile ie9 now being html5 compatible? I tried playing the embedded YouTube video on this page and i got an error stating that the video was not compatible with any format my phone could play? This was in "mobile view". In "desktop view" it said i needed to install Adobe flash!? Why? It didn't even open the YouTube app to play it instead. This is crap. I have 2 Mango phones and its stuff like this that keeps me from fully supporting wp7.

If the video does that,tap on the top highlighted bar of the video to link to the video, redirects, and plays just fine.

Bad rendering? Where? It most certainly renders better than opera mobile ever did and it passes the acid3 test.

There is a SkyDrive integration in the browser. Go to download option and download anything on your Windows Phone. You'll see a small icon on the right side of the downloaded file to upload it to SkyDrive..bingo

Instant back to previous spot is the killer feature. Now I can shop/browse online in a civilized manner.

Can somebody tell me where can u find the downloaded files. coz i downloaded a few mp3 files. Its visible in downloaded section of uc browser but is not getting updated in the music player.
Windows Central Newsletter
Thank you for signing up to Windows Central. You will receive a verification email shortly.
There was a problem. Please refresh the page and try again.