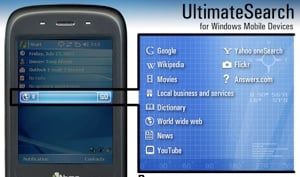 Not everybody can have a Treo with a search bar right on the Today screen. And not everybody has Windows Mobile 6 yet, either, sadly enough. What to do? Perhaps take a peek at Ultimate Search, which puts a souped-up search bar on your today screen. Here's what's in the soup (does that metaphor even work?):
Google
Wikipedia
Movies
Local
Dictionary
YouTube
Flickr
Answers.com
That looks pretty nice, actually. If the point of a search bar on your today screen is to get info fast, then being able to use a specific search type makes that point ...pointier. It's $11.95 and there's a free trial.
Oh, and notice that "YouTube" search? I suspect you'll be a lot happier using that particular option if you've installed the "Full YouTube on Windows Mobile" hack. I should mention that the whole system has been significantly improved since we first posted about it, so definitely revisit it if you haven't.
Windows Central Newsletter
Get the best of Windows Central in your inbox, every day!
I'm trying out the trial version now & its very useful. Saves a lot of time with the selection of search engines it provides from the today screen plugin. I wish the today screen web search plugins would give you the option to view the mobile version or desktop version results.http://www.gx-5.com/products/ultimatesearch/

That looks awesome. But $12 is a bit too steep for this, in my opinion.

That looks awesome. But $12 is a bit too steep for this, in my opinion.
Honestly, I feel the same way.:hmm:

I have it, love it, and would recommend it. I did, however get it for like 6 bucks when it was in beta (they had some kind of deal at the time, because I remember thinking the same thing, that 12 was too much).
It is really cool, though. I have it as a tab in Mobile Shell, and it is very useful.
One issue I found is that when you search for YouTube vids, it goes to the mobile site, even though a lot of us have the zbop solution in place. So I generally don't use that function. But the Google search, Wikipedia, local businesses, movies, and direct URL bar are pretty decent.

I'm with Alienware. I bought it at the 50% off price and like it as a MS tab.
I don't use the YouTube search, so that doesn't bother me.
It is a slick looking piece of software, like the other offerings from G5X.

I have to post a comment here on this product's company, just because I am p/o'd, and just feed up enough to need to vent on this subject.
I went to the site, and was simply astonished on how slow the site was. It is entirely in Flash, no HTML, took over 1 minute to load one page. I tried to right-click on "links", but they aren't links, they're flash-crap, so you cannot open a page in another tab or window.
After 3-4 pages, I gave up. If their website is that slow and bloated, why would I even consider installing the software on a limited device like a smartphone? Sorry, it may be a great product. But it's "packaging" turned off this potential buyer.

I there a way to change the YouTube search results to the classic version?

I search wikipedia several times a day. I used Quickipedia on palm os, but this is even better!!