Umbrella 8 for Windows Phone has potential to be an elegant weather source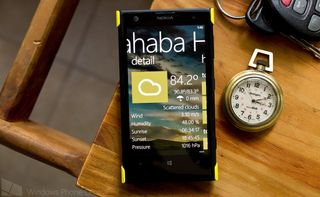 Umbrella 8 is a unique and eye-catching Windows Phone 8 weather app that has a lot going for it. The app throws a lot of weather information your way and includes Flickr integration to spice up the background images.
However, while the design is appealing you have a reoccurring error and the navigation isn't as smooth as it could be. Still Umbrella 8 is an attractive weather app worth trying and has a ton of potential.
Umbrella 8 has two sets of pages. You have the main pages that includes a page displaying your current location's weather details (if activated in the settings), a page listing the cities, a settings page, and an add location page. You also have a set of weather pages for your locations (more on this in a second).
Umbrella 8's location page and settings
Settings can be accessed through the Settings page or through a button control that appears at the bottom of the main pages. Settings cover Umbrella 8's live tile, Flickr integration, lockscreen settings and some general options. One of the general options is to allow Umbrella 8 to use your actual position.
When this option is active, the app will display your location's weather information on the main pages. Tap on the page and you'll pull up your actual location's weather pages. When deactivated, you'll be greeted by Umbrella 8's city listing page where you'll have to tap on one of the icons to see the weather pages for that location.
This makes navigation a little on the cumbersome side and it would be nice if Umbrella 8 launched directly to a City's weather page.
Weather pages include a weather summary that displays a brief forecast and current temperature, a more detailed forecast page, an hourly forecast page, a fifteen day forecast page, and a weather maps page.
Umbrella 8's weather pages
Up under the three-dot menu from the weather pages includes options to update the weather, delete the city, save the background image to your Windows Phone, pin the City to your Start Screen and share the weather with a friend.
Speaking of updating the weather data, there is an update button on the main pages and there is an option to update the weather data automatically when you launch Umbrella 8 in the settings. However, it generates an error that reads, "Object reference not set to an instance of an .." (the entire message is cut off at the top of the screen. Nonetheless, Umbrella 8 doesn't update automatically so best to leave that disabled for now.
Umbrella 8 has a lot going for it. The Flickr integration helps keep the app background from getting stale, the amount of weather information is respectable and the design is really attractive. While there is room for improvement, the problems in place are more frustrating than terminal. If the developer could tweak the navigation to make it a little more fluid and fix the automatic updates, Umbrella 8 would shine a lot brighter.
Umbrella 8 is a free app for your Windows Phone 8 device that you can find here (opens in new tab) in the Windows Phone Store.
Thanks, Karthik, for the tip!
George is the Reviews Editor at Windows Central, concentrating on Windows 10 PC and Mobile apps. He's been a supporter of the platform since the days of Windows CE and uses his current Windows 10 Mobile phone daily to keep up with life and enjoy a game during down time.
I got 2 notification for this lol

Tomorrows forecast: sun goes up, sun goes down. You will pay taxes. Chance of death.

This is really a nice app it does a nice job but fails with the lock screen. because it does't do the forcast on lest not on mine, the live tile though does have a good photo of the town that you pin. over all the features are not that bad for a free app.

Yes, its a nice app, but still missing some wp8 features, definitely would come back to it when its more developed

All Bing has to do is add double wide and lock screen support and it would be the perfect weather app. Do you hear me Bing? Perfect!

+1 - Only reason I have weatherflow on my start screen is because bing has no double wide option. Maybe it was intentional by MS so as to support the other app developers?

That wouldn't be good on Microsoft's part. That would just produce mediocre apps. If Microsoft made better apps, then 3rd party developers would have to work harder to make something even better.

...and a Weather Map on the live tile - see Weather Channel.
All Weather Channel has to do is add location based weather, rather than fixed location based (if it has this, I have been unable to find it).

Weather channel went downhill on iOS and hasn't gone anywhere yet on WP. No animated radar for instance. They do seem to have accuracy which is why I have it installed.

App is nice, but needs some help before I use it as my primary. Needs radar, lock screen with weather info on it, and should open weather maps within app instead of ie.

Also.... Why can't we get a weather app with radar that displays storm tracks???? Those are important here in Texas!

I second that. There are some good weather apps with very weak radar integration and good radar apps with little weather. If the two could be combined together. I would like to see Weather Flow or Amazing Weather do something about this.

Radar just all out sucks on WP. Weather bug has perhaps the best functioning radar I've seen in WP.

Wow, tons of potential here. When you click on the location tile within the app, that is one beautiful site. Needs a better tile and lock screen. I'll keep an eye on this one.

Another weather app with m/s wind speed. Please people in the USA are still in the old old and very old world where wind speed is measured in miles per hour.

Finally m/s! Should off course be able to switch.

I'll include him in the next version ;)

Needs a better tive tile.

Used this and it's a battery killer.. Maybe it was fixed , don't know.. Just a hint

This problem was fixed in the version 1.1

You can try to test it.

K..thanks...If you say you fixed the battery issue i'll give it another go

Just as a thought to the WPC crew. How about incorporate more information about language support in all apps?

Wonder if they'll give a report for zombie attacks.....

Does anyone here know of weather apps that show a line graph of the temperature throughout the day?

Thanks! I'll have a look.

Another thing to consider for the folks who live where it is hot is to not use the 2 digit number on the live tile. Its 103 right now but I'm guessing this only goes up to 99. This may sounds stupid to some, but 99 feels a lot better then 110 and I like to know.

This weekend is gonna be the slowest weekend in the history of WP news,, ever❗

Still waiting for a weather app that incorporates weather front map with H and L pressures.

Why don't you email the developer of your favorite weather app and ask for those features❓

Thanks by the review, I going to work very hard for improve the application but the OS restrictions are very big if it isn't use Windows Azure to process the images for lockscreen and tiles, and I can't pay a server every month with a free app. In the next version i hope fix a lot of problems and introduce some interesting features.

Option to use user own image for different weather would be fun. Just a suggestion. Though, this is already my main weather app. Good work.

Jajajajajajaja, you look a mentalist, the next version already included a own collections images for customize your actual locations. ;)

What is the weather source you use?

The app uses the OpenWeatherMap.org forecast

So many weather apps, but is there an app the changes the location on the live tile auto based on gps location?Thank you

I've found live tiles to be too unreliable for things like weather. Throw location on top of that and who knows what will happen.

Nice app with a lot of potential. The workflow is a bit off but I'm putting it front and center for a while to see how it works. I've been looking for a nice looking, and accurate weather map. Accuweather, Weather.com etc. they look ok but they're just not visually appealing. Actually, the HTC weather app that comes with my 8x phone is kinda nice but it is bunded with other things and I don't care for that.

This is nice but "Forecast" is the best weather app in my opinion

And I thought, the source for weather was the sky, the ocean and nature in general. Silly me!

Not a bad app... However, I am not yet using it as my primary, since it s not yet very accurate, at least as far as Greek weather is concerned

I have download an amazing app "Umbrella Worldwide Weather"and found more useful. The App provides most accurate and reliable weather forecast for worldwide cities and towns in a simple and weather reflected background for sleek look and feel. It has lot features for more info visits: http://mzemo.co.uk/umbrella-worldwide-weather/
Windows Central Newsletter
Get the best of Windows Central in in your inbox, every day!
Thank you for signing up to Windows Central. You will receive a verification email shortly.
There was a problem. Please refresh the page and try again.