U.S. Cellular specs out the Samsung Code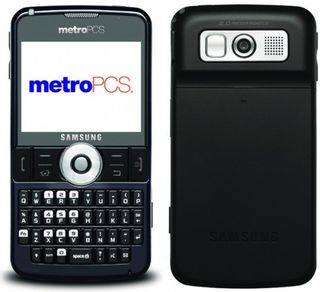 Remember the Samsung Code mentioned the other day? We'll forgive you if you don't. It was largely unremarkable. But now we have more details and a picture, so here goes. The specs:
Jogwheel with 4-way navigation
Windows Mobile® 6.1 Standard Edition
2.0 MP Camera/camcorder with Flash
Picture Messaging (MMS)
Bluetooth® 2.0
Office Mobile:
CDMA 1XRTT 800/1900 MHZ EVDO Rev 0 Technology
Flash/RAM: 128 MB
Removable Memory: Supports up to 32 GB
Talk Time: up to 6 hours
Standby Time: up to 12.5 days
Battery Type: Li Ion - 1480 mAh
Size: 4.61" (H) x 2.3" (W) x? .54" (D)
Screen size: 320 x 240px
Weight:3.6 ounces
No word on pricing, but we still expect to see it on June 18.
U.S. Cellular via BGR
Phil is the father of two beautiful girls and is the Dad behind Modern Dad. Before that he spent seven years at the helm of Android Central. Before that he spent a decade in a newsroom of a two-time Pulitzer Prize-finalist newspaper. Before that — well, we don't talk much about those days. Subscribe to the Modern Dad newsletter!
This is the best phone from metro yet. I work at a metro and its the best i tell ya.

somebody please give me pictures so i can compare them to the "SAMSUNG FINESSE" because i was going to get the samsung finesse but when i seen the samsung code it totally changed my mind. im definitly gettin that phone "YA H3@H

I know that this was last year when this conversation was happening, but i was wondering WHEN this phone is coming out to US Cellular? I tried almost EVERY website, and i keep coming up to the date of June 18...of last year. So i was wondering if those phone is no longer happening with US Cellular or not... hmm...

I tink cost about $250-$299 coz is 6.1, (if 6.5 cost around 350-450)

The cost of Samsung Code phone will be $299 and you should get up to $50 credit trade in for your phone at Metro. I'm excited about this phone and believe it will be a great alternative to touch screen haters like me. Also a great alternative for black berry fans. The SD memory card expansion is more than you will ever need at up to 32GBs. I'm glad I never bought an iphone but I love Apple computers and the Samsung code will have much more possibilites as a Windows based phone. DC

I work at MetroPCS and I am so excited to get my hands on one of these. Finally another phone with HTML browsing! I cannot wait to pick one these up.

I work at MetroPCS and I am so excited to get my hands on one of these. Finally another phone with HTML browsing! I cannot wait to pick one these up.

i have been a metro customer for over 3 yrs and cant wait to finally get my hands on this phone next week. ive been looking and looking for a better phone that i dont have to flash to metro pcs just to get what i want and need. metro is the best service provider out there i just wish they would expand their survice areas to cover more rural towns n highways.

WOW ANOTHER AWSOME PHONE THAT METROPCS IS COMING UP WITH.. I WORK FOR METROPCS SO I GET THE SCOOP BEFORE OTHER PPL DO..BUT TRUST ME ...THIS PHONE IS AMAZING. SAW THE FEATURES OF IT N PLAYED AROUNG W IT A LITTLE. SO YEAH I CANT WAIT TRUST ME THIS IS GONNA B THE NEW IPHONE. METROPCS CUSTOMERS WILL GO CRAZY FOR IT...I STILL HAVE THE COUNT DOWN FOR IT..WOW METROPCS U DID IT AGAIN
!!!

I noticed on the MetroPCS that this phone has "unlimited pocket express" included in the $50 vs that the Blackberry doesn't. I also noticed that this new phone has the "enterprise email" included in the price vs an additional $10 for it if I get the Blackberry. My question is how does the Blackberry and Samsung Code compare? My husband just got a Blackberry from his employer and I really like that he can get his emails directly on his blackberry and internet service no matter where he is. Would this be the case with the Samsung Code also? Thanks.

I bought one yesterday so far I love it plays youtube videos everything....Can't wait to hook it up to the computer!!!! It's very light and thin, the graphics are great, the picture qualities are amazing. I was skeptical about the keyboard texting because I like predictive texting on basic phones however the keyboard is very easy to use and it stores word you use constantly. I am very pleased with the product. Get compliments on it, very flashy and chic and professional. We will see what happens.

Still going well SavvyConsumer? I am looking into getting this phone and would love any feedback anyone has who has actually used it

This phone is great. had it for about a a week. ive already done tons of stuff with fun downloads. I put Quake 3 arena on it and it plays classic nintendo games if you get the emulator and the roms(games). It required some reseacrch to figure this stuff out tho. I switched from the blackberry storm on verizon to this on metro and i love 10x more

i really want this phone .. i have the motorola hint form metro, it really sucks -__- it turns of, dones't let me receive pictures, dones't capture them .. & it dones't charge all the way and when i put the charger in it says ''unotherized charger'' WTF -.- i really want the samsung code, my friends say it's great.

I have the Moto Hint and I never experienced all the issues that u have received...and I have used t-mobile chargers to charge it...but I know each phone has their own issues...but I cant wait to get my hand on the code too...the best phone they ever had...I can't wait to see how they are going to top this phone.

Been with Metro from the start. Everytime I think about switching, they improve their service area and phone selection. Completely satisfied with service and now the Samsung code. This just stopped me switching to Boost.
Looking forward to upgrading, it seems to be getting nothing but great reviews.
Great price too at just over $200 after mail in rebate from Metro. With the $50 unlimited use plan that includes everything, nothing else compares.
Go Metro, U da best!

I got a code last week on my way to Pittsburgh so that I wouldn't have to carry a laptop. I didn't miss the laptop. The phone was great. Get One!!
Windows Central Newsletter
Thank you for signing up to Windows Central. You will receive a verification email shortly.
There was a problem. Please refresh the page and try again.