Upload memes, photos and more to Imgur with Imgura for Windows Phone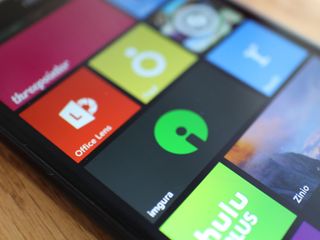 You probably have browsed Reddit and Imgur many times if, like us, you're a child of the internet. Baconit and Readit are two killer Reddit apps for Windows Phone that we use and love daily. For Imgur we've been rocking Grin since we first covered it last summer. Now we're adding another Imgur app to our collection – Imgura for Windows Phone.
Imgura is a new app available in the Windows Phone Store. It's free to use, but you can unlock additional functionality with in-app purchases.
Here's what you can do with Imgura:
Make memes for the first time on Windows Phone! Choose a default Imgur background or select your own image.
Edit memes, save them on your phone or upload them.
Upload multiple images, create albums and share them.
Tap on any image to save it on your phone.
Browse the gallery by most viral images, highest scoring, etc.
Upvote, downvote, like or comment on funniest images on the internet!
Search for an image or meme.
Browser your profile, your private images, albums or your favorites.
We've playing around with Imgura and like it. Launch the app for the first time and you'll be on the main gallery view. Here you can view what images are viral for the day. You can also sort by highest scoring, user submitted and memes. Those can then further be categorized by popularity or newest first. The combo of 'most viral' sorted by 'popularity' is a pretty good way to give the internet a litmus test for the day to see what's funny.
Tap an image (or GIFs, since they're supported) and you'll be taken to the page for that image. You can then view the total number of points, views and submit date. You can also swipe over to view the comments and add your own.
Speaking of adding your own, you can use Imgura to create and submit your very own memes. You can also upload regular pictures if that's your thing. For meme creation you've got every major meme ready for you to modify.
Imgura is a pretty great app for Imgur fans on Windows Phone. It's free, but requires in-app purchases for a few things.
Download Imgura from the Windows Phone Store.
Windows Central Newsletter
Get the best of Windows Central in your inbox, every day!
i prefer Grin. but waiting for the official app. they (imgur staff) wrote about a wp release in an official post few months ago.

I reached to imgur a couple months ago and they told me they had abandoned all plans for a WP release. Third party is all we are getting.

Grin is not bad but I welcome the new experience. Will try it.

Screw it. App looks nice but I don't like the prices. $2.99 and only get to upload 10 pictures/day? No. One tip, don't use smilies everywhere, makes it look less professional. In the end, you're trying to sell a product, not make best friends. Overall, app has potential, just don't like the pricing and some details. Good luck.

Thanks for your suggestions. Price changed + an update with bug fixes. You can check it now. seems you haven't seen the big happy face in Windows 8 ;)

Nice to see rapid response and action. I can't see the new pricing yet but I still disagree with the 10 picture limit per day. Isn't there a way to increase that? Should be at least 20 at the very worst scenario cause in my opinion, it should just have infinite uploads.. I'd personally prefer an ad supported app with infinite uploads and locked features.. And probably pay up to $5 for the full unlocked app and no ads. Just throwing ideas here. Thanks.

Uploads are very costly and the app will hit the limit very soon. it is not possible to offer unlimited free uploads. I may increase it to 20 in the future, but I think that is enough for most of the users.

Hey I just downloaded the app, while creating the memes I found that after adding the title and description, the text is not changing. And when I'm viewing something from the gallery the options are hidden (Unless you hit the three dots the options are not coming , this is something different, may be a bug. But if you put it by yourself, ok. ) Third , when I open the create meme and quickly switch to another meme and then press the done button it is taking to the next page but no image is being displayed, just the heading and bottom part (y u no use.....) . #using L720

Hi, thanks for the report. - It's weird, I'll check it. - Yes it's ok. I tried to make the page clean as much as possible. - Just wait a moment until the image is loaded, then press done. I'll add a progress indicator. Thanks. (You can also contact me from inside the app or @algihuni )

Got it...!! complaint 1 was bit problem... was confused... A small tut to use this app would be great like the nokia cam has.... remaining 2 suggestions might be interesting to look into

This app is from the dev off "free market" drama lulz

Wish i had this app, back.

Imgurnation is better than both. Give it a shot if you want to explore a third option.

check out tech blog - www.nithinbolneni.com

check out www.wpcentral.com , oh snap.

I think this app is very promising

Check out "imgur uploader" for Windows Phone http://www.windowsphone.com/s?appid=629edadb-d08b-e011-986b-78e7d1fa76f8 Been using this since last 3 years for uploading.