Users reporting Outlook crashes after installing Windows security patches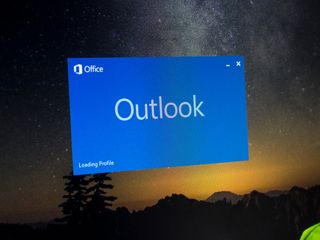 It appears that a recent Windows security patch may be causing trouble for desktop Outlook users on all versions of Windows. Several users are reporting crashes for the email client after downloading Microsoft's security patches earlier this week. While there doesn't appear to be a clear culprit at the moment, one patch has been singled out by many users.
From ZDNet:
Microsoft appears to have pulled the files from their direct download links, though they seem to be available through Windows Update at this time. You can find more information on this issue both on Reddit and Microsoft's forums (opens in new tab).
Are you having issues with Outlook after installing Microsoft's latest security patches? Let us know in the comments below.
Source: ZDNet
Windows Central Newsletter
Get the best of Windows Central in in your inbox, every day!
Outlook 2016 working fine for me on a Windows10 desktop. All patches were applied last night.

Working for me too but 1 issue is Folders is showing emails not read but they have been! If i click on more the ficticious emails not read do not show.

That happens also on some installations of o365 (2013)

Same here! Solution is that you have to open your mailbox in OWA and you will see the unread mail. Check it "as read" and your Outlook destop will show no unread mails as well

Been crashing and hanging all afternoon. Now I know why.

Depend on what the content of the email is.

Definitely an issue for me. Worst on Outlook 2010, but 2013 seems to be affected as well. I have 2016, but I can't test it because my Exchange server is 2007, which 2016 doesn't support.

Yeah crashing non stop on 2010 for me. What's weird is I haven't installed updates... But am right now.

Yep for me too, every time i open it, it crashes within a few seconds...

Mine crashed.. Had to uninstall, change to local account to delete account after reinstall, then convert back to microsoft account.. Now things working ok..

Lol, MS15-115 sounds like a virus out of a horror series.

No problems on either of my machines with 2010 on Win 7.

Outlook 2013 and 2016 working fine on Windows 10 RTM and 10586. And I am grateful, because all the "suits" around here are running W10 and Office 2016 because of me. :)

You enjoy living vicariously, don'cha?

I am seeing it on Outlook 2016 on a specific html email. Windows 7 64 bit. Set read all email to text, "resolves" issue.

I am also seeing it on Outlook 2013 Windows 7 x 64. Same email crashing both, but other HTML emails not crashing Outlook. Not sure what the connection is. Both machines fully patched.

I uninstalled MS15-115 (also known as KB3097877) on one machine and Outlook quit crashing on the email that it was having provlems with.

My outlook will only work in safe mode...

My exuberance for W10 and its quality assurance is waning.

While the quality of Windows 10 is undeniably suspect, this affects all versions of Windows.

No problems fortunately ☺

What about Office 365? Any issues there?

I'm having the crash issues with outlook 2016 on my surface pro 3. The 2016 version has always crashed for me weirdly, whilst on my desktop it works fine

My entire company was crashing all day on 2010. THANK YOU for posting and narrowing it down to the one update! Uninstalling KB3097877 resolves the issue complately.

My bosses outlook 2010 started crashing this morning and keeps complaining. Now I know what to uninstall if it h helps to uninstall the patch. Temp fix this morning for me was to disable local chasing , that helped.

Spent all morning dealing with this at my company. It was indeed the patch mentioned in the article.

If Microsoft wants to do these forced updates and be trusted they are going to have to fix this patch fast.

Any wireless printer problems with Windows 10 updates?
Thanks.

I had the problems this morning with my office 2010 on window 7 ultimate. It kept crashing when opening e-mails. Did a system restore and it fixed it. We'll see if the update forces itself tonight.

I am a victim of this! Surface pro 3 I5 128 gb

Had to update the password and resync my pop email account on windows 10 desk top.

Ohhh so that's why one of the managers at work have been nagging me about Outlook crashing today. I just used the excuse that his inbox is too big. Perfect way to make someone clean up a 32GB inbox... :P Microsoft really have had a bad habit of breaking updates this year. Doesn't bode well for Windows-as-a-service

Security on Windows 10 are not strong point

Not just outlook but also screen freezes for a couple seconds. Outlook desktop actually crashes for me as well

Working fine for me,hope it gets resolved soon for other users

Happening on some (2010/2013) but not all. Starting Outlook in safe mode (hold down ctrl when clicking the icon) gets folks into there mail....

Yes crashes, and windows feedback mobile crashes as well just before send feedback.

Lol I can't even update my laptop

I can't be sure it is because of the updates as it has been very temperamental on my 920 . - I love Windows 10 mobile when it works but far too many lock ups for serious use, if I had to rely on my phone for business etc. then I would go back to Windows 8.1. Still needs lots of work for reliability. It's still better than my other phones of which one is overpriced and over rated and the other absolute rubbish operating system. Lets hope Microsoft can fix this OS.

Only if there was a way to choose which updates you want in Windows 10..... I suspect this is just the beginning.

THANK YOU FOR POSTING THIS. I couldn't figure out why Outlook started crashing after I just installed MS updates and it finally dawned on me "Hey Dummy, you installed updates". And I'm the head of the IT department. :( Removed the one updated listed and so far everything is working again.

Did you hide the update? Lol, it will install again if you didn't.

Looks like there has been Outlook update tonight - just downloaded so we will see what the outcome is!

I have been going crazy trying to fix this since updating on the 10th. I uninstalled all of the updates (yes, one by one) and it didn't work because there are 2 updates that will NOT uninstall. Service Pak Update and a security patch. HELP!!!!

Updated paqtch released today, on my machines it resolved the issue.

Outlook is totally crash-tastic! It started crashing madly prior to the 2016 update but now it's a catastrophe of load/crash/load/crash.... Annoying as all crap and really making working a big problem. Good job it's Friday, after three days of this... But at least Windows is updating every 10 minutes, y'know, with their fun system disruptions indicating there's yet another update pending...

I am having problems since yesterday. Everytime I open an email which contains HTML Outlook dies. The probelm is that everytime it restarts it opens the same email and then it crashes again!! How I got around this was to disconnect from the net. When the problem email opens Outlook does not crash while being disconnected from the net! By the way I am using Outlook 2010 on Windows 7.

On my pc I changed from Win 7 to Win 10 about a month ago. I'm not 100% happy with it, but it's fairly OK, although I'm having issues with Drives D and E. A few days ago my Outlook 2013 started crashing, and I often have to reboot to get it running again.

I have a complex Excel spreadsheet with 8 sheets, lots of columns, data links, and custom code a sheet and module levels. It was crashing a lot. I had to resort to saving the spreadsheet after every change. What a royal pain. I had a drive with a lot of empty space. I increased the paging file size (3x maximum). Excel hasn't crashed since. I made change. I have a more detailed note on what I did. Google Office 2010 Windows 10. Look for http://answers.microsoft.com.
Windows Central Newsletter
Thank you for signing up to Windows Central. You will receive a verification email shortly.
There was a problem. Please refresh the page and try again.