Verizon HTC 8X looks set for Windows Phone 8.1 Update 1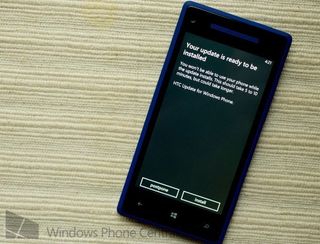 For those of you using a HTC 8X on Verizon, today is a good news kind of day. In similar fashion to the recent Lumia Denim updates pushed out by the carrier, official details have surfaced today suggesting that the Windows Phone 8.1 Update 1, well, update, is imminent for the 8X.
The PDF detailing what's in the update is dated today, February 12, so fingers are crossed that we'll be seeing it on devices very soon.
The last we heard on updates for the 8X was back in October 2014. It's a shame it's taken so long, but late is better than never. It adds a ton of features to the 8X with one of the biggest being Cortana.
There's no word on when it'll push out, but definitely keep an eye on your devices. If you want to find out more, hit up the source link below.
Source: Verizon (opens in new tab)
Thanks Jay for the tip!
Richard Devine is an Editor at Windows Central. A former Project Manager and long-term tech addict, he joined Mobile Nations in 2011 and has been found on Android Central and iMore as well as Windows Central. Currently you'll find him covering all manner of PC hardware and gaming, and you can follow him on Twitter and Instagram.
Nice. Verizon is on a roll. Now about those people that said the 8X wouldn't get this update.....

I think t-mobile is the only carrier who's ignoring WP.

Yea they are especially considering how their Lumia 810 is still not past 8.0 Update 2 :/

I think the word you were looking for is Sprint.

Nope. My Ativ S Neo got updated in November and the 8XT was updated a week later...

Just depends on what carrier you have. If your on Verizon you're in good shape but if you're on T-Mobile you have been abandoned.

Better yet, if you have not received the denim update your carrier ⚫ MUST ⚫ be ignoring WP!

I'd give a bit more credit to Microsoft on this one. All the news bits I've seen on this effort have pointed to Microsoft being the main pusher to make this happen. I don't have the article link ready, but Verizon was ready to let the Icon and other models die on the vine if it weren't for Microsoft stepping in to turn things around.

I'd like to see that article..do you remember where you read it?

I don't need an article to know Microsoft is behind the WP updates. Verizon does not need Microsoft but at this stage Microsoft still needs Verizon.

Sprint 8XT got it way back in December.

LOL well..at least it is something. I am so curious how HTC will handle the one m8 win10 updates. Will it be rather instant or nearly a year later lol.....like windows phone 8.1

My one m8 is far superior to any of the various Nokia devices (920,925,1520,icon) I had but updates are the one thing that concern me.

That's great to hear! I like the feel of the phone, but am unsure about the camera, lack of camera button, on screen buttons, and updates.

My biggest gripe about this phone is the camera. Shakes terribly. Miss my 920.

Maybe faulty M8? I have the shake issue every once in awhile, not enough to notice.

I dunno but I have to hold my breathe an prop my arms most of the time to get a clear photo.

Camera is not bad. Better than 920 overall, I'd say (much better in bright light, much worse in dim light, but much, much, much faster). But the 920's camera was pretty bad, in the end. Lack of the camera button hurts, but set it to the quick action panel and you don't miss it too much. Haven't used the latest Lumia camera since I've been away from my 920 for a while (is the new Lumia camera even available?), but HTC camera application is better than what I had on my 920 when I was using it. Hidable task bar (or whatever you call that thing) is waaaaaaaaaay better than capacitive buttons, which are a nightmare. I will never buy a phone with capacitive buttons on it ever again. And Boom Sound simply cannot be ignored -- the fidelity on this thing is amazing for a phone. Also, Dotview is pretty neat (beats glance, IMHO).

That's what you say but over 90% of WP users say other wise, anyways I'm pretty sure all this exclusive Nokia firmware will end.

There is not something similar to "universal firmware", each company release exclusive firmware to their devices because each device is different. Exclusive Lumia (not Nokia) firmware will continue, the same for HTC or Samsung firmware.

No, 90% of WP users are on Nokia. They don't, "Say otherwise." There is simply no contest. The One M8 is easily the best WP out there right now. Easily. If the updates don't come, the story could be different in a few months as other phones get more features and the One M8 is left behind. But for now, the One M8 is the one.

I know didnt you read my comment.

Really, the 1520, really? Bullshizit.

Better than the 1520 and icon? Really????

It's more about how the carrier will handle the update. HTC doesn't have to do too much work on Windows 10, unlike when they prepare an Android update on the phone. Microsoft has said they will announce something at BUILD pertaining to ensuring updates on Windows 10 phone devices. A friend in Verizon corporate has basically told me the same, that MS is working on deals with carriers that will allow MS to update phones directly without carrier approval in exchange for absorbing some testing cost. It sounds like with zero dollar licensing and lower cost of distribution for carriers, MS is setting up Windows 10 to be a more profitable venture for OEMs and carriers than Android. I suspect that just about all WP8 devices will get Windows 10 at about the same time and then stay updated. That would be a major selling point over an Android "I never know when it'll get updated" device if Microsoft can pull it off with the carriers. The OEMs are on board.

When did Microsoft say this? Haven't heard a breath of this from anyone who actually has sources within Microsoft, a "guy in Verizon" doesn't really count.

I would love this to be true...but haven't heard a peep about it anywhere. I call BS unless you've got a link.

Preview. Skip the BS. Literally not even an issue anymore lol. I've been previewing since the beginning and 99% of the time I'm using a preview build and have no more issues than I would on a OEM release

It is an issue for some HTC owners...there are a number of bugs that required updated firmware, and that only comes from HTC through the carriers. PFD does nothing to help that.

Unless you have an ATIV SE and the preview causes all kinds of issues. Multiple battery pulls a day are required.

Microsoft shall take care of other OEM either. But most probably Lumia series.

I'm a Nokia fan, and loved the Icon. Best phone I've ever had. When I recently had to let it go (reasons beyond my control) I ended up with a brand new 8X. NOT A FAN. Nokia had an excellent daylight readable screen. 8X makes me look like iPhone users trying to shade and cover just to read a message. Nokia has the best camera hands down. I have side by side video to prove it. 8X, well, nice try. I'm sure it's better than something. 8X will frequently not send audio to my bluetooth, nor play it on the speaker. I just have to hang up, re-dial and apologize to the other party. I would say that the only thing the 8X has over the Nokia Icon is the speakers. The speakers are loud and nice, I would be happy with that if I were the type of person who plays music through the speakers on my phone. I'm not. I never had any problem at all with capacitive buttons on the Icon. In fact, I'm currently bidding on eBay phones to try to get back to the Icon.

The preview version is my choice.

Wow.. Lemme check by Software Recovery Tool if it's available... Oh wait.

Dumb comment because it is not a Lumia phone...

you probably didn't read the ''OH WAIT'' part of my comment bro!!

You didn't understand the sarcasm

L 630 patiently waiting...

If Microsoft choice of camera app is gonna be the Lumia camera isn't HTC and Samsung WP phones gonna receive some firmware like Microsoft's Denim?

Not, current basic Camera app is the same for all devices, and Denim updated the Lumia Camera, not the basic camera. With Windows 10, the basic camera will be based on the Lumia Camera, but it will be a basic version.

Of all the chatter about Verizon and Windows Phone, I'm surprised to see that they are moving on the update ahead of AT&T.

my wife's 8X is ready! thanks for the heads up!

I am developing a brand new hate for Microsoft and Windows, a deep abiding hatred. I have a 1520, unlocked, paid a crap load, UNLOCKED, NO CARRIER, and still no update. None.

And you phone stop working because it is taking more time for denim...

Yes actually, at least the way I use it has. I had the folders app then got rod of it when I decided the preview for developers, then with the upgrade issues I cleaned and reinstalled 8.1 in October, anticipating denim. Well, here i am in mid february and no folders. Not to mention the slow camera startup, coming from the super fast camera of the Nokia 808 i was really looking forward to the update.

The dark side is strong in this one...high level of metachlorians.

Get used to it, its obvious carriers take priority as they are bigger customers.

It certainly, unfortunately seems that way. But why? I mean the preview for developers certainly worked fine regardless or regardless not of carriers so why not just push the upgrade no non carrier phones? For the price and effort it's annoying especially for a techie.

But was it originally on a carrier before being unlocked?

None that I know of, but that may be a very good question, sad.

Let the 1520 complaints begin

To late they beat you to the punch..lol what phone do you have?

Haha just under two minutes too late.

Oh ok cool, so you understand then lol.

It's cool, we'll let Verizon have this one for now....

Trust me, I have been ... LOL

Wow Verizon is looking so much better than AT&T right now. If this continues I'm going to Verizon lol.

Only veneer, nothing more. They all are bunch of balls in a sack.

Did you create your account name just for that line?

Just something I used as a password long ago. Now, you do know I mean a bag of balls, like soccar balls...think of gym class, not health class.. ;)

Verizon are upping their game. Doesn't this put them ahead of at&t in support now?

No. Dont forget the past, wait...you did. Guess that ends this conversation.

Does anyone else think that Microsoft can't release the windows 10 TP for phones until the firmware is updated which is why we are seeing all these carrier updates this week.

I think you're putting too much power in MSFT's hands. The carriers have to approve and push the updates and MSFT doesn't even update the firmware of the 8X--that's HTC.

You think Verizon cares at all about whether the tiny pool of HTC 8x users who also would be interested in installing a Windows 10 preview can do so? They don't. There are probably only a few hundred people on Verizon, currently, that are on an HTC 8X and want to install a beta version of an upcoming OS update.

For all the stuff everyone, including me, can say about Verizon, it looks like they are in the lead. Now I'd like to see them stock some hot new Windows phones.

In their defense, they do currently have the hottest WP for the USA right now, I think. Icon (if you can find it), ATIV SE (if you don't load the Dev Preview), and M8.

Lol vz is on a roll? A year later u get the update yes vz is in a "roll".

Thanks Verizon!!! I never thought I would say that lol

It's already been stated that firmware updates will have no effect on whether or not windows 10 can be installed.

It's funny how two weeks ago Verizon was the devil and At&t was Jesus Christ... Now all blame At&t and Verizon are the just the best supporter of WP.

Any word on Samsung ATIV SE?

Daymn, Big red is in a giving mood

Terrible lovers do this all the time in the lead up to Valentine's Day, acting all sweet and generous for a few days, to distract you from the fact that they are selfish, incompetent, and thoughtless for the rest of the year. Classic move.

Yep, hope they do the same for the Ativ SE

I really just want this update for the firmware updates

Hi,My firmware version is 3030.0.41201.401 and my boot loader version is 0.0.3030.0(175731) I've been using windows phone 8.1 developer preview GDR1. Recently I have heard that HTC has rolled out the official update.I checked for,update but,it says that my phone is up to date.What should I do to get the update?My phone is off contract.Thanks for your help

Yep, HTC rolled a firmware update for the unlocked\unbranded 8X, new firmware is 3030.0.52001.401, could be a staged roll out, give it sometime, keep checking & you'll get it eventually,

Exact same scenario here, no update yet. I've seen a few poeple post that they got it, but none of them were running the DP. I hope we still get it soon.

Make sure that you have preview for developers installed and turned on. Then check for updates. It should show up. Just got the updates with firmware up to 3030.0.52009.605

I've tried it with the DP app installed and uninstalled, and I've tried it with the DP app enables and not enabled. No update. Glad to know that it worked for you, though.

Called VZW, they said basically (politely) told me to keep my pants on and wait, as it probably hasn't yet been enabled for all customers.

Hope for 1520 in India too

Surprised that Verizon pushed this out... I guess a nice surprise for the very few that still have it. It was released over two years ago, and I think most ppl. on a two year agreement have upgraded by now. I know I'm upgrading to a different phone soon... with no AT&T 8.1 on the horizon (I know I can install it on my own), and more and more apps not supporting 8.0 and now BoA not supporting thier Windows App at all (after Chase first dropped thier support)... who/what's next?

Standard carrier procedures for WP updates AT&T: It will either be right on time or delayed weeks, there is no in between Verizon: *sits on it for months and refuses to acknowledge its existence until long after you thought it would never be released* TMobile: No Sprint: What's a windows phone?

Anyone velse notice that the source link takes you to the spanish version of the VZW homepage and not the pdf?

Purchase Noveltydocuments passports , ID cards, Drivers license, diplomas, University degrees, all types of certificates, check booklets,master cards,Match tickets ,
bar codes,Coaching license, match tickets, dollars,euros, pounds etc. We are specialized in the supply of original /false documents for all countries. contact us through the email address below : E-mail : passport.master200@gmail.com
Skype : document.master

Anyone know whether this update has revealed the hidden MMS settings in the verizon 8x? Mute point for me now as I have already moved on to another phone. I am just curious.

Devil "WTF? Why is it so cold in here today?" But seriously, Verizon updating not one but two WP devices in one week, and four in the last few months. Microsoft either paid them a lot of money or someone at Verizon suffered a very bad head injury and should seek medical attention immediately.

It doesn't look Verizon HTC 8Xs on the Microsoft Developer Preview 8.10.14219.341 with firmware 3030.0.41301.605 are getting the new HTC firmware 3030.0.52009.605 through the update. I wonder if Microsoft will fix the problem through Developer Preview?

Be patient...my 8X is running PFD (8.10.14219.341) and just updated today. Now i'm on firmware 3030.0.52009.605.

Okay, I have an HTC 8X and around 11pm on the Feb 12, I started getting the Updates. I am now on Windows 8.1. THANK GOD FINALLY. I was gonna get a new number, now I am not so sure. I have OS Version: 8.10.14203.306.

...And now (after the 3030.0.52009.605 firmware update over my lunch break), I'm being prompted to update to OS version 8.10.14219.341...very cool! Not necessary for me to install because my 8X is already at this version thanks to PFD. Keep it up BIG RED!

I think I'm going to pee myself. My phone is FINALLY being updated to 8.1 right now as we speak. WoOt!
Windows Central Newsletter
Get the best of Windows Central in in your inbox, every day!
Thank you for signing up to Windows Central. You will receive a verification email shortly.
There was a problem. Please refresh the page and try again.