Unboxing the Verizon HTC One (M8) for Windows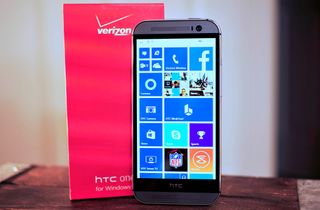 Sure, the awesome HTC One M8 for Windows came out last week, but it is never too late for an unboxing, especially if you are curious as to what is inside the box (cue Brad Pitt and Se7en quote).
Combined with a second phone coming in to our home base and we figured we would take the time to give you the tour.
Looking for our full review? Check back later this week as we put this metal beast through some final tests.
Sound off in comments if you have the One for Windows on Verizon and your thoughts so far, or hop into our One M8 for Windows forums to chat with others.
Daniel Rubino is the Editor-in-chief of Windows Central, head reviewer, podcast co-host, and analyst. He has been here covering Microsoft since 2007 when this site was called WMExperts (and later Windows Phone Central). His interests include Windows, Microsoft Surface, laptops, next-gen computing, and for some reason, watches. Before all this tech stuff, he worked on a Ph.D. in linguistics and ran the projectors at movie theaters, which has done absolutely nothing for his career.
Looks pretty cool Posted via the WPC App for Android!

Just noticed why isn't everybody complaining about the bottom bezel like they did with the Lumia 920?

Because it has an actual use. It houses a speaker.

Capacitive buttons where the htc logo is would have made much more sense.

The onscreen buttons are better. No more mishits when you're playing.

I like the onscreen buttons, but that big black ribbon with just the HTC logo is basically wasted space.

It was necessary. There's a bunch of electronics underneath.

16Gb one is ONLY in the US. Everywhere else we have the proper 32Gb version with wireless charging that AT&T demanded removed so they could sell their own proprietary charging cases. I have a red 1520 and could have got any of the other colors too.

Mithinks you shoulda used a dash in mishits...

Wish they just move the HTC logo to the top and center the screen. Seems like it has a ginormous chin.

HTC wants the hardware the same as the Android version which has no capacitive buttons.

No. Then you would loose the parts commonality. HTC still has to figure out what gadget to put left and right of their logo.

Idk but the more I see this phone the more I fall in love with it.
Happy to know the speakers are loud

I think it's the best looking phone on the market. Now, let's hope they can sell them--LOTS of them! :)

I don't really like the looks of this phone... much prefer Lumia design. But I also hope they sell a LOT of them! WP needs a hit!

For people that like to play music, that should be a major selling point. This is a great phone.

Because the 920 has more bezel at the bottom, and nothing down there below the buttons...

I actually love that. Makes onehanded use much better.

It looks nice. I like the speakers. Still wouldn't get this phone though even if it were free

I'll second that. It does look nice but if I got one for free I would be trying to offload it for some $$$ towards the 830 :)

I would be nice if TMobile would pick this up... :/

The rumor isn't WPCentral-official yet though. :\

They already have the SKU in their system for it. I'm good friends with a TMMob mgr. Even though I'm on ATT I still keep my ears to the ground

The rumor is it will make its way to the 4 big U.S. carriers. Hope this rumor turns out right because then it will definitely go worldwide!

The more I see this phone, the more I like to see WP in it. And I'm not even an HTC fan. If I could forgive the camera choice, I'd probably buy this when it comes out internationally.

I like the slide up buttons. Like a charm bar. Slick.

Just wish it had a physical camera button

I used to be a huge HTC fan on WinMo. Their WinPhone offerings have been less than Lumia quality, and I doubt the canned in these things is up to Lumia standards either. The Review will be very interesting

I used to be an adventurer like you...

Dan you should have just started this article off by saying "what's in the booooox!"

Might want to do a run down of differences. So far, I've discovered: No disable for haptic feedback, no equalizer, no call or sms blocking.

Will definitely be checking back later this week

Lucky, Daniel always get nice toys.

I know. Really want his job, haha!

I was all for this phone until I read about the rebooting issues :(

FWIW, I have yet to see that on two devices. Then again, my 8X used to have that problem, so it is plausible, though I'm hesitant to call it a widespread issue just yet.

Even my 8X used to have rebooting issues in the beginning but it got fixed on its own.
Apparently some people figured it was the loose sim card in the slot and adding a small piece of paper with the sim resolves the problem. Could be the same thing with M8. Also I am sorry to ask here but seems like forums don't have an answer yet and I feel only you are the one who could possibly get some first hand information.. What's the status of HTC working out firmware for 8X so that it could run the update 1 and hopefully the upcoming updates too. Usually HTC is the first one to push out updates but this time they are just delaying it. Could this be because they don't want M8 to suffer if they push the update for 8X now?

That would make sense. Windows Phone is set up so that inserting a SIM forces it to reboot. A loose SIM card seems like a very plausible explanation.

Could be, I did get bad sim that only let me connect 3G.

No reboot issues here either

I still occasionally have those issues with my ativ s even though it came with portico

I think these reboot issues are update one issues. My 1520 had them daily until the latest update.

I have not had a single reboot in 3 days on Tmobile, including on LTE.

Yeah for HTC settling the argument, hardware equal, which I more efficient and speedier. Boo, for a crappy camera.

Holy crap - it's a phone!!!

But we love and we get use of great cameras since Lumia 920!!!

Hey Dan, I have 820, 920 & 1320 and have just rolled them back and updated, they all start with the light theme until I verify my account and install backup. They are all Aussie handsets.

My 8x, 928, & Icon all started white as well.

Thats odd since devices like the ativ s come with dark theme enabled(because of it being an led display I guess)

Same here, in Australia and rolled back my 625 two days ago to get Cyan and it started set up with the light theme.

Yep, it's a WP8.1 feature to start the setup process in the light theme. I found this out when I reset my Lumia 810 that has WP8.1 dev preview.

Yup. For whatever reason, WP8.1 changed the default theme (at least during set up, anyways) to be the white theme. Why? Dunno. Catches your attention, though. A very flashy intro to WP I guess, haha!

Same experience with my 920 (FR).

Same here for my 820. After reset for 8.1.1

Looks like a solid phone. Currently have the 8X and I've loved it. Was considering the Lumia Icon for my next upgrade, but I will have to give this some serious consideration. Certainly the Icon camera would have a leg up, but if the screen on the One and the sound is better, and the camera is as good as the 8X, this might be my next phone.

The camera does just fine if you aren't printing them out to frame them.

Icon screen is better. One's speakers are better. Icon's headphone sound is better. I would stick with an Icon if space wasn't an issue for me and if it felt as good in the hand as the M8.

I am a Windows phone nut, had every windows phone on T-Mobile till the hd7, them I went with a AT&T Titan unlocked but found out I can't tether. So I got a Nexus 5 because I wanted at least a 5" phone on T-Mobile, but I have been waiting and waiting. Been tempted to get the 1520.3 unlocked but wants to see what T-Mobile will do because I'm missing WiFi calling. Hope the exclusive crap will stop and so we all can enjoy. Posted via the WPC App for Android!

Not sure if you're trolling or not, but Windows Mobile is not Windows Phone. HD7 was the first Windows Phone so I doubt you had every one up to it.

First of all, I'm a grown up and I don't engage in such stuff, this is the main reason I don't comment on here but just read the articles. The fact that I'm using a Nexus I'm trolling? Windows Mobile phone or Windows Phone 7,8,8.1, they are all windows phone right? Yes the experience is different but its still Windows and that's my preferred OS.I got a sidekick 2 when I first came to T-Mobile from Sprint, then my next phone was the MDA, Wing 2, Touch Pro 2 then the HD7 and then an unlocked Titan from AT&T. Then I kept waiting for T-Mobile to get at least a 5" phone and it never came. I'm hesitant getting the 1520 because of the missing WiFi calling just as in the nexus 5. I'm hoping to get at least a 5" phone from T-Mobile officially so I can take advantage of the payment plan. Don't just call people trolls. Posted via the WPC App for Android!

damn sucks you wanted a bigger screen, I would recommend the Lumia 925. I had to leave Sprint and went to Tmobile for the cheaper prices and was debating to get a new flagship device (I still had the Evo Lte) but I just went with the Lumias camera lol anyway, if you really like big screens, from the reviews ive read, you wont lose with the Lumia 1520. Btw I think Wifi Calling app from Tmobile is terrible. I uninstalled it from the 925 it was interrupting my calls and what not I would miss notifications.

Yea, I got one from newegg about 6 months ago but it was a little small for me. Will decide by November if no flagship phone comes to T-Mobile with at least 5" either to get the 1520.3 or move on. Posted via the WPC App for Android!

The white theme is my favorite (paired with orange accent & a Lumia 930 green startscreen)
Dan, you don't need more buttons on the headphone with Windowsphone. A Single Tap on the button plays\pause music, Double Tap skips music, Triple Tab rewinds & a long Tap starts Voice commands (I don't know about Cortana though, it doesn't work with international HTCs)

Thank you for this useful bit of info regarding the music controls.

It might make it be my third windows phone

Also I hope the HTC one E8 will follow

Dan, can you operate this phone one handed comfortably or is it awkward? Those Boom Sound speakers sure are great, but they add a lot of height to the device.

Thanks. If an international version is released, I'll definitely look into purchasing One.

I got really tired waiting for a decent WP phone from TMobile, so 2 days ago I went to a Microsoft store and got an HTC One for the full price (they also gave me the HTC Dot case for free). I cut my TMo Sim card to fit in the nano slot and the phone works very well on TMo network including LTE. There is only 1 thing I don't like - there is no option to turn off haptic feedback on the navigation bar - it's completely useless and irritating. As for the case, it's actually not bad.

I hope HTC takes better care of it when new updates come. I've got an htc 8s, and cannot update to gdr1... :/

Sleek device to inbox, Hearing that it's faster than the Android counterpart, so eagerly waiting on a detailed comparative performance review

Will this device firmware be supported to the next version of WP OS (9?)??? Do I want to look back at HTC recent track record?
I am from the school of Lumia 900 (the beta test is over). I know, I get it, it's not Nokia's fault 100%, BUT they knew.

I want this phone so damn bad.

How do we know who won the free one of these they are giving away.

I have the icon,m8 &1520. The 1520 is the better device of the three. The icon has a better camera than the m8 but the m8 is just a sexy looking phone and overall it's getting as much use as my 1520.. The icon is pretty much now sitting on the bench waiting to play

Love the fact it has an ir blaster! Wish my 1520 had one :(

Why wait? All Verizon phones are unlocked. Bought mine Sunday in Microsoft store in Buffalo.... Happy as a pig I shit back in Toronto on Koodo. Will toss in a Tmobile sim when back in the US. I've had so so many phones. Never since the HD2 have I loved a phone more.

Had this a better camera this phone would be perfect

On the Android version of the HTC One M8, if you double press the single button on the headphones, it will skip tracks on your music. Does this phone do the same? I hope it does. Posted via Windows Phone Central App

It does with my Bluetooth headset

Looking for Bell in Canada to pick this up... If they do, it will be my next phone.

I picked mine up last Tuesday a week ago and swapped it out Sunday because it reboot itself 4 times on me. My new has rebooted twice already

My M8 is running flawlessly so far and I'm taking great pleasure in calling it "the One for windows". It's smooth and fast and its only one certain apps that I ever see 'resuming' (audible is very bad for this). I had to do a factory reset when I got hone from the Verizon store due to the sales rep apparently having no clue about the 8.1/ windows OS, but since then I have encountered no problems. Battery lasts from morning to night with my moderately high usage and has around 15% left when I plug it in at night. I'm very with my purchase.

I love my One, but the rebooting is irritating...ugh

Yea, Audible is pissing me off on 8.1

It looks nice. I like the speakers. Still wouldn't get this phone though even if it were free.

It looks solid in shape. Great phone to choose for a #winfan