Verizon to offer red Nokia Lumia 822 for Valentine's Day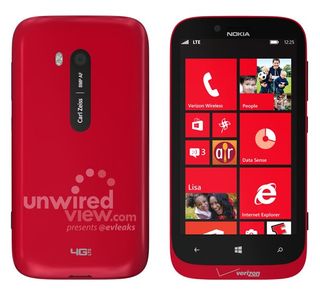 What better way to say, "I love you," than with a Windows Phone? Verizon will reportedly be offering their Nokia Lumia 822 in red and for under $50. The already available black, grey and white models sell for $49.99 with a two-year contract, so we likely won't see a price drop. No precise date has been given yet for he red Lumia 822, so keep an eye out for it.
The 4G Lumia 822 is a sharp mid-range offering by Nokia. It has a 4.3-inch screen, 1.5Ghz dual-core processor and 8MP Carl Zeiss rear camera. The onboard 16GB of storage is expandable via a MicroSD card slot, which can add an addition 64GB.
Verizon will also be offering up a Motorola RAZR M in pink for Valentine's day.
Source: UnwiredView via: PocketNow; Thanks, everyone, for the tip!
That actually makes it considerably less hideous

We all have our opinions I didn't think it was ugly to begin with

It looks so nice! And this is coming from someone who hates red.

Typo, it's given yet for "the" red Lumia not "he" red Lumia.

Wow, that looks really nice. Too bad it's not a phone I want.

Wish they'd had this at launch. :-/

Love red (hugs his red 920), this one looks much better than the black version of the 822...

Some of us couldn't get red ($&#@ing Rogers) So I settled with the red carbon fiber skin from the WPCentral store :D

You all have to personally see the 822.. Its a very solid device..it has a solid feel to it.. Really nice free phone and its wp8..go get

As an owner of the white 822, I have to agree. It actually is a good looking device in hand.

Too Late, already got a Grey one...

Looks good but don't expect to ever see a red charging back cover. I'm regretting getting the 822 in grey. Had to get a black back cover which looks alright with the two tone but I would much rather have a grey one.

That phone looks really HOT in red!

I'm pretty happy with my black on white!

http://forums.wpcentral.com/attachments/nokia-lumia-822/25349d1356137530...

http://forums.wpcentral.com/attachments/nokia-lumia-822/25348d1356137495...

Is that a phone or an ice cream sandwich?
Looks awesome!

pretty cool... I wonder what the grey one looks like in two tone.

I like the red, but bet they wont offer a red wireless charging back cover for it.

I wanted color but I didn't want white or grey and ended up with a black 822 that I love. The red looks great and I would have definately considered it. Although if there were a navy blue 822 it would be in my pocket right now.

822 is much nicer in hand than onscreen. Red is a nice option

Yes! I was wondering why this color wasn't an option from the start. If it's available when I upgrade...it will be mine!


The red looks cool and hey why not offer up a Verizon red device. But I certainly hope this is not what Elop meant by exciting things with Verizon this year. New colors are nice, but bring on the new higher end hardware. Of course my Nokia 822 arrives tomorrow so let the new high end hardware come in say April when I have an upgrade available.
Windows Central Newsletter
Thank you for signing up to Windows Central. You will receive a verification email shortly.
There was a problem. Please refresh the page and try again.