Verizon's Windows Phone "End of Life" list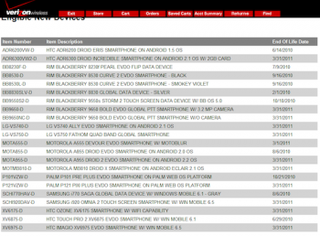 A leaked "end of life" list has surfaced from Verizon Wireless that takes every Windows Phones off Verizon's shelves.
According to the document the HTC Touch Pro 2 has seen it's last days (EOL 6/29/2010) while the HTC Imagio, Ozone and Samsung Omnia 2 have their days seriously numbered (EOL 3/31/2011). All of which essentially wipes Verizon's slate clean of all Windows Phones.
Verizon isn't just axing Windows Phones. Android, Blackberry and Palm devices also make an appearance on the list. However, with Verizon rumored to be giving Windows Phone 7 the cold shoulder, could this be the end of a Verizon Windows Phone? Or is Verizon warming up to Windows Phone 7 and simply cleaning off the shelves to make room for WP7 inventory?
via: precentral.com source: phonedog.com
Get the Windows Central Newsletter
All the latest news, reviews, and guides for Windows and Xbox diehards.
George is the Reviews Editor at Windows Central, concentrating on Windows 10 PC and Mobile apps. He's been a supporter of the platform since the days of Windows CE and uses his current Windows 10 Mobile phone daily to keep up with life and enjoy a game during down time.
I'm already considering a move away from Verizon with their new cuddly relationship with Google.

I sure dont blame them after all the marketing verizon put into the kin series only to have it go belly up with in a couple months. i have a droid but i dont know what os i will be with early 11' verizon should have a few wp7 devices but i sure dont expect many and i sure wont be leaving vzw if they dont either

I didn't see much marketing for the KIN (I only saw one commercial and the lack of Verizon branding lead me to believe it was probably from MS instead of Verizon). Besides, I (along with many others) think that a large part of the KIN's failure was due to Verizon wanting to charge a full smartphone data plan for them, rather than trying to come up with a special, more affordable plan. Anyway, as for the EOL list, I find it interesting/odd that the TP2 and Pre Plus have EOL dates before the Ozone and Pixi Plus.

space abhors a vacuum. clearing the older stable of devices from the shelves leaves room for newer devices and a refreshed line-up. consumers buy phones more than they buy operating systems. new phones can equate to less subscriber churn and more instore pizzaz. good move verizon. now, what will be coming to replace the older phones? it's all speculation at this time.

I noticed that all phones will EOL by 3/31/2011. This may mean that Verizon will release a new line of 4g/3g phones for there LTE network. As far as the WP7 they may take a wait-and-see approach because of the Kin. There thinking maybe to skip a 3g only WP7. Wait until April to release a 4g/3g phone. Edit: I also think that the only 4g/3g phone that maybe on Verizon come January will be the iPhone. Giving Apple a 3 month headstart.

Verizon might wait a bit, but if WP7 sales are solid they'd be stupid to not offer them at all. Unless they wanna lose out on sales to AT&T, Sprint, TMobile and so on.

Touch Pro 2 may be at the EOL "officially".... but then again XDA guys just got sound working for it in Android so plenty of life left on the phone :) http://forum.ppcgeeks.com/android-tp2/132343-yes-its-true-sound-here.html

Considering how many Kaisers and Titans are still out there in use, I wouldn't write off the TP2 just yet. Especially if you consider the brianiacs are close to a working Android dual boot and the latest dynamic overclocking developments speeding things up. The fat lady has not yet sung.

I've been using WM phones for years, all HTC. All had design flaws, non-functioning features, etc. The worst is the Imagio. IE is so unstable it is unusable. The pre-installed Opera Mobile was marginally functional. Ditto to subsequent upgrades to Opera Mobile. Alternate browsers, e.g. Skyfire, also did not work. There are half-cooked ideas, like the feature that announces the name of the person calling. Any appeal died when I first tried it, had to hold the speaker to my ear at maximum volume, & could not understand it. There's the major design-flaw that causes the screen to dim after 5 seconds unless you adjust it with each use. And my biggest complaint is that the phones always appeared loaded with business features.

I see the the LG Fathom, that runs Win Mobile 6.5.3, also has the 3/31/2011 end-of-life date.