CEO of Finnish retailer, Verkkokauppa reports strong interest in the Nokia Lumia 1020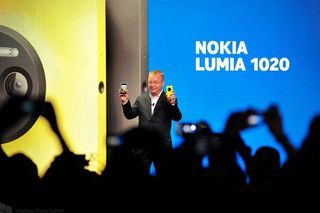 The CEO of Finnish retailer Verkkokauppa (www.verkkokauppa.com), Samuli Seppälä has reported that pre-orders for the Lumia 1020 are looking strong. The Nokia flagship Windows Phone has been available for little more than a few days, but that hasn't stopped consumers getting stuck in, waving cash in the air. Stating the retailer has received hundreds of orders from consumers, Seppälä paints a jolly picture for Nokia, especially in its homeland.
Seppälä went as far as to say, "the number of preorders accelerates the closer the actual release date comes." Finland is an important market for Nokia, but it will also be interesting to see how the new smartphone performs in other European countries, the US, as well as Asia. There's a long way to go with the mobile device only just going into the pre-order stage, but it's good news nonetheless.
If you're interested, be sure to head on over to Verkkokauppa to place an order.
Source: Arvopaperi; thanks, E. Franssi, for the tip!
Windows Central Newsletter
Get the best of Windows Central in your inbox, every day!
Rich Edmonds was formerly a Senior Editor of PC hardware at Windows Central, covering everything related to PC components and NAS. He's been involved in technology for more than a decade and knows a thing or two about the magic inside a PC chassis. You can follow him on Twitter at @RichEdmonds.
Yes, good, but isn't Finland where they're based??? Their success in Finland could be just due to brand loyalty (you know, with Nokia being a domestic product) and not indicative of sales elsewhere. However, it is good news. Good luck Nokia.

In Finland all young's hate Nokia.. It's like everyone hates you if you have a nokia, and all girls want iPhone and boys Samsung.. So no, here's not things good with Nokia.. But so many adults own a bit of Nokia, and thanks to that they only buy Nokia. And really old people trust only Nokia as it's from our country, so that's good.

Hmm well that's really disappointing as I thought Finland would have been their strongest market... Hopefully the 1020 can help with the loathing of the brand though....

Why do the young people despise Nokia so much❔

They got a bad image in the Symbian - iOS -era, which has largely persisted. Windows is also not considered "cool", thus WP is not either, but things have been improving steadily with the WP8 -range (and somewhat before).
edit: I'd say finns are more willing to give Nokia a chance, but won't buy anything just out of brand loyalty. The product has to be good too.

Sasukefluffy, who told you that? That's bullshit.

There's a recent story how Android just overpowered Finland's market. Can Nokia retrieve it back?

Well yes it has been that way till a few years ago. . But Nokia was going into decline at home to. But this looks like a turn around. . Fantastic. Go Lumia.

Alrightttt! Can't wait to buy it ! Best regards!

Was gonna get the 925 but due to T-Mobile's lack of interest. I am thinking about getting 1020 off contract.

Lack of interest? About what? The 925 is launching tomorrow.

Mhm, and they have no information available on it and no page on it and minimal advertisements for it

Sadly for Nokia their home market is not as big as for other OEMs. Apple has USA where it sells more than 1/3 of its iphones and macs. Similarly Samsung has Korea though its not as big as USA still much bigger than Finland.

I would love to buy one, but I'm with T-Mobile and I don't believe I'll be able to get 4g or LTE with it. Sucks!!!!

2G Network GSM 850 / 900 / 1800 / 1900 3G Network HSDPA 850 / 900 / 1900 / 2100 4G Network LTE 700 / 1700 / 2100 Has that been confirmed? I found the bands above from a seller that is selling the unlocked version. I thought TMo's 4G LTE operated on 1700 and 2100.

I'll have to check, but thanks for the info.

This is where I saw it, in case it is useful. http://negrielectronics.com/nokia-lumia-1020-at-t-unlocked-yellow.html#....
TMo says generally that:
Non T-Mobile Device: will need to have the T-Mobile 4G LTE APN added to the phone to connect to 4G LTE. Contact us for assistance with adding the 4G LTE APN.
This is the first device that I think I can justify paying full freight, but I'm only going to do it if I can get 4G LTE. Not sure what getting the APN added entails.

From GSM Arena: 2G Network GSM 850 / 900 / 1800 / 1900 - all versions 3G Network HSDPA 850 / 900 / 1900 / 2100 - RM-875, RM-877 HSDPA 850 / 900 / 1700 / 1900 / 2100 - RM-876 4G Network LTE 800 / 900 / 1800 / 2100 / 2600 - RM-875 LTE 700 / 850 / 1700 / 1900 / 2100 - RM-877
There are a few versions of the phone. I think the international model (RM-877?) would work on T-Mobile, but I'm not sure

There seems to be a fair bit of buzz around the Lumia 1020.

Buzz? Of course. It has a 41 MP camera..!

Is it the same good where Nokia doesn't produce alot but sells out? Don't get me wrong this is still good but its better if they have ALOT of phones up for pre-order.

Will this work on TMo's 4G LTE band if I can find it unlocked?

At&t US, preordered my white 1020 at about 5 am today. My white 920 is on eBay now if anyone is interested. It has been unlocked and tested to work with t mobile. Item number 281136032422. It's in mint condition.

Considering it probably won't be launched for another two months, this is surprising. I won't preorder while not knowing when I'll get it and for what price. Especially as long as rumours claim it'll be 799€ in Germany. Seriously, why would I pay so much for a phone that'll be already 2 months old. I really wanted this but due to lack of accurate information on pricing and availability (in Europe) I might have to get the 925 instead. I'm pretty disappointed.

"waving cash in the air ...." lol Shut up and take my money!