Viber CEO confirms update coming to Windows Phone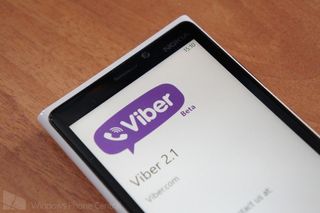 A few days back is when we last had any information about Viber – the popular cross-platform VoIP service and Skype rival. At the time we heard an update for Windows Phone was coming 'very soon' and we speculated voice support was in the next update. Looks like that is indeed the case.
TruTower, a blog dedicated to most everything VoIP, reached out to Talmon Marco, the CEO of Viber, and learned some cool things about their future plans with Windows Phone and Windows 8. For Windows Phone users, the app is currently in the final stages of development and will be out real soon. This time, it won't be exclusive to Lumia devices through the Nokia Collection, but instead will be available to all Windows Phone 8 devices. Right now they currently have no plans to announce anything for Windows 8, but he expressed they are always looking at all platforms.
There you have it, the Viber CEO confirming the update for Windows Phone is incoming and of course we'll let you guys know when its out.
Source: TruTower
Thanks for the tip halamadridkimi!
Windows Central Newsletter
Get the best of Windows Central in in your inbox, every day!
Great! It's your turn, Skype!

It only took them 8 months... And Lumia WP8 users should've had it already.

I don't mean to be down on MS, but I really think that once they are ready for proper voip intergration into the whole OS, skype is going to be the last one to the party.

I want instagram -_-. I mad no more rumors after that day. Must be coming soon....but when

How does that relate to Viber or VoIP at all?

Does not have to do with viber.. It does deal with the flurry of app updates and releases though

Do the Nokia instagram thing.

I have like crazy....its killing me that there are no updates so far lol.. I even went to the ms store to see if they knew anything....she said she couldnt say....tease -_-

Microsoft store employees know nothing about upcoming/unannounced stuff. Same goes for Apple employees (they are dumb too).

I wish i knew the future. The wait is killing me. I even did the petition

I doubt if it would run in background so that we can receive viber calls without draining battery

Jeez dude you have no idea what the feature set so you assume the worst

It can use push notifications I suppose.

Viber is not even available on Nokia Collection for WP8. Not Worldwide at least.

Yes, that's what the article said.... :)

As far as I understood it, they said the App was only available for Lumia users. Unless they meant WP7 Lumia users (for I have it, from Nokia, on my L800). In which case, it explains why it's not in my L920's Nokia Collection (but there's a version of it, by Viber, on the Store. With excellent classification: 2 stars lol).

Yes they were talking about wp7 lumias

It's too late already and will be half assed effort at the best, so meh!

Is VoIP Coming to non Lumia WP 7.5 too :| ?

"This time, it won't be exclusive to Lumia devices through the Nokia Collection, but instead will be available to all Windows Phone 8 devices" Does this mean that no wp7.x?

So looks like windows phone 7 has been left out..sad:/

Lumia users have it already on windows phone 7 more than 6 months already

Yea I know that but FYI there are windows phone devices other than lumias.

So, WP7 users have been left out then.

Oh guys be glad about viber is coming, others can come after that, nimbuzz is available so calling feature could be on the way too

Viber is my most wanted app and I have been daily twitted on their twitter site on when is it coming, it would be the best thing to happen on marketplace ever if it gets released in two weeks, I hope so

VIber is available to Nokia devices on WP7.x, I have a Lumia 900. It also works in the background.

Yes but its not to WP8 and non Lumia WP7 devices

this is good but i wonder how many more months this time the "coming soon" is.
And where is the Facebook update? seems all the big apps are finally starting to get their act together but as usual, Microsoft is left with their thumb stuck

Hopefully this takes advantage of the VoIP integration of the platform, which, from what I know, should be available to all VoIP services.

Bring it on. I would rather see Skype becoming a more used and popular app.
Windows Central Newsletter
Thank you for signing up to Windows Central. You will receive a verification email shortly.
There was a problem. Please refresh the page and try again.