Video: Leap Motion Controller and Windows 8 are a match made in heaven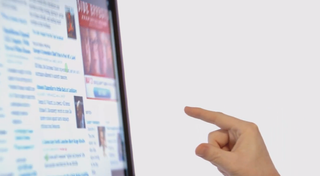 The Microsoft Design Language (aka Metro) was made to work perfectly with any mode of input. That's one point a lot critics seem to miss about Windows 8, the Xbox, and Windows Phone. The language allows for any type of input for interaction. Now, as a case in point, let's see how the Leap Motion Controller complements Windows 8.
What did you just watch? Probably the future of human-computer interaction. We've already seen how the Kinect allows for motion sensing as an input with the Xbox. But Microsoft hasn't put that tech into any computer yet. Leap Motion seems to be filling the gap with their controller and the video above demonstrates what you'll be experiencing.
We've got a Leap Motion Controller on pre-order and will have a hands on with the device when it ships at the end of July. If you're interested in placing a pre-order go right here. The device retails for $79.99 and connects to any computer through USB. Hit up their site to learn more about the Leap Motion Controller.
So nice that the word nice doesn't fully describe how nice it is.

And you not describing it all does no justice for it either.

That guy is terrible at drawing trees.

niccccce
http://www.youtube.com/watch?v=VL4xRwl1f3A

So I guess now your screen won't get smudged. Very cool, but how practical? What the purpose for this?

non-touch Windows 8 PCs, for starters.

Now you got me interested.

You had my curiousity, now you have my attention.

It would be awesomely handy making business presentations, using your PC as a flip chart, controlling your computer while sitting on the sofa, doing Minority-Report-like things, ...

Minority Report! Love it!

I give it a week before Microsoft buys them.

Asus and HP have already signed deals with Leap. Don't know which model will be bundled with Motion Controller.

I'm sure I read somewhere that Asus plan to have it built into the touch pad area of future laptop models, either later this year or next. Don't quote me on that, though.

Now this is really cool! And I think (and hope) it works better than that crappy motion detection on the Galaxy S4. I'll be waiting for your hands on and review to see if I'll get one of these myself.

I agree... But I don't know why Microsoft hasn't licenced the use of their pixel sense (surface table) for use in phones or their surface tablet... I mean a screen that can see is just sweet... Palm rejection becomes super easy... Scanning documents becomes stupidly easy... Business cards with qr codes or anythin with qr be it magazine or flier, just show it to the screen... No need to open an app or camera... Actually just watch the surface 2 vids and you get the picture

Have one on order... how close does it have it have to be to the screen? Cause ited be nice to sit it on the coffee table and control my media centre...

Doesn't it suck that they pushed it back? I was excited for it this month

I don't believe it has to be anywhere near the screen. You plug it into the USB and position it wherever is comfortable. Pretty sure you can also daisy chain several together to multiply the virtual workspace with which you can interact

I ordered this back in December and it was SUPPOSED to be released in February...

I preordered mine last year shipping date is June check the site for details

I wonder if it works as well in real life as it did in the video.

+1. I originally signed up for preorder, not enough real life evidence it would work nice though. When I start seeing more live test I will believe in the product more.

Looks interesting, what about multimonitor support?

That's what I am thinking. Hopefully Microsoft fix this bug in W8 http://www.youtube.com/watch?v=oMXHLlSF-rM&feature=youtu.be before this comes out, i would hate to jump out of Metro on my second monitor everytime my finger moves to my primary monitor

I need I mean want this :)

Would it work with rt hardware/does it need special software to run, or is it a plug and chug kinda thing?

Does the Leap motion device work with Apple computers. Not a fan boy, just curious.

Yes. It does Fluidh20
https://www.youtube.com/watch?v=_d6KuiuteIA

That mac is shown with Bootcamp.

I'll wait until it hits the street before I order. I do want one but I can wait. Besides, its only been demonstrated "in the lab" but not on the thousands of devices that eventually will get it. It will almost never work out the gate like it does in these videos.

+1
Also, I need a estimated price for shipping to germany, I do not think the $80 covers that. EDIT: just realized, they have a shipping calculator. And suddenly its $108. No thanks, I'll wait for the price to drop.

Microsoft should buy that company like right now.

I have been following leap motion for about a year now. I was very interested in buying stock as it seems to have the potential to take off, or at least grab the attention of the big wigs. Sadly, they're not a publicly traded company.

Saw a commercial...the Galaxy S4 can do this already and it's a phone...and no other device needed, as far as I can tell

There's no comparison between them. Are you kidding me?

A guy from Samsung tried to convince me to buy the G4. After I waved and shaked my head like an idiot with his demo phone, I decided to buy the Lumia 920

Tried the gx4 yesterday. It was slow to hold my finger in the air for 3 to 4 sec to see zoom txt on a website. Where in half a sec I can pinch my screen.

For $79.99, that's a nice price. I really was expecting $100+. I may wait until the final product or reviews of the final product comes out before I buy it though..

I should have waited, but I had to rush and wasted my money in a razer hydra. :(

Awsome so excited lets see apple do that :D

The only issue that I have with it is that It's supposed to be under your hand, on a table, and not next to the screen à la Kinnect. This means that you can't use it with a big screen (with a TV, living room, etc.) and you have to leave cleerence for it on your table (it's supposed to be placed in the same space as the keyboard).

You're right about it having to be on a surface under your hand. Which is why I see no reason you can't just buy a USB extender and place it on your living room table to control your TV. I am extatic to try this out when it finally ships. Imagine sitting on your couch, this thing sitting on a table in front of you, or on a surface in your lap, and being able to control your TV... So many amazing possibilities with this device.

Looks great the future is looking good for windows

"The Microsoft Design Language (aka Metro) was made to work perfectly with any mode of input"

Except keyboard and mouse, but who cares about those anyway, right?

Do not confuse operating system deficiencies with your own.

I fear my only relevant deficiency is not having partaken of the kool-aid.

AWESOME!!! ORDERED!
check Leap Motion & Kinect http://www.youtube.com/watch?v=iOHjVZkx8DM&feature=player_embedded



Sony VAIO, 17" models offer a similar option, because they don't give you a touch screen. I've never tried it, just saw the option while recently looking for new laptops.

Darn it, works with OS/X. Microsoft just buy the company already!

OH MY GOSH! I so want one.

MS should buy this company and make this built-in with the next gen. of Surface RT/PRO
Windows Central Newsletter
Get the best of Windows Central in in your inbox, every day!
Thank you for signing up to Windows Central. You will receive a verification email shortly.
There was a problem. Please refresh the page and try again.