Official U.S. Domino's Pizza app for Windows Phone 8 now available! Here's a tour.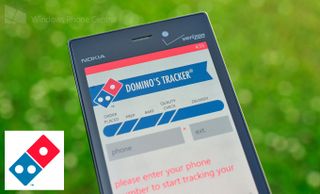 Although Domino's Pizza has had an app for the UK (and Ireland) for some time now, Windows Phone users in the US have been left without a mobile option—until today.
Hurrah! Domino's Pizza (www.dominos.com) has made a full-fledged, US-dedicated app for Windows Phone 8 that allows you to access your account, place your order (pickup/delivery) and even follow its status with Domino's famed "tracker" service. Throw in some voice controls and a Live Tile and we're all set for Saturday night!
Head past the break for the first images, our video tour and download link!
The app, coming in at just 1MB, has worked flawlessly for us over our brief testing period. With a quick launch, access to our account, optional GPS info for location awareness and the availability of Domino's full online menu (including deals and coupons), we're quite smitten with the app.
In fact, you can activate the Voice Command feature on Windows Phone 8 (hold down the Windows key) and say things like "Domino's…start a carry out order" and the app will launch, figure out your location and then proceed to the menu for ordering. If you stored your delivery or account info, you can then place your order with just a few clicks:
Voice ordering – From the "menu" section of the app, customers can take advantage of Window Phone's voice capabilities to tell the app what they'd like to order. You can say "medium hand tossed pepperoni pizza," for instance, and once the app confirms your request, you simply add it to your cart and head to checkout.
Pin your current order – We took advantage of the ability to pin items in Windows Phone to allow customers to pin their current order right to their start screen. This will allow customers to directly access our industry-exclusive Domino's Tracker and know where their order is throughout the pizza-making process.
The app is perfect if you're idle on the couch or out with friends and are headed home, where you can have the Domino's guy waiting for you upon arrival. All in all, we're quite excited about having yet-another-official-app for Windows Phone 8 available to us and Domino's Pizza has done a solid job here with their offering.
Pick up Domino's Pizza for Windows Phone 8 (US ordering only) here in the Store (Link may take a few hours to go live! Be patient!). Let us know in comments your thoughts of the app!
Daniel Rubino is the Editor-in-chief of Windows Central, head reviewer, podcast co-host, and analyst. He has been here covering Microsoft since 2007 when this site was called WMExperts (and later Windows Phone Central). His interests include Windows, Microsoft Surface, laptops, next-gen computing, and for some reason, watches. Before all this tech stuff, he worked on a Ph.D. in linguistics and ran the projectors at movie theaters, which has done absolutely nothing for his career.
So Dan, the question we are all dying to know... what pizza did you get?

Used it last night...was awesome (and delicious!) 2 Med cheese, onions and sliced tomatoes :)

No pepperoni? No Canadian bacon? Italian sausage? No bacon? WTF?

Those are my favorite toppings :-)

You and I would get along eating pizza my friend :)

That pizza does not sound right lol.

Dude - you live in NY. Stop it with the Domino's.

Oh hell yeah! The world just became that little bit better! Thanks for the heads up guys

NICE! My tummy is growling.

Was this the official app you mentioned yesterday Dan? Love the UK app, hope the US app is just as good!

Good idea to tease us now on tomorrow's releases/updates?

Just like you said yesterday.. As long as WP keeps progressing, and stays ahead of BB, we will keep getting more, and more, official apps. So, do we have anything else coming this week?

Looks like Daniel's recent tweet to Dominos had an astounding effect :)

That was pretty hilarious, right?

Yes, looks like they did sort their sh** out :)

Super fast delivery for Dan's request. Hey Dan request some scottrade for us.

+1 need this. I use markets and me, but I'd rather have an app to make on-the-go trades

Work your magic with Mint! Tapatalk sent me a message their app is coming this month so I'm pretty excited :)

Dan tweet out something for HBO go and vine...

No Miku lense? Pfffffff, you're doing it wrong Dominos US.

Domino's is butt-nasty, at least where I'm at. Glad there's now an app tho.

You make the delivery guy wait for you to get home? That's cold... And where was this app two nights ago?! I had to go through all the trouble of talking to a real person. And no pizza status ticker.

You can still use the tracker on the website, regardless, of how you ordered, as long as you supplied a phone#

Since I'm still on WP7 I'm a little sad but, honestly, their mobile site improved to the point that it works just like an app. So not too sad.

didnt Daniel just complain about this like a week ago. He may have more pull than we know. Quick Daniel complain about app we dont have.

This should be an international release! Pizza is my favorite kind of food....

The UK and Ireland had one before the US, strangely though the US version doesn't seem to have NFC support like the UK app. All we need in the UK is a Pizza Hut app!!!

Any word on if Canada will get a similar app? It's funny, as I ordered Domino's last night haha

I hope soon but I doubt it!

Awesome. I used to not care for domino's but those new hand pan pizzas are damn good. will try this app out soon!

Dan, can you please complain about the lack of animal and fart noise apps, just cant find a single one ;)

Finally. Been waiting for this!

F*** man, I really can't wait for my upgrade from AT&T to come up so I can buy me a windows phone 8 device. Im tired of my lumia 900. I can't get any of these apps on my phone. :(

I'm on the same boat with you Manny!!! Still sporting my Lumia 900 which I love by the way, it's just frustrating not being able to use the new apps in the marketplace, but I'm guessing that at the time of our upgrade eligibility, there will be a more advanced WP8 device than the L920...CHEERS!!!!

I don't know how you lost all that weight with all those food/resturant/theater apps on your start screen. I feel it was a bad idea for me to install this app.

Been waiting for this one. Just ordered lunch and waiting for delivery; like how you can select the amount of your toppings.. Marvin wont be starving.

Ticking one more item off my "I'm keeping my iPad for this app" list... Nice.

i'm way too old for this sh!t.

If they match it up with drone delivery like they are testing = AWESOME!! http://money.cnn.com/2013/06/04/technology/innovation/dominos-pizza-dron...

FINALLY! The wait is over! But in all seriousness, I guess it's cool to get official apps. I don't see myself ever needing to download a food delivery app. It seems pointless to me.

Does the app let you sign into ShopRunner to save the $2 delivery fee?

The lack of Shoprunner integration has kept me from using any Domino's app for 2 years now. I'd like to know the answer too.

finally!!! I hated asking for my wife's I5 to order friday night dinner

Oh , come on!
What about Canada?
We are in the same planet you know

*what aboot Canada?*
FTFY lol

What I can't understand, is in a country where pizza is ever where and local shops make better pizza, why you would want to order this plastic? Astounding.

Exactly!
Get off your lazy fat asses and at least put some effort in your food! Kinda sad reading some of these comments.

Because the better local place only does carry out and you don't feel like driving across town. Also some of us aren't pizza snobs. There is worse chain-pizza than Dominoes (cough Papa John's cough).

It's nice to see the quality of Windows Phone apps improving significantly.

How do these work? Do they charge u from ur cellphone bill or do u put in credit card after ordering?

It's official! WP has arrived!

Does this app have a button that takes the "suck" out that pizza?

No love for Canada :(
I would love to see a Pizza Pizza app as well. https://m.pizzapizza.ca/Mobile/?action=home.menu

Like the pizza they have but would prefer a papa johns app and pizza hehe

Domino's has gotten better over the years, but every time I hear their name I think of this Simpson's clip.

The pizza tracker is pretty awesome. Looks a lot better than the Pizza Hut app. Happy to have this!

It's not in the store yet, or is it?

How do I order Little Caesars with this thing?

I want the Five Guys app!!

About damn time!.... Geez

I live in the Chicago area where small mom & pop places rule. I wouldn't send Domino's to my worst enemy!
Neat app though...

Now only if my mother-in-law that works at corporate got a discount on pizza I could use...

Yeah! One of the few places I can order a gluten free pizza.


We really need an Eat24hours or Seamless app.

Oh good! Maybe WWE's live demonstration on RAW stuck with me long enough to remember how to use this!

What bout a Dominos India app? Please??
Windows Central Newsletter
Thank you for signing up to Windows Central. You will receive a verification email shortly.
There was a problem. Please refresh the page and try again.