Vine client 6sec updated with beautiful new Live tiles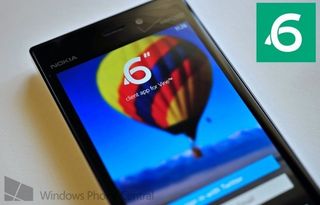 Rudy Huyn, the machine is at it again. The best Vine client for Windows Phone has picked up an update. 6sec launched on Windows Phone in early June and quickly climbed the charts for social apps on Windows Phone. Let's check out what's new in 6sec.
The last update for 6sec came out about a month ago. The big feature that came with that update was the ability to support multiple user accounts. An option really great for people managing their own personal Vine and that of a brand or company. With the lastest v1.5 update you're getting new Live tiles for your feed and users profiles. Here is how it looks:
The feature was recently added to 6tag, his Instagram client for Windows Phone. Now it's in 6sec. You can now pin your feed and different user profiles to your Start screen. Which makes it super handy if you've got some favorite Viners you follow.
Want 6sec for Windows Phone 8? It's free, with in-app purchases to remove ads and add the ability to upload videos. Grab it in the Windows Phone Store, QR codes or swipe to the right.
All we need now is Rudy to make Snapchat. ;)

I don't think Snapchat's developers would be forthcoming about this.

Snapchat developers are arses.

Vote for snapchat for windows phone!

http://support.snapchat.com/ca/incompatible

Odd,

It looks like I need snapchat on my platform to create an account so that I can vote for snapchat to be on my platform.

Rudy Make a YOUTUBE app.... 6Tube

6tube
6book
6pin Make it happen!

I seriously do not give a shii bout the official apps ever since.

Why haven't Microsoft hired this guy? He knows how to write and design apps. For Gods Sake, give the man his dues

He's actually not the one who designs them, he works with dotCarbon.

Not totally true :D
I design myself a big part of applications (log screen, global design of the app, animations, interaction, etc...) but I ask sometimes to dotCarbon (2 times to be exact) to check all my stuffs to improve it cause he is an expert (design icons, redesign some pages, alignments, improve some points, etc...) and during this time, I focus on code.
So the final render is a mix of our two works and it renders well :)

Oh interesting. My bad. I just remember seeing the designs on dotCarbon's behance page, and remembered you referencing him sending you the new design for 6tag on twitter. I think I might have seen the design for swapchat there too. Well anyway, sorry about that, I dig your apps, and I especially like 6tag's Polaroid view.

I think I read somewhere that he works for Microsoft. Maybe not directly under WP department.

Nice apps but funny how I couldn't get support for Fuse after buying it. Guess the old apps are lower priority.

Fuse was updated a few days ago.

With the level of work Rudy puts out, you'd think that all these companies that act like it's so damn hard to make a WP8 app, would just hire him to produce their apps for him.

I can't do an in-app-purchase . Cause im 14 no credit card, no paypal. And I live in turkey, there is no microsoft cards or carrier billing on there. Omg please help me cant upload videos
(sorry for bad english)

Ask your daddy to get you his card and once he authorises it use it.

A comma is needed after "the machine."

Rudy already said that all the features of 6tag would also be put on 6sec as long as they're compatible with the service, obviously. ;)

Rudy do us a 6Tube app, please! I would gladly pay for it, even if it's 4,99$! You rock, and I really want to support your awesome work. These apps made me forget about official alternatives out there on other platforms.

Actually, I switched to Windows Phone and couldn't worry less about an official Instagram app.
Actually 2.0 : Your app is 8439257130% better than the official one! :D
Windows Central Newsletter
Thank you for signing up to Windows Central. You will receive a verification email shortly.
There was a problem. Please refresh the page and try again.