Vodafone UK delaying 4G LTE launch until September, likely waiting for iPhone and Lumia 925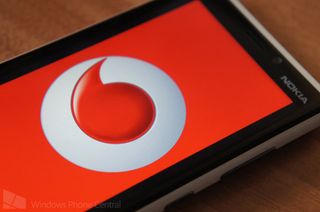 UK mobile operator Vodafone is set to wait until this coming September until the company looks to launch its 4G LTE upgrade, according to The Guardian. The newspaper states Vodafone will miss the original target window of summer to launch 4G services and compete with EE. It's believed the delay will be in place for a compatible iPhone, but we could also be witnessing support for Nokia's new flagship.
Vodafone will be utilising 800MHz and 2600MHz, which isn't currently supported by the iPhone 5 in Europe (the device works with 1800MHz frequencies used by rival EE). Some Windows Phones support multiple LTE bands, so we could also be seeing a delay for the Nokia Lumia 925 (which will be made available later this year). Vodafone chief executive Vittorio Colao had the following to say on the roll-out:
It wouldn't be a far-fetched idea for Vodafone to want to sport both the iPhone and Lumia 925 when pushing its 4G network upgrades. This also provides the company more time to get everything in place and mobile phone plans finalised to really drive 4G into the UK market. It appears as though mobile networks in the UK aren't in a hurry to tackle EE's 4G dominance and are instead opting to launch LTE when ready.
For the time being, should you reside in the UK and wish to take advantage of LTE speeds, you'll be required to check EE out. We'll continue to recommend consumers to wait until other major operators join EE in the 4G realm, which should drive down pricing and by that point we should see better coverage for consumers.
Source: Guardian
Get the Windows Central Newsletter
All the latest news, reviews, and guides for Windows and Xbox diehards.
Rich Edmonds was formerly a Senior Editor of PC hardware at Windows Central, covering everything related to PC components and NAS. He's been involved in technology for more than a decade and knows a thing or two about the magic inside a PC chassis. You can follow him on Twitter at @RichEdmonds.
Hopefully they release it soon and hopefully they have a coverage that can be used even if i travel between cities.
the lte spots of EE are a joke and the prices - oh boy

What is the scheduled release date of the Nokia Lumia 925 in the UK? September?

June 13th on O2. They are also rolling out their LTE network late spring to early summer.

Well...Vodafone Portugal has 4G available for a while now. So, nice to know this damn country is in the front line on something.

There's another frontline for your "damned" country....check people without a job.......(same over here-Netherlands)

Spain is actually much worse. But yeah. Then again, we have 1 million unemployed people and smartphone sales grew almost 50% last year. There's no understanding us. Still, I was thinking about technological advances.

I was thinking the exact same thing, TMN's competition on that area is surely behind this urge to deploy 4G. Latest results show a huge drop in user base and profits..

That's because Vodafone "cleaned" their database. They removed all inactive cards. If TMN does the same thing, they'll also show a huge drop. Example? I've dropped TMN for over 2 years now and they still pester me as if I was a client.
That along with the fact that TMN merges their accounts with MEO.

I was staying in Albufeira a couple of weeks ago and we were borrowing a Vodafone portable hotspot. Not entirely sure if the hotspot itself was 4G enabled (it looked brand new), but it wasn't able to provide a usable speed between my girlfriend and I. Anything other than basic text and images (at a push) were basically a no go.
My iPhone on O2 here in the UK can quite happily act as a hotspot, and be usable for my 920 (the 920 is with Vodafone UK and we don't get any 3G here - Vodafone has no intention to upgrade us to 3G either) and Nexus 10.
Lovely country though :D

Thanks=)
It wasn't. Their hotspots are barely 3G and that's because anyone can use them, even those who aren't Vodafone clients. Therefore they downgrade those services. Only Vodafone clients are able to access the 4G but they have to pay for it. And it's quite a lot. I've decided to NOT get a 4G contract because the difference of price between the 3G and 4G was outrageous.

lol Iphone? you can forget about Iphone, unless apple pay the licencing fees.
even their 2g n 3g are using Nokia n Samsung Technology, thats the main reason when their 3g was soooo delay.

3 are bringing it on line at no extra cost before the end of the year. It'll be interesting to see how EE cope when their only advantage over the others disappears.

I reckon it'll be another year before EE will see people switch to Three, if they do that is. Assuming the majority of EE's customers joined when EE was formed, they'd still be tied into their 2 year contract.
EE could also drop their prices to match Three when Three gain 4G coverage.

Lumia 925 releases on june, So maybe They wait for iphone5s/6 Will get released september.. i cant wait for october/november for lumia 920 successor

Vodafone need to sort there 3g out before worrying about 4g.

True, I am moving off of VodaFone, their network is terrible currently.

September release for the 925. Fuck that ill wait for the new Lumia if that's the case.

June on o2.... I think this article is wrong. Vodafone has the 32gb Lumia 925 available in June. Check their twitter feed.

it has nothing to do with the lumia 925. Vodafone said its simply because the iPhone 5 doesn't support their network's 4G and are waiting for an updated version of the iPhone which will support the network.
Anyway, who cares about Vodafone. Vodafone stated that their network will be charging a premium for 4G and that it is the right way to go, on the other hand Three will be giving access to 4G for all its customers at no extra cost. I know which network i'll be on!