Vote for Nokia Lumia 800 in Gizmodo poll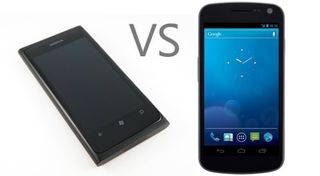 Here's an interesting poll that we should all be voting in. The Nokia Lumia 800 (our review) is up against the Android powered Samsung Galaxy Nexus in Gizmodo's "Most Important Gadget of the Year" tournament. Think of it as Unreal Tournament -- not the most recent title, we're on about 2004 or even GOTY -- and it's all about ridiculously over-powered Redeemer and body parts flying everywhere. Or we could bring the image back down to Earth and state it's merely two devices going head-to-head.
No iPhone 4S though, shame. Guess Siri isn't everything after all. Be sure to head on over to Gizmodo (link below) to vote for the Lumia 800, and Windows Phone.
Windows Central Newsletter
Get the best of Windows Central in in your inbox, every day!
Rich Edmonds was formerly a Senior Editor of PC hardware at Windows Central, covering everything related to PC components and NAS. He's been involved in technology for more than a decade and knows a thing or two about the magic inside a PC chassis. You can follow him on Twitter at @RichEdmonds.
Voted :) basically in love my ny Lumia, I keep cradling and stroking it to the point where I may need to seek professional help...

thanks for making us canadians jealous jay.. :(

Do you keep the gelaskin on or off? It's a lot, lot nicer without it but I'm scared I'll scratch it somehow..

I keep it off, unless I know I'll be drinking then the extra grip and protection makes sense!

Lol! I feel that way about my N8 - superb craftsmanship and design details! I switch out the cases for it, but every once in a while, I will remove the case just to behold it :)

Nokia FTW!

i can see it winning this round, but it will lose against ipad2 or macbook air.

I knew some idiotic muthafuçka was gonna come and say some bullshít like that.

well, it would be hard against alot of iPeople that will vote for either device but lets hope Nokia wins... it would shut up people like danyghandi which would taste even better. i wonder if nokia wins, will fandroids vote for Lumia or an Apple product? it would be interesting to see.

Be civil my friends, i am a windows phone(Samsung Focus) and a windows laptop user(Lenovo Thinkpad). I was just trying to be rational and realistic.

I do like the look of the lumia 800. I still have a year with my mozart though, so who knows what might be out by then!

I had a HTC Titan that I was so unlucky to loose on the pavement, and the screen shattered, and Microsoft Norway was uberkind and gave me a black Nokia Lumia 800.

And...I have been a freespoken "I need a phone with a hardware keyboard, if not I'll go for the phone with a gigant screen so it is ok to type on even without HW keyboard".
...now...I have turned into a total "Nokia-fanboy" who sits and looks at his phone like it was some kind of supermodel :O

It does not have fantastic specs, on paper at least...but everything about it feels just so "right". The screen is fantastic (I had an Omnia 7 before, and this looks better to my eyes), the build quality, feel and ergonomics of the phone is top notch, and the phone is lightning fast...as much so that I start to wonder if my HTC Titan had some malfunction or something...since the Nokia just feels even zippier.

And I am actually super happy with this phone with a 3.7" screen...THAT I would not have guessed. So much so, that I can't think of any phone that is available today that I would want instead of it.

...except maybe a cyan/magenta Lumia 800...? :D

...and yes, I have voted for the Lumia in the poll...in case that wasn't obvious

Where do you vote at!! I don't see a method of submission

Yep, voted as well. Apparently, I need to see a 800 for myself. Hope the States gets one soon....

I also voted for the Kindle 4, Kindle Fire, and Canon S100... just 'cause >:)

Come on you still not fiund below the post! Here is the link http://gizmodo.com/5871642/vote-for-the-most-important-gadget-of-the-year-round-3 hurry

Oops, I feel this pole keeps track of vote in browser specific cookies. I tried to post it thru all installed browser ;) You can also :) Let Lumia win :)

By the way that Nexus has got ZERO ERGONOMIC SENSE. Everyone, even Android fanboy should also agree with me.

Totally voted. Nokia all the way. Wish to see more WP7 in 2012.
Windows Central Newsletter
Thank you for signing up to Windows Central. You will receive a verification email shortly.
There was a problem. Please refresh the page and try again.