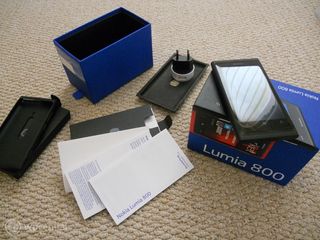 The Nokia Lumia 800 (opens in new tab) is the final result of hard work and active development in the time that was available since they announced the partnership with Microsoft earlier this year. Nokia has stated that 2012 (opens in new tab) will be the year to look out for innovative hardware, powerful handsets (with possibly dual-core chips) and much more. The Lumia family also includes the 710, a more affordable option.
The Lumia 800 is a solid phone with a unibody and a single piece of injection-moulded polycarbonate. The Gorilla toughened glass appears to "fold" into the chasis to provide the design a smooth surface. The screen is a ClearBlack AMOLED display, which ensures there's enough attention focused on what's being projected. The technology used in construction allows the Lumia 800 to be used in sun light. Being powered by a 1.4Ghz chip and fuelled by a 1450mAh battery, the Nokia Lumia 800 is a perfect handset for those who are arriving to the platform or looking to upgrade. Head on past the break for the run through.
Swipe to scroll horizontally
Design:
The Lumia 800 is designed and manufactured to perfection. This shows in the end result, while there may be a few issues with buttons, it's still a solid design.
Feel:
Unibody, check. Single piece of injection moulded polycarbonate, check. Feels great to hold and use? Check.

9

out of 10

Performance:
Powered by Windows Phone Mango, a 1.4Ghz processor and a lasting 1450mAh battery, the Lumia 800 will keep you going throughout the day.
Quality:
This is Nokia's first attempt at creating a "true" Windows Phone. The result is outstanding with the time the manufacturer had, but there's a long way to go.
Swipe to scroll horizontally
Nokia has finally released some hardware to rack up sales and boy have they released something special. The Lumia 800 extracts the positives from the N9 and applies some Windows Phone goodness.
Unfortunately, the buttons really do let the overall polished design down, and the capacitive keys are far too close to the screen.
Sure, the Lumia 800 could have been so much more with a front-facing camera, more solid buttons and other bits and bobs, but for a first attempt, and within a tight deadline, the handset is a superb Mango device. The design is slick, the feel is smooth and the looks are modern. This simplistic approach to manufacturing fits in nicely with the principles of the Metro UI and the 800 is a worthy upgrade.
Design & Hardware
The Nokia Lumia 800 features a unibody with curved glass that almost "folds" into the one piece body. Being 61mm x 116mm and 12mm thick, the device itself is thin, easy to handle and feels great when in use. Coming in at 142g, the 800 is fairly light and in line with other handsets. The single piece of injection-moulded polycarbonate ensures antenna performance is at maximum efficiency to prevent signal loss and call drop outs. Although many could be put off by what seems to be a re-introduction of the N9, which runs MeeGo, experiencing what's packed into this minimalistic design reminds the consumer just how much development has gone into perfecting the end result.
The Lumia 800 sports an 8MP camera with f/2.2 Carl Zeiss lens, another feature brought forward from the N9. The Lumia 800 lacks a front-facing camera.
Powering the device is a single core 1.4Ghz processor (Qualcomm MSM8255), which still proves to be ample amount of power for tasks ran on Windows Phone. The amount of storage available to owners is 16GB, with no SD card slot, but to liven up the mood there's 512MB worth of RAM and a 1450mAh battery will ensure connectivity and usage can last a fair amount of time.
Unfortunately there are a few annoyances that lie with the Lumia 800, which is all down to the buttons located on the device. The physical buttons on the right-side of the handset are not the sturdiest of buttons found on electronic devices, and the rattling that can be heard when handling the handset doesn't fit the overall strive of perfection Nokia has taken with the unibody. While we're attacking the buttons on the Lumia 800, the capacitive keys, that already find themselves in the "hate" list of Windows Phone owners, are far too close to the display. If you thought accidentally pressing the search button was easy, you've witnessed nothing yet.
The colour selection brought in by Nokia with the N9 have been carried across - black, cyan and magenta - and pigments run right the way through the polycarbonate body as opposed to simply being applied to the surface. Should you happen to scratch or dent the handset, it will not appear visible to the naked eye due to the colour under the surface blending in with the external. The design is slick and modern, but there are a few hiccups here and there that should have been ironed out.
Screen
The 3.7" ClearBlack AMOLED screen is the highlight of the Lumia 800 with the curved glass spanning from top-to-bottom. The display is on par with the HTC Titan and Radar, but its hidden trick is allowing usage in the sunshine, something that can't be achieved with other Windows Phones easily. Helping to create the illusion that the screen is part of the phone is the Nokia's ClearBlack tech, where blacks appear black and it's fairly difficult to distinguish where the screen ends. The curved glass also ensures that, when viewing the screen from multiple angles, content shown is crisp and quality is maintained.
Camera
The Nokia Lumia 800 takes the camera from the N9 with an 8MP sensor and f/2.2 Carl Zeiss lens being packed. There's also dual LED flash present to light up your life when capturing those memorable moments. How does it perform out and about? Check out our quick shots of the Nokia Arch (opens in new tab) in Stratford, UK. We also put it to the test with the Samsung Omnia 7, which arguably has the best camera out of first generation handsets.
They say images speak louder than words, so we'll leave you to draw your own conclusion from the above comparisons. While performance and quality is solid, it's still no match for a digital or SLR. The 800 will be perfect for capturing any moment with the quick camera wake up function in Windows Phone. As well as capturing photos, 720p video can be recorded along with VGA. Check out our quick test of the 720 capabilities of the Lumia 800 in the below video. Excuse the wind, we don't have the best weather here in the UK.
Software & Apps
The Lumia 800 comes packed with Windows Phone Mango, the latest version of Microsoft's mobile operating system. As well as the usual vanilla features, which can be read up on with our Mango update coverage, Nokia has installed a handful of apps that are unique to the Lumia family of devices. We've covered these apps previously and links will be provided for further detail.
First up we have App Highlights, which is targeted at Windows Phone users who are not familiar with both the platform and what apps are available on the Marketplace. The app itself focuses on local developers in regions, as well as the "must have" and most popular apps to-date. Next up is Contacts Transfer, an app solely developed with Symbian users in mind. Should you be moving from Nokia's old OS to Windows Phone, Contacts Transfer will enable you to transfer your contacts via Bluetooth (opens in new tab), which are then uploaded to the Live ID and stored in the cloud. Neat, eh?
Nokia Drive is Nokia's free GPS turn-by-turn navigation app, which is pre-installed on each and every Lumia handset. The app sports voice guidance and offline maps that can be downloaded prior to starting a journey. Handy if you're thinking on going abroad and would like to avoid high data costs. Nokia Maps, which is to be released to every Windows Phone in the coming weeks, will make finding local points of interest easier.
Finally we have Nokia Music (opens in new tab), a free Spotify-like streaming service that enables the user to stream mixes and download them for offline usage. Songs within a mix can be individually purchased from the Marketplace and there's a fair number of genres present to choose from. Local gigs are also displayed with further detail.
Performance
The performance of the Lumia 800 is pretty much standard when it comes to Windows Phone. With the addition of background agents in Mango, email accounts with push enabled and general usage we managed to pull out about 22 hours before we were left in the hands of the battery saver. Although general use will vary from owner to owner, it should be noted that battery life may or may not be longer lasting.
The chip that the handset features is clocked at 1.4Ghz, which will drain the battery through heavy usage, but provides the Lumia 800 with a notable push when launching apps, web browsing and other CPU intensive tasks. The reception and call quality is fairly stable, thanks to the materials used in device construction. Windows Phone Mango runs smoothly on Nokia's first handset, and the hardware compliments the operating system when the screen is active. It should be noted that tethering is currently not supported by the Lumia 800 at present.
Conclusion
Now that you've read our written review of the Nokia Lumia 800, why not check it out visually? The video below is our quick walk through of what the handset offers and how it could change your life after purchase.
A smartphone is used throughout each day and allows millions of people to communicate with one another while on the move. Whether it be my social networking, calling, video conferencing or texting, these devices should be designed and built to be admired. Nokia has hit this nail on the head with the design of the Lumia 800, it makes you look forward to using it, to picking up a call, and playing Xbox Live titles.
As mentioned in the video the 800 will be available in black from November 16th (opens in new tab) while the magenta will hold you back until the 28th. The handset will cost £399.00 (€420) and comes with a charger, manuals, USB cable, protective case and earphones. Hopefully the U.S. Market will see the Lumia 800 early next year.
Is the Lumia 800 worth the purchase? Yes, especially for new (or potential) consumers, since the handset packs some impressive features and is powered by Windows Phone Mango. The design is slick, the feel is soft and the experience is impressive. Nokia have some way to go to regain control of the market, but the Lumia family of devices is a step in the right direction.
Windows Central Newsletter
Get the best of Windows Central in in your inbox, every day!
Rich Edmonds was formerly a Senior Editor of PC hardware at Windows Central, covering everything related to PC components and NAS. He's been involved in technology for more than a decade and knows a thing or two about the magic inside a PC chassis. You can follow him on Twitter at @RichEdmonds.
22 hours! I only get about 12 hours before battery saver on my HD7. . . . :(I want to hold the 800 so bad.

I used to get about the same out of the Omnia 7.

Yeah I get around 12-16 with my Omnia 7, thats why I have already pre-ordered this phone. It looks amazing and the lack of a front facing camera is nothing to me, I would never use it. TBH I have never seen anyone or my friends have a video call, I swear only 1 or 2% of the smartphone population use FFC's.

In the 5 years that I've had a Skype account, 2 Nokia phones, a Palm Pre³ and an HP Touchpad - all with an FFC), I've only used video calling once. It's one of those features that many of us want to have but we'll probably never use.

I got about 14-18 on my Omnia on good days, the 800 appears to last longer, but again, this is only down to how you use the device. My usage of the 800 for the day was fairly light.

And not forgetting down to individual user settings configurations. Push email for example it a right battery sucker!

Push email sucks battery? I thought it actually saved battery to have push email enabled...

It depends on how often you get emails. More than once every 30 minutes, it drains

Well no because push email has to poll your mail server quite frequently to check whether there is a new email for your. And due to this going on alot it drains more battery than say a sync every 30mins.

If push email is like the Exchange server version then, push email simply transfers a heatbeat packet ever 15 mins or so to persist the https connection to the live servers. that means that the connection remains open, with not data being transfered, but when the server needs to inform the device there is an email then the connection is open already.

I could never rely on the Omnia to last on a Friday if I went out after work, would always be dead by about 10pm which is never good. I bought a 2nd battery in the end.A non replaceable and smaller capacity battery has gotta be a worry, having run Mango on the Omnia aswell it was slightly worse with battery life aswell.

I'd say, it's a bit worse in general indeed, but if you use battery saver frequently when you don't need push notifications and messenger running, you can actually squeeze a lot more than average battery life.

I get about 16 hours before it is down to about 35% :D have got nearly two days before with the DVP

I visited my local Phone4u store today, and there it was, the Lumia 800. It was in a strange clamp that allowed limited interaction but let me tell you this thing is gorgeous! It was up and running and just a joy to use. I am a big fan of WP7 and renew my contract in January, the only thing that would stop me from getting this hardest is the screen size, I have a thing about big screens after 2 years of use with an HD2, but just the way this thing feels and the operation was soooooo smooth! The screen sis crystal clear and the blacks are true and the colours just pop off the screen. It is absolutely one of the nicest handsets I have ever seen and makes the iPhone look like a toy.I'm hoping and praying that Nokia comes up with a 4.3 inch handset that is to this standard, the ACE is just rumours right now but if they can produce it like they have the Lumia 800 it will ROCK.Nokia if you are reading these forums then please, please, please bring the ACE to market, I would hold off my upgrade if I knew there was this phone on the horizon.You do want to hold this phone it is seamless and begs to be used.

Looking at the Arriva Bus in the 720p sample you must live in Essex?? Im a Canvey Islander nice to know a Windows Phone fan is close :)

Shoeburyness ;-) Ah a Canvey resident, eh?!

Is this phone only a review unit or is it now your phone? If not what phone are you looking at getting, or got? I have pre-ordered my Lumia 800 from Orange in Southend getting a free Xbox, mine is dying so its plus's all round!

It's a phone provided by Nokia, but I've already pre-ordered the 800 from Three (I was the first customer to do so), lucky with the free Xbox :P All I got was a friendly cheer in the call centre.

Nice :D Congratulations \o/

LOL! Yeah I was the first in the Orange store :) Its our job now to convert as many others to our side, should be easier with the sexiness of the 800! Whipping the 800 out of your pocket will be like driving up in a Ferrari to a swimsuit competition, Im sure you dont have troubles with the ladies lol

I'm sure my Mrs would love to read my replay to you ;-) It truly is an incredible device. My utmost hate is these buttons on the side of the handset, but other than that - awesome stuff.

better keep this PG-13 then eh ;) Yeah im sure i can look past those button, but if they are really annoying im sure i can find a way to stiffen them up ("Thats What she said" - had to say it been watching the Office US lol)

Darn it you lucky Europeans! Great phone and a free Xbox! Should cancel my US contract and move Europe.

Basildon here :P i am gonna try ask Orange nicely if i can upgrade now instead of in January to see if i can get another xbox hmm lolBy the way does anyone know if Orange only have the black version?

Yes because Orange is releasing the Lumia 800 on the 16th Nov and that is the date only the Black version is released. Plus on their website it shows the black on!

Ingatestone here with new nokia800 and all I can say is I love it coming from a iPhone was a bit scary but no need for worries with this phone all I can say is never again iPhone hello 800 loving it big time xxxxxxxxxxxxxxxx

Could you guys please do an actual battery test on the phones? I'm not saying that to be a jerk, I am just looking for the wp with the best battery life and each site has different info. For example: Samsungs site lists the Focus S as having 6.5 hours of life, but Microsoft says it gets 9 hours. Nokia's site says 9.5 hours, but microsoft's says 8 hours and you guys just say "it worked for 22 hours for me!" The HTC Radar is listed as having 10 hours battery life on Microsoft's site and HTC's, yet HTC also says it has 8 hours. Also, half of the sites say these phones have 1.5 ghz processors and the other half say 1.4ghz. There really is no excuse for all of this misinformation or plain leaving info out. Anyways, thanks for the review.

Battery life depends on usage per-person. Should we perform rigorous testing, what would we test on? Some folk could say "well your testing isn't how I use my phone so it's no good for me". I ran the device on full charge from the morning and used it for email, casual web surfing and the odd game. I didn't have to charge it until the following morning when Battery Saver had to be enabled. The levels that manufacturers give are talk times, music times etc., not for general use.In the end, any battery test is not accurate for a consumer. Also, for your CPU complaint, our clock speed is correct according to Nokia's specification.

I didn't mean to make it sound like I was questioning your battery stats or cpu speed. Honestly, I think you guys have been one of the more accurate sites, so thank you. As for battery testing, I simply meant that there should be a standard test that you use to test batteries. You basically said, I used this phone for my review and this is when it died. That is not a test at all. Of course, each person will have different results on batteries. If you took every phone and tested it in the same place, with the same settings, then we could see if phone A does indeed last longer than phone B. You could play a video, music, make a phone call with just a recording, etc. There are plenty of quantifiable ways to test a battery's life. I believe that this is especially important for WP7. Android phones may or may not have the same hardware or software, but windows phones, for the most part, have very similar specs. The user interface is the same, so it is only the hardware that makes any difference. If you, like me, are looking for a particular screen size, there are only maybe 3-4 WP7 phones to consider at best. With similar sizes, what's left but battery life and I guess screen quality? Any of us could see a difference in screen quality for ourselves, but there is no way for us to test a battery without first buying the phone.I know this has been kind of a long rant, but Microsoft doesn't allow these manufacturers much to differentiate themselves. When I see a review, and I'm not just saying on this site, it is immensely frustrating to have no better understanding of a phone than by reading a spec sheet.

I see what you mean with the testing now, and yes we could probably implement some sort of system our end for each and every device be tested with identical settings, activities and tasks being ran. I'll pass this along to the higher-ups.

It's a beautiful thing. Nokia have done a great job. I'm looking forward to their other models.

Mmmm will this really be a good phone?I don't know if it will be worth the upgrade... maybe I should get a samsung focus flashDo you think the capacitive buttons being to close to the screen , could actually be a really big problem? Or is it something someone can get used to...Would you make this your everyday phone?

Whats the difference between the two? A front facing camera... if thats it and you really are going to be video calling then the Focus Flash (Omnia W) is for you. If your not fussed about video calling or cant ever see yourself using it then the Lumia is a great handset especially with Nokia's app support which will only extend over the months, plus if you are into mobile games they have an exclusive deal with EA games for over 20 games to come to the Lumia platform!

I know this is a Windows Phone site but a 9.0? I'm curious to see how the Titan and Focus S score now.Nice review anyway.

It's truly a beautiful handset and the quality is high considering how much time Nokia had to bring out the 710 and 800. Sure there are some hiccups here and there but I don't believe an 8 gives it justice.

This is proving to be a hard sell to me, I'm without a WP at the moment having sold the Omnia 7. This to me is the best of the current bunch but I just know Nokia's 2nd wave will come in a few months time. There appears to be a few issues with the camera which I wouldn't have expected, hopefully they can fix this in a firmware update. The omission of wifi tethering to me is the biggest omission, some sites claim it is coming but they told me today some apps may appear in the future but nothing concrete.I cant buy another Samsung device after the update issues with the first wave of devices. At probably £440 sim free it is a tough call as I suspect it will lose it's value fairly quickly.16GB storage is more than enough for me, that's what I had in the Omnia and the E7 and never nearly filled it.

Nokia have confirmed that internet sharing is to come in a firmware update so that covers that.Yeah Samsung is good with their screen tech yet they have been a let down in support for the WP platform.I cannot see Nokia releasing anymore handsets in the UK until Windows Phone 8 (Apollo) around July 2012. They have just released the 800 and 710 if they are to release any more in a couple of months im sure they wouldnt have met their financial targets with the devices in that space of time. If there is to be the release of a new Nokia device in the next couple of months it would most probably be a US only model.

That goes against what Jo Harlow said a few months ago they want to stay in the news and will be releasing devices every 3-4 months based on WP.We wont see Apollo to this time next year, and I hope it is based on Windows 8 core.

Apollo is Windows Phone 8. Nokia says when it is released it is going to change everything. Im sure they have big things planned for it. Let say in 3-4 months a new Nokia device comes out it will still be a second generation phone meaning basically the same as the ones coming out now. after that 3-4 month let another 3-4 go past and WP Apollo (8) is released. (check the WMPoweruser article "Actually Windows Phone 8 Will Run on Windows NT Kernel")

Nokia confirmed that tehtering is coming in an upcoming update. I hope its before the release.

PenTile screen == no thanks. Hearing about that made me lose all my interest in the 800 in one fell swoop. It does look like a gorgeous device though.As a sidenote, the HTC Titan is excellent in broad daylight. Just as good as the Focus' S-AMOLED screen, even.

are you serious about the Pentile thing. Its a 3.7 inch screen so the pixel density is pretty high you are not gonna see pixelation. I doubt you would even notice the pixel arrangement unless your put your eyeball on the screen.

Trust me, with a WVGA resolution, the pentile pixelation is VERY noticeable. I've owned a Nexus One & Desire Z, both 3.7in screen, Nexus One has pentile OLED and Desire Z has SLCD. You don't need to pull it close to see the difference. It is THAT obvious!If you're talking about pentile on a 720p screen, maybe it's alright. But pentile on a WVGA screen, it's really bad. Go find a Nexus One and compare it to any 3.7" WVGA LCD screen and see it for yourself.Not to mention the lack of LED notification and front facing camera. The primary camera really isn't that great either. I can't believe WPcentral gave it a 9/10.

Yeah I myself had a Pentile Nexus One and HTC Desire and unless your looking for the pixel arrangement you cannot see it. Dont forget with Nokia's polarised glass and "ClearBlack" tech im sure it help hide this anyways. Plus I have an Omnia 7 that a 4inch pentile display I see nothing unless im like 10cms away from the screen. You must have some magnifying eyes or something or just like your phone very close to your face.LED notification is a touch and go with various phone you cant put it as a con as its really just a benefit. You would see every iPhone review putting it in there cons section of reviews if this was the case. The primary camera is pretty sweet its shown in this review and other reviews where they are slated it cant take pictures properly, this review just proves it. You also have to take into account that their are some settings that can be played around with and even the 16:9 picture mode that would probably take beautiful landscape pictures. The 720p recording is quite brilliant especially compared to my Omnia 7!A front facing camera is user preference it should really take the score down in a review, yes it can be a con but to those individuals who make video calls (which there really is many people who to tbh).

I'm surprised that you barely can notice any difference. The first time I picked up a Omnia 7, the first thing I noticed was those pentile pixels without looking hard for it. It's so noticeable especially when reading text. Well, I guess for 1st time smartphone owners or people over 50 who need a pair of glass to read, it doesn't really matter.Most of the iphone 4s reviews are focused on comparison between iphones or a specific comparison between other smartphone, such as camera comparison. If you were to list every single shortcoming of iphone, the list will be endless. There are a lot of people complaining about the lack of LED notification of iphone already, but it's Apple, what can you do? But when other WP7 phones have this option and Nokia doesn't, and you are tell me it's a benefit?? Ya right.The camera is not bad, but not great. Sure it's better than the old Omnia 7, but why do you keep comparing 800 with some obsolete phones?? It can't even compete with htc Titan, not to mention iPhone4s or Galaxy S2. Please take a look at Engadget's or Cnet's reviews.Again, front facing camera, sure a user preference. When the competitors all have it and Nokia doesn't, and Nokia called this the first REAL windows phone device?? HAHA! After such a long wait, Nokia still failed to implement it, you tell me Nokia didn't **** up??It's just like iSheeps saying it's a pro that iOS doesn't support Flash because it sucks.

Pentile seriously isnt a big deal. I really dont know how you can see it without going close to the screen. Focus and Omnia users have rarely ever pointed out flaws with the display its really not as noticeable as you make it sound. Obviously it gets to you alot now that when you know there is a pentile screen on a device it bothers you.Samsung has never put LED notifications on their WP's only HTC and maybe LG im not sure but still its Manufacturer design. Not many people worry to much about a LED light its only one step less to knowing if you have a notification (like having to press the power button is a big deal). Still yeah good to have if its there but if its not then no loss. Only because a couple of individuals have made bad pictures with the Lumia 800 doesnt mean thats the potential of the camera. Look at the images above and have a look around other sites to see really great pictures. Seeing as some review sites have bad picture and others have great must make you think why? Some people have a nack when taking a picture for a great end result and that has been proven with the great pictures shown by the Lumia. Even with the greatest camera you could still take a picture that looks complete shite.You cannot define what Nokia means by the first WP. They might not be referring to the hardware specifically but what they have lined up in the ecosystem partnership with Microsoft. Who knows what they are going to put onto their devices over the months. And with the FFC bother. Even if other have the feature on their phones its not that its going to be used by everyone is it. If you know that you would never use it then why get a phone with one when you like say the design of said Lumia for example. You cant say people who have iPhones and Androids with FFC's use it, I can assure you a high volume of user probably never have and never will. You have to remember the achievement of Nokia developing their first 2 phones in 7 months and missing one element that is not a deal break for most. I was thinking exactly the same as you thinking why would I have this phone without a FFC and then I really thought about it and came to the conclusion of I would never use it when I have my laptop that would do video calling better and for free.

Oh and here is a clipping from The Verge's review of the Lumia 800 regarding the display."Sticking with the N9 lineage and a recent preference for AMOLED in its flagship phones, Nokia has installed an 800 x 480 AMOLED display inside the Lumia 800. What was a 3.9-inch panel on the N9 has shrunken to 3.7 inches (and lost 54 horizontal lines of pixels in the process) in order to accommodate the Windows Phone keys. Yes, the Pentile Matrix RGBG subpixel arrangement is present here too, though as with the N9, I have to stress that it has almost no distinguishable impact on the display's quality. If you put your eye right up to the screen, you may notice some color fringing on white text in front of a black background, but that's it. Pixel density at this 3.7-inch size and WVGA res feels just about right for Windows Phone and the Lumia 800 does it justice with very clear, richly saturated imagery."

I think they did a decent job considering they've only been partnered with Microsoft for roughly 7 months.

I've heard that with the Titan you can sometimes see the pixelation on the start screen tiles, but that's not enough to dissuade me.

you know, WP7 really needs a signature high end handset. While I'll concede it may not need dual core, the lack of storage is a huge minus for me - 8/16 GB is not going to cut it for me. 32 GB minimum (whether its expandable or not). Also, the limitation to WVGA (800x480) is really starting to show its limitations on larger screens (see the Titan reviews). The qHD (960x540), HD (1280x720), and Retina (960x640) of the competition really puts WP7 to shame when you're looking at them side by side - crisper text, better video, and better web surfing. Also, we still have no idea when Nokia will be available here. If it's US handset is just a slightly upgraded Lumia it is going to be even farther behind in Mar/Apr 2012. Also, while I don't see the need for FFC and NFC there are a lot of people who want it just in case it takes off. There are too many ways these handsets are falling short. The recommendation "Try it, You'll like it" just isn't a very good marketing strategy. WebOS tried to get by with a superior platform and we can all see where that got them. Finally, MS seems to be treating this like the XBox 360 where if we stick with it long enough we'll eventually get some market share. One minor and one major update/year and only releasing new handsets once a year isn't going to hack it against iOS or Android. Would really like to buy a WP7 BUT on Verizon only has one option (a very dated, underpowered Trophy) and don't see anything newer coming any time soon. I have yet to see a WP7 handset out and around or any type of demo unit in the stores (my store didn't even have one in back to look at. Not buying one sight unseen.

i like the angle of the pics that the Lumia takes better than the Omnia. when it comes to video, i would really prefer that they lower the resolution a bit and increase fps. im tired of recording choppy videos with my phone but still want the wide angle. i might get this phone if i do not get my hands on a N9.

The screen is Gorgeus, the resolution is fine.
The battery life as any smarphone needs improvement.
I think a more important situation is the comercialization. Microsoft and Nokia need to offer the line in his website UNLOCKED. International delivery or local sites. Apple does it.
Is very responsive, easy to install or uninstall an application.
Organization of Applications is very easy. Use is a sweet.
Need more accesories.
Nobody use thousand of applications, not even hundreds. So almost every user is going to find what they need. Specially more tha a thousand versions of solitarie.
710 is more cheaper but with different screen.
900 is LTE
Is a great step forward for both companies. I wait a year for this model. I´m very happy with the purchase. In need it to order in Expansys Mexico. Italy imported but there was no other option. Carriers are slow to deliver new gadgets.





The 9 is well deserved. But there is space to improvement!
Windows Central Newsletter
Thank you for signing up to Windows Central. You will receive a verification email shortly.
There was a problem. Please refresh the page and try again.