Nokia Windows Phone still on track for early 2012?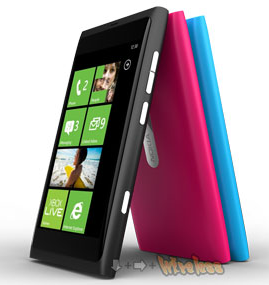 While release dates for the Nokia Windows Phone have never been set in stone, the strong school of thought has been to look at early 2012 for the Sea Ray to hit the market. This line of thought was confirmed recently. In an interview with the Australian website WP7R, when questioned about the release of the Sea Ray Nokia in Australia replied,
This joins the long line of indicators pointing to 2012 that include Nokia CEO Stephen Elop stating, "We'll be shipping in volume in 2012" and Nokia tweeting similar. We still have the where and with whom that has to be answered. Plus it would be nice if eventually the Q1 2012 time frame could be narrowed down a bit.
Regardless, this latest blip seems to confirm that Sea Ray fans still a have a bit of a wait to endure.
source: Wp7r Thanks xlri for the tip!
George is the Reviews Editor at Windows Central, concentrating on Windows 10 PC and Mobile apps. He's been a supporter of the platform since the days of Windows CE and uses his current Windows 10 Mobile phone daily to keep up with life and enjoy a game during down time.
Well, not a good new. Many people won't wait until 2012 to get WP7 phones /:

Love Nokias hardware but Im done waiting, Focus S or Titan for me, if Nokia is super awesome I'll switch but most likely it will be about the same as those 2. Sucks I really wanted it this year...

I'm not eligible for a full ATT upgrade until spring anyhow and looks like I'll have a **** of a selection.. Titan is nice but pretty sure Focus S and Sea Ray are going to be pure phone ****

Ooh, following the Samsung news earlier today I got excited when I saw that hot image up above! ..but that excited was extinguished upon reading the title & then the post. I'm just gonna stick to hoping Nokia's trying to pull an Apple, and is being real tight-lipped while actually ready to launch a killer WP7 in October (I can dream can't I...)

The likelyhood of this is about as likely as apple licensing their os.

Eh, my contract isnt up till next october anyway. But still they should be coming out for the holidays. That HTC Titan looks cool tho.

Unacceptable. Nokia have had since February and in my opinion, should have been ready to drop a device or two, right about now with the Mango kick-off. The first handset that lands had better be SPECTACULAR otherwise the press and blogosphere are going to absolutely SLAUGHTER it.I waited from February to July before finally deciding to wait no more and picking up a 7 Pro (Arrive) - at half price of course! I'm glad I did now.

It normally takes well over a year to develop a new headset. Also I think this means we wont see just another 1.4 ghz single core processor, 8 MP camera, etc...

Yes, except that the "Sea Ray" is basically an N9 with WP7. And the N9 has been released already.There's no excuse for this. Simple as that. Elop shouldn't be whipping out Sea Rays at big conferences unless they're getting close to releasing it. It's like putting on a condom & just laying there in bed with the chick.

So, am I the only one that read the above article and the article it was sourced from? It's an Australian website. Nokia isn't set to release their first WP to AUSSIES until Q1 of next year.Elop and others have stated all along that the first WP would be released by the end of THIS year... 2011.Besides, would you rather have average devices RIGHT NOW or superior and excellent devices a bit later?

WPCentral, you should look up the definition of shipping in volume! Nokia has always said that the Sea Ray will first be launched in 6 european countries with a small amount of SR's. Volume production will only start next year. The rest of the world will have to wait a few months more.

@ReliefThe headline is Nokia is still on track, not delayed. Had we said it was "delayed for Australia" your argument would make sense. We're just saying yeah, this is what we expected.As far as it not being news, we haven't had any indication about Nokia's plans and Australia, so that sense, it is news.

You should really re-read your article. You are so vague that it suggests that the first Sea Rays will be delivered next year. You are not suggesting that the rest of the world will get the Sea Ray early 2012.Well whatever, i am gonna enjoy my Sea Ray in October/November in HOlland.

2012 is a long time to wait for the new Nokia WP7 device. It just doesn't make sense for Nokia/Windows to not get this phone out earlier to compete with the new wave of Mango devices from Samsung, LG and HTC.....not to mention the new iphone5!!! Get a move on Nokia.I'm from the UK and I dont think i'll wait longer than Oct/Nov!

Surely they already said that Sea Ray will ship only in some European countries in 2011 - so unless you confused Australia with Austria, this is not news!Besides Australia is not a country which gets most devices first...

Australia is consistently linked with the Europe release. If something is released in Europe, it is released in Australia. This was true of last years launch, where both Europe and Australia were released on the same day, weeks before the USA.I think Australia could be included in the first handset release, along with Europe.

Nokia already said that in 2011 SeaRay will be released only in selected European countries.

Australia was not one of 6 european country's the Sea Ray would be launched. So this news is no news, all other country's will wait to Q1 2012, but those 6 won't. So only the UK, Spain, Germany, France, Italy and the Netherlands will get the Sea Ray earlier, now the question is, how early? I hope before the new Samsung handsets go on sale, at least announced by then, otherwise I won't be able to hold the gun for much longer :P

So... they're missing the Xmas period which is the busiest retail time on EARTH!So very, very dumb that it hurts like mad and it's almost as if these companies want to fail.

I get my upgrade in January at the moment the HTC Titan is what i will going for to replace my Mozart, But hopefully should be able to at least see what the confirmed spec of the Nokia phone is if its the rumored Nokia 703 on gsmarena and that spec is right then its not very tempting and the spec is more like a first generation phone but am hoping Nokia has something more powerfull to reveal.I was really hoping Nokia would give us one of their awesome camera phones for WP7 with Carl Zeiss optics but maybe we will have to wait longer for that.

Oh well too little to late... Titan for me then.

only acceptable with 1600 x 960 and dual core cpu.

Only acceptable with a dual core CPU? Really? This isn't Android.

For future reference to all, including WPCentral staff: Nokia has officially stated that WP Nokia devices would ship to only six European countries, and will ship 'in volume' in 2012. Nokia personnel, including Stephen Elop, have all echoed this roadmap. Unless, Nokia states something completely different at Nokia World (scheduled October 26th - 27th) or sooner, the roadmap will remain as is. Also, wherever the N9 is being launched, the Nokia WP will not be launched in the same country.You can follow all sources links here: http://www.engadget.com/2011/06/17/nokia-windows-phones-will-launch-in-s...http://mynokiablog.com/2011/08/24/nokia-n9-at-carphone-warehouses-mobile...

This is quite odd :/ I was in phones4u (UK) and the salesman said that they expect a shipment of nokia WP7 phones next month...

even if the Sea ray has 4 inches, the screen is small for me... so my money goes to samsung, htc, or dell.
Windows Central Newsletter
Thank you for signing up to Windows Central. You will receive a verification email shortly.
There was a problem. Please refresh the page and try again.