Vote Now: Here are the 5 choices for the new Itsdagram name!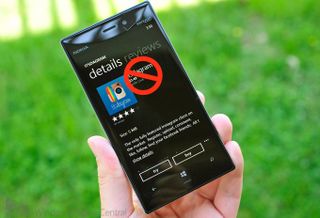 UPDATE: Poll Closed at 1am ET!
After one thousand comments in just under two-hours, careful deliberation by the Windows Phone Central staff and Itsdagram developer Daniel Gary, we have narrowed your suggestions down to five choices:
Spry (for Instagram)
Pseudogram
Livegram
Instance
Lensa (for Instagram)
Where you see '(for Instagram)' is for suggested app names that can go either way in the Store, so judge them either as a standalone or in full.
Voting will only be open for 4 hours and ends promptly at 1AM ET—so get your vote in early! You can of course follow the vote results as they come in by refreshing and we'll announce a winner later on tonight (assuming we're still awake).
To everyone who suggested an app name: thank you for participating! To those five who made it to the final round, congratulations! We'll of course reveal the winner, who gets their name in the app and a $50 gift-certificate to our Store in a follow up post. Good luck!
If on your Windows Phone, simply head to m.wpcentral.com in IE to vote mobile!
Windows Central Newsletter
Get the best of Windows Central in your inbox, every day!
Daniel Rubino is the Editor-in-chief of Windows Central, head reviewer, podcast co-host, and analyst. He has been covering Microsoft since 2007 when this site was called WMExperts (and later Windows Phone Central). His interests include Windows, laptops, next-gen computing, and for some reason, watches. Before all this tech stuff, he worked on a Ph.D. in linguistics, watched people sleep (for medical purposes!), and ran the projectors at movie theaters because it was fun.
For the record, the WPCentral staff prefers 'Spry for Itsdagarm' and developer Daniel Gary like 'Pseudogram'!

I'm gonna have to say for just the fun of it, I'm with Daniel Gary on this on Pseudogram.

You shut down the poll before I could bring in my winner: Instagrahamcracker

Your loss... (joking)

Sounds racists.. Lol! Joking.

"Itsdagarm," LOL.

Thanks for liking Spry though guys, small victory for me!

I think the voting will be little biased knowing WP Central's and devloper's comments.
In any case, I personally don't like Pseudogram, but I do think that whatever the name is, it should have at-least the letters "gram" in it for better discoverability of the app in the app store.



I'm with him on Pseudogram. I didn't think of this until after submission close, but I think Pixdachrome would be good, too.

I like Pseudogram the most, personally. But it looks like "Instance" is in the lead as of my vote.

I was with Spry at first, but I've been leaning Instance since we last chatted :)

I'd just call it "GramIt" get it? gram it?

Too late but how about "JustGramIt"? lol Say it real fast ;) Techiedude

Instagram Client or Client for Instagram sounds much better.


I actually thought the original name was fine.

Glad you did, but Instagram did not.

But they didn't mind the illegal use of their private API? That's odd. Very odd.

Growing the social network, (by quite a lot, if I correctly recall the big downloads this app has,) without needing to do any work at all?

How upset can instagram get when they don't even have a wp app hence why his app exists. Lol well they can but come on. What's funny this is probably the most telling news that an instagam app is coming soon.

Spry sounds cool but not for an instagram app

What the heck does that mean anyways?

http://letmebingthatforyou.com/?q=What20spry3F

Question #2.. How did you do that Bingy thing?

Meh. Well can't make everyone happy...

Instance sounds the best to me. I dislike the over-use of -gram, and both Lensa and Spry have "for instgram" in them.

Actually the "for Instagram" is optional.

still, lensa and spry sound weird imo. Instance gives the notion of being related to Instagram in a sense, while still being a different name. At least thats what i think, anyways. Others i entitled to their opinions as well. May the most popular name win.

I voted for Lensa, but it seems as if Instance is winning.

Shame I like the "Itsdagram"...i know its too late but how about "Insta8 for Instagram"

Insta8 is ok but all 5 off the other options blows. Totally crappy names.

Yeah...im not really liking neither of the finalists names.

So sad that I only saw the contest after the close!! :'(
My suggestion was Instagrammy....

I doubt that would have been selected anyway, so don't feel sad.

Not a fan really of any...but if I had to choose, livegram

That's the best sounding one if you have taste.

Lensa is something like what I've heard in Indonesian...

Lensa sounds like a sugar additive or some sort if eye drops...

Lensa is "lens" in Bahasa Indonesia :)

I wanted to submit semaphore but I was like 1 second too late. Wikipedia it, its abstract unique with a nod to the history of the technology. Weep that you can't have it!

Well, wiki semaphore line. Not just semaphore (which is a programming term, I guess)

Instance is a pretty dope name

I still think it should be insta-dan

If the name doesn't have "gram" in the name then it will be overlooked in the store and suffer from lack of downloads. I prefer Livegram!

Not necessarily. Instance could give the notion of being related to instagram, and I assume the Windows Store uses tags or some other similar system for searching, so as long as it was listed properly, it could be better than something with gram in it ("Instagram" excluded)

There were a lot worse names in previous news post.

I actually am not a big fan of any of them. I saw some better names in the previous post. But for the sake of voicing my thoughts, i will still vote.

Amen brother...... Looks like the dev is committing app suicide with these name options

I thought you guys didn't want anything with gram? :/

That was our personal recommendation, but there were still like 70% of submissions with 'gram in the title. For the final vote, we tried to spread it out a little...some with 'gram, some without.

Eh.. Not crazy about any of these. Pseudogram got my vote. I pray Instance doesn't win! That would be a travesty.. Lol

Pseudo = Fake/Counterfeit. Sorry, but Pseudogram just has a negative connotation, in my opinion. Seems as though the app uses legal means to accomplish what it was created for.

Instance FTW!

Given that it's not official it could also be likened to being written under a pseudonym. Doesn't change tthe quality of content though.

Integrity man! You don't change the guidelines for countless people who don't proof-read your article! You made your job harder by doing that.

I agree with clbarker.. Those 70% should've been the large chunk of people that got disqualified. Making your decision a lot easier.

Awe, Spry is losing. :-/

Though, I gotta admit, I can't really decide between them all... I like all of them.

Wow. So this is what it came down to!? Eh...not a good selection in my opinion. I'm not gonna vote, but I will predict that the name will be pseudogram.

I liked instamatic.
Regardless, I want it to start with a 'i' so I can still use the jumplist when thinking instagram.

Instamatic does sound good. :/

While none is particularly appealing to me, I think Instance is the best one. Spry is a cool name but makes no sence to me, given the App in question. (Pseudogram is cool as a joke to throw at Instagram for a while but not as a permanent name.)

Really liked Hipstagram...

+100. Better than any name in this list. Had to vote, so voted Instance.

My guess there would be a problem with Lensa name, given that Lensa is a WorldPress theme that lets you connect to your Instagram account and view pictures. I could be wrong of course.

Pseudogram is the best option for the marketing needs.

"PICTURE APP" would suffice though.

Instance. Think about it. For this scenario the easy choice.

BTW, I heard that Liquid Daffodil's Instagram client is going to be called Frankengrind. Weird!

Crap, I thought I had gotten my suggestion of SuddenOunce in, but I guess it didn't go through.
(Let's see who gets this one...)

All terrible choices compared to my suggestion of "PixSee" Spry is absolutely ridiculous...come on....REALLY?!?

PixSee is pretty bad too, so it's okay...

Its a world better then Spry. That name looks like a dyslexic person was trying to spell spy

Spry. Figured I better vote before they close it early again. Not cool. Anyways, I'm so tired of the phrase "gram" I'm going with Spry.

Instance isn't good! No one will be able to find it! The title doesn't have anything to do with Instagram that relates to it! I pick Pseudogram!

Instance actually has more letters in relation to instagram than pseudogram does.

They'll find it the same way they find something like Rowi...if it's popular it will be found.

Developers can tag their apps, which is why searching for "Instagram" yields all sorts of results now.

I vote Pseudogram since it at least sounds like an Instagram related app and it pretty much is a pseudo app...It works

Instance sounds just about right

Lensa or Instance, I suppose.. Anything is better than the old name, sorry but Itsdagram was weird to pronounce.

Fun fact: it was literally based on Daniel Gary's 5 year old and how they pronounced "Instagram", lol

It's cuter if you put it that way but still, I was like 'errr' most of the times I stubmled on the name/app. :P
I guess that proves how mean can the Instagram people be.

I always thought it was "IT'S DA GRAM!" like "IT'S DA BOMB!"

I even mentally yelled it every time I read it.

Aaaay Spry is there. Cool I vote Spry

Im late in the party when i read the news i tried to comment but it does not accepted. Hope daniel read it from app review

Problem with the new names (Without instagram) are that it isn't obvious that it is third-party for Instagram. So this means that people with Windows Phone who generally are not on websites like this will not know of this app.

Not crazy about any of these names. Something like Prysmcast I like

InstaGlam, PhotoGlam, PhotoFab!

We're past that point already, just vote!

alright.. PhotoGlam would be dope though..

will (for instagram) be in the title ? That kind of turns me off of Spry

Um sorry.. But it is going to be a great app, with a lame name .. Smh

Forget this changing name crap and work on the filters. Who cares what its called? :P

Yeah I got that. But that raises the question why don't the care that Daniel is profiting off of illegal access to their APIs? Doesn't add up to be honest.

Maybe the official client is on its way, and they dont care for an unnoficial one in the store to play the C&D card, I dunno.

Instance sounds good. Like someone said earlier, the original was awesome. Sucks they're making you change it. Hope the new name will be as catchy. Good work on the app btw. But in all seriousness I use WPC every day and you guys are awesome for the constant flow of content you bring on here. Sorry for the ass kissing. Well deserved though.

I'm liking Lensa, pity XaviGram aka SavvyGram never got into the comments lol, but yea Lensa for me.

Usually devs are not great with design and names.. let that to someone that is more creative with that, i liked lensa and instance

All the suggest names in the article are wack. The current name is way better. Don't change the name. Leave it alone. Just continue to improve the app.

You missed the point: He has 24 hours to change the name or have it pulled.

Yeah I didn't read it. Just looked at the names. FilterGram socialGram CamGram. Thanks!!

This dude bellow said "Microgram".. Now, that's got to be the best one yet! How did you guys miss that??

I know this isn't in the running, but I'd rather have it called Pictogram.

I wanted to say Shutterbug but it was to late. But yea will (For Instagram) be in the titles I need to know before I vote

I would gone with gramCracker but Instance for gram works

"Livegram". Its simple, and reflects the Windows/Microsoft connection of the Whole thing.

They should name it "In$tagram."

I really liked itsdagram. :)

Lensa is "lens" in Bahasa Indonesia. So i voted lens :)

Metrogram! Oh, wait... PS. Voted for Lensa, its short, its elegant, its catchy.

I still think Microgram is the best...

That's the best one so far!!!

I don't like any to be honest so which ever is chosen I'll live with

I was vote #500 :) Instance it is

What about Snaptacular, Pictastic, LiveItGram?

My was better Daniel photofeed and you can eventually turn into a windows phone instragam product when they build up enough users....using gram is just copying.....photofeed makes sense consider it up for a vote

Hello, my sugestion would be "ShootPhrame". Taking a vote though.

Instance or Lensa Sound ni e

Instagrammar. The app that focuses on well spoken images.

The name has to be catchy and easily marketed. Spry, pseudogram.what the hell. Boring ass names

Let's do a fun little test using some names currently in the Marketplace with the ones up for voting now...

WPGram
Metrogram
Livegram
Instagraph
Spry
InstaCam
#2InstaWithLove
Justgramm
Winstagram
Instance
#2InstaWithMassiveLove
Lensa
Aztagram
Pseudogram
Photogram
Insta Boobs

It's rather difficult to add to the river when it is already flooded. However, some of these new ones DO stand out.

I voted for instance ... but I don't really like any of the suggestions that much.
Too late now, but how about Instamatic ... or would whoever owns the bones of Kodak sue you as well?


I'd imagine that would lead to confusion with Hipstamatic, another photo effects app.

I vote Pseudogram, it has a nice ring to it but the paid app logo shouldn't have to be changed

I should have went with Mammogram....woulda won.

I like Instance.
I made a litle mock-up (like my idea for the name thing) but using "Instance" instead.
http://i.imgur.com/dBeUmFy.png

Instance if Spry only if (For Instagram) wasn't in it. Any name with gram in it is corny in my opinion

I have to say, I almost made it. I personally think my choice "Live Share" sounds much better than "Live Gram" but hey... there's a company named Google so I rest my case.
Yes I'm bitter and broke. I voted for Instance because it the only name up there that should have beat mine.

Somebody tell me Shutterbug isn't a good name

I think that's already a name for something lol :P

➕1 to @clindhartsen
And not to mention potential legal action from shutterbug for stealing their name

Confusion with an already known brand.

True I just searched it on Googlegram. Retrograde would be my other choice. Good thing Instance is winning

voted for "Instance" one simple unique word ,No need to add " for instagram or -gram"
i would vote for lensa or spry if you remove "FOR instagram" from it

+1 just Spry would have my vote

I'd prefer it be just "Spry" too. (It's all that would fit on the normal sized live tile anyway.)

Instance sound pretty cool

@Daniel lensagram is much better

"Lensa" sounds beautiful, like a girl's name. :)


There was over 1000 names that's what you guys came up with ? Come on Wpcentral.

Fool me once shame on me. This is twice.
I learned my lesson. Never expect an honest contest from this website no matter what.
The first option above might as well have been "LalaBlablacam"

I would like to think they were fair but it does seem a little fishy after going over some of the posts

LalaBlablacam would of been a better choice than most of the choices. At least its interesting and gets people to ask questions.

You know clbarker10, you don't have to participate here at all. You have no evidence for us being dishonest here (nor no motivation) for it. We could have let Daniel Gary just name the app with zero input from the community. So you personally don't like the names we and the developer of the app chose. Give me one good reason why I should care?

I'm Simply suggesting that if you hold contest they should be in the best interest of your viewers. Look at the results from the spring into tegra contest..and then here...spry? I am saying that if you aren't going to take it seriously then why bother. Just pick a name yourself. A guy holding up a kids tablet with a frowny face won the tegra competition...That competition was to be elaborate and creative. How creative was the final decision? A guy holding a kid's tablet...Anyone could have taken that picture. "Hi, my name is joe and i need a Windows RT tablet because i'm tired of using my son's leap frog tablet (whatever its called)." And that was the top pick? It specifically said to post "Why you deserve a Windows RT or Vivo Tab". I had to delay college just because I couldn't afford a tablet at the time and I took valuable time and effort to share my elaborate story yet i feel it was overlooked and not considered due to some guy holding a kid's tablet not even explaining WHY he needs an RT. That was part of the contest...to explain why, and the contest winner never did! There's you're proof, go look it up on here I'm not linking it.
I'm not saying I should have won this competition. No. One of your top picks was "Live Gram" and you posted that "Gram" was not what you were looking for. My choice was "Live Share" and even though it wasn't the best name here (Instance was and deserves the win) my choice was, according to your preferences in the previous post, better than "Live gram" Because "Live Share" did not contain gram but contained something other which you recommended. Do you see what I'm talking about?
I'm merely saying that if contest are given they need to be more carefully looked at and taken more seriously. There are people on this website like me who can barely pay their car insurance and cell phone bills every month yet when an opportunity arises to actually put forth effort in hopes of winning something for a change, Joe, in his luxury home takes a goofy picture or throws out this name that doesn't even make sense and he's a lucky winner.
There are so many people that appreciate the support and community on WP Central so the least you could do is take us more seriously. Thank you
Nothing personal, your system is flawed thats all.

Had to delay college just because you couldn't afford a tablet? Interesting..

@Apply_Logic Read more closely. Those are the names the staff and the developer of Itsdagram picked. So you don't like the choices...it's not your app, not your decision.

+1 (clever name, and relative to WP)

I like Spry. Spry can catch on. "Where'd you get that?" "On Spry, for Instagram! You don't have it? You can get it on WP man...it's really cool."

Also, when people hear "...for Instagram" they autmatically know 1) A function of the app, 2) They autmatically link it to Instagram, which is great and 3) The developers can eventually make a spinoff app/filter for Instagram across all platforms, pushing WP recognition even further. Also, when people hear "Pseudogram" or anything ending in "gram" they'd automatically think it's a knock-off of Instagram, and that's not going to help our platform.
I arrived to the initial naming thread an hour too late. I'd have love to submit:
PhotoHub for Instagram
Pickr for Instagram
Flicksta for Instagram
Polygram for Instagram
LiveView for Instagram
Sigh, I'm sure Rubino and Gary would have loved some of those names.

Why not "PHOTODESTROYER-gram"?

I've only just seen this event (as I am in Australia), but all those names just don't do it for me.
I would've preffered "Grammit!"

What no Metrogram??? Then livegram I guess.

This might be just me, but i dont like any of those names

Instance is my pick. The rest just don't do it for me. Really all of them don't. I think there were several names that were better.

I vote for Psuedogram. :-)

Instance for me. Only becauseit doesn't have "gram" in it

I like Instance (prefer Instamatic, as mentioned above).

Liking Lensa, Lensagram, or whatever. If its tagged in the marketplace with instagram, it shouldn't matter. If it's a great app, as it is, it shouldn't matter.

Lensa sounds beautiful, livegram is pretty poor and I can't even be bothered to swipe left to check the other ones' names again

"we think less emphasis on 'Gram in the name would be better ourselves"
Almost half of your picks contained "Gram".
Sorry, Contest are fun when the contest holders aren't deceptive and take it seriously especially when there's a prize.

80% of you suggested app names with 'gram in it. We advised against it, but didn't say we wouldn't use it. We even said how [Something] for Instagram was OK to use. Read more carefully next time. Deceptive? Please...

Livegram, cuz it brings the WP8 interface with live tile functions and its more unique

I like spry just don't omit the "for instagram" part

Livegram makes no since at all cuz its not live

Sorry I meant omit the "for instagram" part

guys let's go with WPCentral! Spry is their choice..Please vote for Spry!

So if Daniel tells you to jump from a cliff you'll jump? For Christ sake, use your own judgement and taste.

my entry would be PhotoGlam, InstaGlam or PhotoFab! but the comments section was closed.. so i'm going with WPCentral. Spry is a very original and unique name though.

It's OK if you like Spry among those 5 and that's the same one Daniel picked, but honestly, from there to say that people should support it just because it's the one Daniel picked on behalf of WPCentral...I mean...
That was the point I was making. Not questioning your taste, rather you incitement ;)

ok my bad.. now let me get you some tissue..

ok my bad.. now let me get you some tissue..

Thought original article said stay away from "gram" then you go and pick all five replacements with the word "gram" in it. Whats up with that?

Only 2 have gram in it. Read the names again.

I realized I haven't even used the app yet. Hopefully 7.x version comes out soon

I said "Direct Action Shot" because it says so much about the current political state of WP, and our app situation. It also refers to cameras, imaging, and Nokia's new focus on getting great action shots.

But its Windows Phone, not just Nokia... :P

I actually liked instagraham, but now I see why it couldn't have been considered...because it sounds the same as instagram, and itsdagram could easily sound the same as well. Though these r pretty ok names I just feel like none of them "fit"... Sorry. :(

Those are some weak a** names. Smh

Keep it as itsdagram fuck what instagram thinks take it to court lol

The two best IMHO are "Spry" and "Instance". I voted Spry because this app is bad enough to stand on its own and the name itself sets it apart but the leading contender Instance would be exceptional. Those other choices are just flat wrong. I don't even know how Pseudogram made the final cut. Pseudo means assumed, bogus, contrived, factitious, fake, forced, mockery, phony, pretend, some bs, a sham, simulated and straight up UNNATURAL. And this app is NONE of that.

if that's the case, why do they pick pseudogram? SMH.. i hope pseudogram lose!

Pseudogram is terrible I vote for instance but live gram was a close second!

Most people voted for instance that's so stupid if someone from Android or iPhone comes to Windows phone they can't find instagram because it has a stupid name like instance

Please don't vote for Pseudogram! Pseudo means A poseur; one that is fake. I hope they won't allow that to be the name of our precious app..

Know it is too late, but "Instaville"...

Bummer, late to the party again. I would have suggested Snappagram, but oh well. :-)
For my vote, I would choose Pseudogram.

I like Instance, reminds of instagram. Also it feels like instant moment to take pictures.

Pseudogram sounds awesome and appropriate.

Please don't vote Pseudogram. I'd be fine with any of them except for Pseudogram! I voted for Livegram.

Lomogram, if not already an app, would have done the trick.. but at the end of the day, instargoFurself..

I think that's the first one I've seen and laughed. Well done. :)

Had thought on that too!!

I'm actually a fan of Instance

None of these names really make it apparent that they're instagram clients (unless it will say "for instagram" after it). People coming from other platforms will be looking for instagram and this doesn't make it obvious that they're instagram clients just from the titles.

I vote for YOU Gram, no? Then I choose Lensa, it's so Indonesia :)

None. Call it "Grammaton"

I chose Lensa but I guess Instance would do too. So Itsdagram got into trouble but not Instagraph and Wingram?

Probably due to the identical look of the words.
Itsdagram
Instagram

In fact, they sound similar too. Ones just a mispronunciation of the other.

Think about how close the name is. You're talking about one letter and a slight pronounciation difference vs. two other names that are fairly different. Seems reasonable they'd have issues.

I personally did like Spry as I said above(Sounds cooul) but at the same time the app name doesn't fit the app in a way so I went on a voted for Instance. I was going to vote for Spry just because even if it wasn't going to win, I wanted to support the name but i'd hate for pseudogram to pull a miracle out and win so i just voted for instance :D

I don't like any of them, but I think that "Instance" is especially bad. Regardless, I'm not going to use this, so it doesn't affect me. I'll still just say that while I don't care abotu the app, I appreciate the work of the developers nonetheless, as they are offering a popular application's functions to the platform in a positive manner.

Instamatic, Hipstagram, Ninjagram. All better options.

+1000 for Ninjagram, with a black live tile

Both Instance and Spry will do.

#TheAppToUploadBeautifulLumiaPicturesToInstaAndGetThemRuined

Instance App Icon Idea:
Name: http://i.imgur.com/FQXaqtA.png
No-Name: http://i.imgur.com/eiYiEOy.png
Filter + Name: http://i.imgur.com/ho3TbLu.png?1
Filter, No-Name: http://i.imgur.com/00lNsZd.png?1

...since, you know, it looks like "Instance" is gonna win.

Spry means "quick and agile."..why would you name an app spry?..That's the kind of name you could give to your pet cheetah maybe....Instance is awesome

I cant really decide, will just go with the flow... Was hoping to see Metrogram on the list actually... :)

You guys should summon your Itsdagram using voice control, it's quite hilarious how it pronounces the name.

Instance is cool, though you dont make a straight connection. Pseudogram is bold and sarcastic (like hackagram, clonegram or fakegram). -guys suggested Microgram how cool is that?-. Please add Aviary filters!

Instance has to be the dumbest name...please don't pick that...

I can't believe "crappy filters for photos app" didn't make the top 5. I vote Pseudogram.

I prefer Livegram
But Instant gram would be nice. Unfortunately I came too late for the poll... :/

In my opinion, anything containing (gram or insta) isn't good because hundreds of apps have them.

You fools, "Instamatic!" Use that name!!!! Instamatic!!

Pseudogram I like this one and for some reason it sounds like a dragon's name

Man I really don't know which one to pick lol, I'm just gonna leave it to the people who actually use instagram lol

InstaLens would have sounded cool, especially if it could be used as a lens in the camera app! Maybe there is still hope.

There is always SophieLens

Can we get a list of honorable mention wpcentral? :D

Gah, missed the voting cut-off. Would've preferred Pseudogram, if only for my love of the prefix. This was my second choice. I'm not a user of the service, but best of luck to the developer. Hopefully this nullifies any C&D's sent your way. ;(

I really tried to get my comment just before time ran out but couldn't. I want to suggest 'Filtergram' or 'Filtagram' but then couldn't. Anyway, 'Instance' is good too but it can be 'Instance For Instagram' instead. Just saying.

telecharger logiciel spybubble gratuit

It's OK if you like Spry among those 5 and that's the same one Daniel picked, but honestly, from there to say that people should support it just because it's the one Daniel picked on behalf of WPCentral...I mean...

Die Abnehm Lösung erfahrung