Watch the 2014 Daytona 500 with NASCAR app for Windows and Windows Phone 8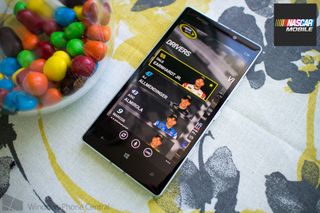 The Daytona 500 is less than 24 hour away. It's regarded as the most important and prestigious race on the NASCAR calendar. Think of it as the "Super Bowl of Stock Car Racing." If you're a die-hard racing fan with a Windows Phone 8 device, then make sure you have the latest update for the NASCAR mobile app.
Here are the new features to follow the 2014 NASCAR Sprint Cup Series (NSCS) season:
All Premium Live Features for NSCS races available for all app users
Updated 2014 Race Schedule
Updated 2014 Standings and Driver pages
Updated access to NASCAR Nationwide Series and Camping World Truck Series sites
Updated Live Tiles and Driver Tiles
Updated Lock Screen images
If you're a Sprint customer, you get a lot more perks. You get free access to all the live race day features including live race radio, live in-car audio, live RaceBuddy for select races and real-time driver telemetry data. In-race highlights are also exclusively to Sprint customers.
If you're not on Sprint, you can pay for the NASCAR MOBILE Premium Subscription. For $24.99, you get live access to all 2014 NASCAR Sprint Cup Series Race events.
Our favorite feature in the NASCAR mobile app is the videos section. You get access to the highlights, final laps, race rewinds, and more. You don't need a subscription to watch these videos.
The NASCAR mobile app is a free download at the Windows Phone Store. If you can't be in front of the television during the races, then you can watch or listen with your phone. Have a Windows 8 tablet? NASCAR also has an app at the Windows Store (opens in new tab), which was also updated for the 2014 season.
Will you be watching the Daytona 500? Who's your favorite driver? Let us know in the comments!
Via Microsoft
Windows Central Newsletter
Get the best of Windows Central in in your inbox, every day!
Its always slow in the anticipation of big news(mcw).

Maybe so but this is AWESOME!!!

Dale Earndhart got sick and tired of making 4 left turns, so one day he said fuck it Im going right... into the wall...

If you're going to make an Earnhardt joke, at least A. spell his name right and B. make it a bit witty. Such as "What do Pink Floyd and Dale Earnhardt have in common?"

So without sprint you can still watch the races on the app or is that the premium price ?

I'm a fan until Jimmy starts winning everything. JGR 123!

Toyota doesn't belong in NASCAR.

LOL. I disagree - but other than an emblem, there's not much taken from the manufacturer anymore. I really wish they'd get back to the heritage of "stock" car. Oh, and if it helps, I like RCR as well :)

You do know if NASCAR went back to its heritage Toyota would definitely be gone. Toyota doesn't have a RWD car :)

The weekend is always slow!

Not available in the UK :-(

W8 just needs NASCAR RaceView. That is a killer app. You can watch the race live. It's just animated in HD.

Yes, I want a proper app. Not impressed with the web version. Still pay for it though...

Yeah. Does anyone know if the web version of race view will run on a Lumia 2520 (RT)?

Looks like all you can get with this if you aren't paying is news, highlights and overall standings. Doesn't look like you can actually follow races live, can't even see the leader board for a current race, unless you're on sprint.

NASCAR is racing really!!

I think my next purchase might be the subscription. Is the subscription to the premium services new? I didn't think I was able to purchase one last year.

Yay! Now I can watch people making left turns all day on my phone! Woohoo!
Good for the fans and nice to have official support.

This joke is stale... NASCAR has road coarse races. Guess which way they turn?

Please, US womens figure skating has more balls than NASCAR lol

For when you really need a nap and all you have is your phone.

Where the hell is the NHL Gamecenter app!!!???!!!!?!!!!????!!?!!

When something is really popular (NASCAR, sushi, iOS,etc.), and I can't figure out why someone would like it, I have learned that if I try it (sometimes it takes several tries) and I educate myself about WHY people like it, I find I no longer have the same negative views. I thought NASCAR was the most stupid waste time until I learned how the points system works, strategies on pitting, etc. The turning point was when I actually went to a race at AMS. That was very cool and I get it now. Am I addicted to it like I am to sushi? No but I respect it and its fans a lot more. Still no respect for iOS and its fans..... jk ;)

Looks like you're a KB fan, Mark! My wife loves you now.
Windows Central Newsletter
Thank you for signing up to Windows Central. You will receive a verification email shortly.
There was a problem. Please refresh the page and try again.