Watch live television on your Windows Phone with the official Ditto TV app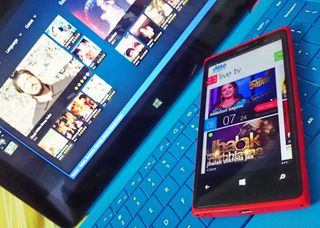 Ditto TV (dittotv.com) is India's first subscription-based Live TV and Video-on-Demand service that delivers live television, movies, and videos to your internet-enabled devices. A product of Zee Entertainment Enterprises Limited (ZEE), one of India's leading television, media, and entertainment companies, the service offers over 105 Indian live television channels as well as movies and latest television shows available on-demand.
While the official Ditto TV app has been available for Windows 8 devices since quite a while, the Windows Phone app finally arrived earlier this week.
Ditto TV offers popular entertainment, sports, and news channels like Colors, Sony, Zee TV, Aaj Tak, Times Now, Ten Sports and more as well as movies and latest on-air television shows in English, Hindi, and regional languages. Ditto TV is the only online platform to stream HD TV Channels such as National Geographic Wild and offer premium HD-quality content. You can also watch the ceremonies in major temples across India.
The app, and the service in general, offers a seamless experience with adaptive streaming ensures quality viewing through a range of internet speeds delivering an optimized video-viewing experience. You can also start watching a video on one device, and continue and finish the same on another device. The app also features an updated TV Program Guide.
Download the Ditto TV app for Windows Phone 8 devices from the Windows Phone Store or for Windows 8 devices from the Windows Store (opens in new tab).
While the app is free, the service requires a subscription, and there are a variety of plans for period lengths and content offerings. A month's basic plan is INR 150 ($2.50 US), for example. Give it a spin, and let us know how you like it.
Yes I got excited when I saw the notification banner and then I read the first sentence. Sucked all the air right out. Still waiting on WatchESPN to make its WP debut. It's already available on Windows 8.

My sentiments exactly. I was crushed by that first sentence lol

They haven't even updated ESPN Scorecenter to Sportscenter yet... Plus the app is falling apart.

Well now you know what happens when we see Bing rewards and Cortana related news.... Saantwana..

Dittotv is available for US, UK, UAE and Saudi region.

India got some WP love the last few weeks. Adoption is up.

I hope so but I don't hold my breathe.

Was just thinking that. It's like India's WP market has reached a critical mass.

Wish there were some apps like this for the US too.

Dittotv is available for US, UK, UAE and Saudi region

Indias getting the good stuff. C'mon USA! Time Warner, direct tv, and others...

Better to get all in one app

Net neutrality... Cable company fuckery...lol

Can we watch cricket matches live on this app?

If the app offers sports channels like star cricket, ten sports, etc. Then Yes we should be able to watch them. I'm more interested in their subscription packs. Rs. 150 seems fair for a basic pack (that's exactly the amount that I pay for DTH every month)

But there are not much sports channels... Just ten sports and ten action... Football WC is on Sony six I believe... So no use of this app... Also loading times are too slow... Subscription shows 9.99$ for a month... Is it because my region is set to US?

Yes, the app will show pricing based on the region defined on your phone.

India apps that few people care. Come on, tkae serious, this is the most important site of WP on the net!

This platform needs these apps, trust me.

There are a lot of Windows Phone users in India who will care about these apps. It's great to see more apps being released for more countries.

There are probably more WP users in India than in the U.S. so I don't think your "few people care" statement is quite accurate. By the way, I don't come from India nor the U.S.

This is how people from other countries feel like when they see an app that's not available in their country. :-/

for the rest of the world you can use global tv i think its the best tv app and its free

Yes, have it in both my 925 and 625.

Off topic but are the WhatsApp servers down??

Why did they remove FilmOn? I loved that app :(

The beauty of Universal app is slowing coming into place.

Says 105 but can only find the zee channels

Too bad I don't live in India.

Lol, ill take living in the states over having this app (no offense).

No free lunch , you got to pay for the movie !

Subscription is only for Live TV while you can watch Movies, TV Shows and Videos for FREE. You just have to sign up with your mobile number and start watching. BTW you get 2 days free subscription from the time of registration.

But i tried this app, it doesn't adapt to the internet connection.. I used a slow 520kbps broadband and the video was pausing so much... Also just gives a two day free subscription the 150pm

How about you mention INDIA in the article title and avoid wasting everyone's time

Yes, I agree about putting India in the title because it falsely put my hopes up BUT totally disagree about wasting "everyone.s" time because although I'm not from India, I was totally interested in reading it.

Hi All, I am the Product Manager for Dittotv product and I would like to share some more information on Dittotv. Firstly Dittotv is available in India, US, UK, UAE and Saudi region. We are also working towards making this app available for other regions as well. When a user registers for the first time with their mobile number, we give the user 2 Days of unlimited Live TV experience. Subscription is only for Live TV. While TV Shows, Movies and Videos are free to watch without any subscription fee. We have 3 subscription plan that is monthly, quarterly and yearly. Once subscribed, users can view it on Web, Android & iOS. I hope all of the confusion with the app not being available in US and other region is cleared off. Would request and appreciate if the editor of this article to update the region availability information. Thanks.

Thanks for the clarification..

How to register ditto TV in UAE

Indians on my Lumia... No fkn thanks.

Not a fan of India's TV programing. I'm sure this app will be a welcomed app for those who follow Indian TV shows and news. This was a much needed app for those who are interested in Hindi TV Series
Windows Central Newsletter
Get the best of Windows Central in in your inbox, every day!
Thank you for signing up to Windows Central. You will receive a verification email shortly.
There was a problem. Please refresh the page and try again.